The minimal kinome of Giardia lamblia illuminates early kinase evolution and unique parasite biology
Received: 24 December 2010
Accepted: 25 July 2011
Published: 25 July 2011
Abstract
Background
The major human intestinal pathogen Giardia lamblia is a very early branching eukaryote with a minimal genome of broad evolutionary and biological interest.
Results
To explore early kinase evolution and regulation of Giardia biology, we cataloged the kinomes of three sequenced strains. Comparison with published kinomes and those of the excavates Trichomonas vaginalis and Leishmania major shows that Giardia's 80 core kinases constitute the smallest known core kinome of any eukaryote that can be grown in pure culture, reflecting both its early origin and secondary gene loss. Kinase losses in DNA repair, mitochondrial function, transcription, splicing, and stress response reflect this reduced genome, while the presence of other kinases helps define the kinome of the last common eukaryotic ancestor. Immunofluorescence analysis shows abundant phospho-staining in trophozoites, with phosphotyrosine abundant in the nuclei and phosphothreonine and phosphoserine in distinct cytoskeletal organelles. The Nek kinase family has been massively expanded, accounting for 198 of the 278 protein kinases in Giardia. Most Neks are catalytically inactive, have very divergent sequences and undergo extensive duplication and loss between strains. Many Neks are highly induced during development. We localized four catalytically active Neks to distinct parts of the cytoskeleton and one inactive Nek to the cytoplasm.
Conclusions
The reduced kinome of Giardia sheds new light on early kinase evolution, and its highly divergent sequences add to the definition of individual kinase families as well as offering specific drug targets. Giardia's massive Nek expansion may reflect its distinctive lifestyle, biphasic life cycle and complex cytoskeleton.
Keywords
Basal Body
Ankyrin Repeat
Mitotic Exit Network
Giardia Trophozoite
Kinase Class
Background
Protein kinases modulate most cellular pathways, particularly in the co-ordination of complex cellular processes and in response to environmental signals. About 2% of genes in most eukaryotes encode kinases, and these kinases phosphorylate over 30% of the proteome [1]. Kinases regulate the activity, localization and turnover of their substrates. Most kinases have dozens of substrates, and operate in complex, multi-kinase cascades. Hence, organisms with reduced kinomes can provide simple model systems to dissect kinase signaling.
The unicellular human gut parasite
Giardia lamblia
cycles between a dormant cyst stage and a virulent trophozoite, both of which are adapted to survival in different inhospitable environments [
2
]. The life cycle starts with the ingestion of the cyst by a vertebrate host. Exposure to gastric acid during passage through the host stomach triggers excystation and the parasite emerges in the small intestine after stimulation by intestinal factors [
3
,
4
]. The excyzoite [
5
] quickly divides into two equivalent binucleate trophozoites that attach to and colonize the small intestine. Trophozoites carried downstream by the flow of intestinal fluid differentiate into dormant quadrinucleate cysts. Cysts are passed in the feces, and can survive for months in cold water until they are ingested by a new host. Trophozoites are half-pear shaped and are characterized by four pairs of flagella, a ventral attachment disk and a median body (Figure
1
). Each pair of flagella has a distinct beating pattern and likely has dedicated functions in swimming and attachment [
6
,
7
].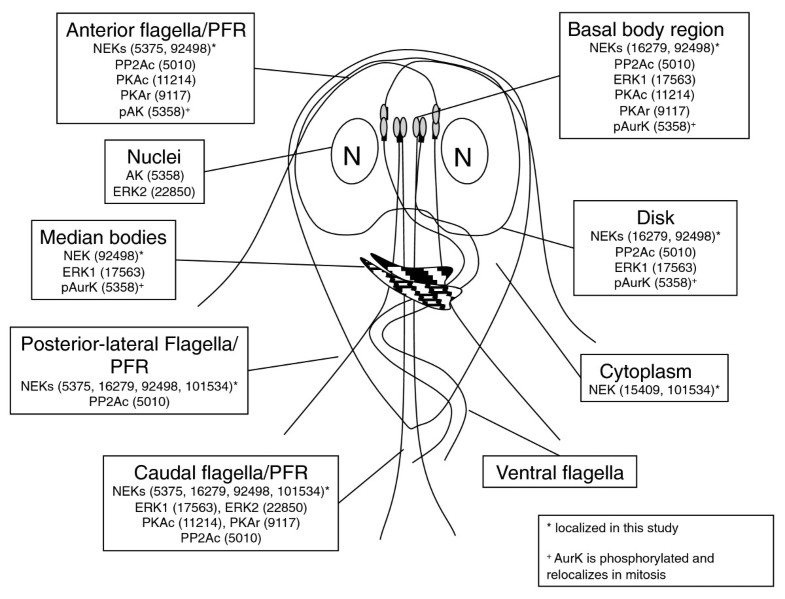 The recent genome sequencing of strains from three assemblages (broadly equivalent to subspecies) of Giardia lamblia (syn. intestinalis) [8–10] revealed a compact genome of approximately 6,500 ORFs that is highly divergent in sequence from other eukaryotes. Many conserved pathways have substantially fewer components than in similarly sized genomes [8]. Its minimal genome and the ability to culture and induce its complex life and cell cycle in vitro make Giardia an appealing model for studying the signaling underlying entry into and emergence from dormancy in a pathogen.
Few kinases and phosphorylation patterns have been studied in
Giardia
(Table
1
) [
11
,
12
]. Functional studies [
13
–
16
] suggest that regulation of protein phosphorylation by kinases and phosphatases plays a central role in modulating the dramatic remodeling of the parasite's morphology as it cycles between the dormant infectious cyst and the motile, virulent trophozoite (Table
1
). Many of the known signaling proteins localize to cytoskeletal structures unique to
Giardia
, which may confer functional specificity (Figure
1
).
Table 1
Giardia protein and lipid kinases and protein phosphatases published to date
| Kinase | ORF ID | Localization (immunofluorescence, tag or specific antibody) | Protein expression (immunoblot) | Reported function | Reference |
| --- | --- | --- | --- | --- | --- |
| Aurora kinase (AurK) | 5358 | Interphase: nuclei. Mitosis: activated by phosphorylation. pAurK: centrosomes, spindle, anterior PFR, median body, parent attachment disk | Constant in encystation | Mitosis, cell cycle (inhibitors) | [52] |
| PKAc | 11214 | Basal bodies, anterior, caudal PFR. Encystation: basal bodies only | Constant in encystation | Encystation, excystation (inhibitors) | |
| PKAr | 9117 | Basal bodies, anterior, caudal PFR. Encystation: greatly decreased | Strongly decreased in encystation | Decreases activity of PKAc | [14] |
| Akt (PKB) | 11364 | | | | [47] |
| ERK1 | 17563 | Median body, outer edge of attachment disk | Gradually reduced during encystation | Reduced activity in encystation | [16] |
| ERK2 | 22850 | Nuclei, caudal flagella. Encystation: cytoplasmic, punctate | Not greatly changed in encystation | Reduced activity in encystation | [16] |
| PI3K1 | 14855 | | | Growth (inhibitors) | |
| PI3K2 | 17406 | | | Growth (inhibitors) | |
| PI4K | 16558 | | | Growth (inhibitors) | [48] |
| PKA | 86444 | [Reported as a PKCβ] | | | [24] |
| TOR | 35180 | | | | |
| Protein phosphatase | | | | | |
| PP2Ac | 5010 | Basal bodies, anterior, caudal, posterior-lateral PFR. Encystation: localization to anterior PFR lost, cyst wall | Highest in cysts, stage I excystation | Encystation, excystation (inhibitor, antisense) | [15] |
Protein kinases are well-studied in other organisms, control most aspects of cellular functions, and are proven therapeutic targets. Hence, analysis of the Giardia kinome may give valuable insight into this parasite's biology and the evolution of signaling.
Results and discussion
We cataloged the Giardia kinome using hidden Markov model (HMM) profiles and Blast searches of genomic and EST sequences from three sequenced strains: two established human pathogens, WB (assemblage A) [8] and GS (assemblage B) [9], that appear to span the divergence of isolates infectious to humans, and a recently isolated porcine strain, P15 (assemblage E) [10]. Despite their shared genus name, these genomes are quite divergent, with an average of 90% protein sequence identity between WB and P15, and approximately 79% between these two strains and GS [10].
We found 278 protein kinases in the WB strain (Table
2
; Additional file
1
), 272 in GS, and 286 in P15, using release 2.3 of the
Giardia
genomes [
17
]. These include 46 new gene predictions and 86 sequences not previously annotated as kinases. We also extend 30 fragmentary gene predictions from WB to longer pseudogene sequences. Remarkably, over 70% of the kinome belongs to a huge expansion of one family, the Nek kinases. Since these have so many unusual characteristics, we will refer to the 80 non-Nek kinases as the core kinome and consider the Nek expansion separately.
Table 2
Summary of Giardia kinome classification
Group

Family

Subfamily

Count

ORF ID

Notes

Primordial kinases in Giardiastrain WB (core kinome plus Nek1)

AGC

Akt

1

11364

Metabolic rate control

AGC

NDR

NDR-unclassified

2

8587, novel

Mitotic exit, morphology, centrosomes

AGC

PDK1

1

113522

Lipid signaling, AGC master kinase

AGC

PKA

2

11214, 86444

cAMP responsive kinase

AGC

PTF

FPK

1

221692

Potential flippase kinase

CAMK

CAMK1

1

11178

Calcium-dependent signaling

CAMK

CAMKL

AMPK

3

14364, 16034, 17566

Energy metabolism

CK1

CK1

CK1-D

1

7537

Absent from ciliates and plants

CMGC

CDK

CDC2

3

15397, 8037, 9422

Master kinase of cell cycle

CMGC

CDK

CDK5

1

16802

Non-cell cycle CDK

CMGC

CDKL

1

96616

Functions unknown

CMGC

CK2

1

27520

Diverse functions, hundreds of substrates

CMGC

CLK

1

92741

Splicing and other functions

CMGC

DYRK

DYRK1

1

101850

Not in ciliates, Trichomonas, or moss

CMGC

DYRK

DYRK2

3

137695, 17417, 17558

Varied functions

CMGC

GSK

2

17625, 9116

Glycogen synthase kinase 3. Diverse functions

CMGC

MAPK

ERK1

1

17563

Canonical MAPK pathway

CMGC

MAPK

ERK7

1

22850

Variant MAPK gene

CMGC

RCK

MAK

2

14172, 6700

Meiosis, flagella

CMGC

RCK

MOK

1

14004

Flagellar regulation

CMGC

SRPK

1

17335

Splicing

Other

Aur

1

5358

Mitotic kinase

Other

Bud32

1

16796

Telomere associated (KEOPS complex)

Other

CAMKK

1

96363

CAMK kinase

Other

CDC7

1

112076

Cell cycle

Other

IKS

1

137730

Not in ciliates or moss

Other

NAK

NAK-unclassified

2

12223, 2583

Varied functions

Other

NEK

NEK1

1

137719

Flagellar and centrosomal functions. Only Nek with clear non-excavate orthologs

Other

PEK

GCN2

1

12089

Response to amino acid starvation

Other

PLK

PLK1

1

104150

Mitotic kinase. Lost in plants

Other

SCY1

1

8805

Cryptic functions

Other

TTK

1

4405

Not in ciliates or moss

Other

ULK

Fused

1

17368

Varied functions

Other

ULK

ULK

1

103838

Autophagy

Other

Uni1

1

16436

Uncharacterized. Lost in plants, fungi, animals

Other

VPS15

1

113456

Vesicular transport, autophagy

Other

WEE

WEE-unclassified

1

115572

Key cell cycle kinase

Other

WNK

1

90343

Osmotic balance

PKL

PIK

FRAP

1

35180

Metabolic rate control (mTOR/TOR)

PKL

PIK

PIK-unclassified

1

16805

Weakly similar to ATR, but may be a lipid kinase

PKL

RIO

RIO1

1

17449

Ribosome biogenesis

PKL

RIO

RIO2

1

5811

Ribosome biogenesis

STE

STE11

CDC15

2

16834, 6199

Functions in mitotic exit; lost in plants and holozoans

STE

STE11

STE11-unclassified

1

1656

MAP kinase kinase kinase

STE

STE20

FRAY

1

10609

Not in ciliates, usually co-occurs with Wnk

STE

STE20

MST

1

15514

NDR kinase

STE

STE20

PAKA

1

2796

Transduces membrane signaling from small GTPases

STE

STE20

YSK

1

14436

Universal STE20 kinase

STE

STE7

MEK1

1

22165

MAP kinase kinase

Giardia -specific classes and unique kinases

Other

Nek

Nek-GL1

11

Table S1a

Other

Nek

Nek-GL2

3

Table S1a

Other

Nek

Nek-GL3

4

Table S1a

Other

Nek

Nek-GL4

32

Table S1a

Other

Nek

Nek-Unclassified

147

Table S1a

CMGC

CMGC-GL1

2

17139, 21116

Divergent pair of CMGC-like kinases

Other

Other-GL1

3

17392, 17378, 6624

Trio of kinases with no specific homologs

Other

Other-unique

8

Table S1a

Kinases with no specific homologs

CMGC

CDK

CDK-unclassified

3

11290, 4191, 14578

Divergent cyclin-dependent kinase

CAMK

CAMK-unique

1

13852

Divergent CAMK group member

CAMK

CAMKL

CAMKL-unclassified

2

14661, 9487

Divergent CAMKL family member

Non-protein kinases from PKL

PKL

CAK

ChoK

1

4596

Choline and aminoglycoside kinase

PKL

CAK

FruK

1

2969

Fructosamine kinase

PKL

PIK

PI3K

2

14855, 17406

Phosphatidyl inositol 3' kinase

PKL

PIK

PI4K

1

16558

Phosphatidyl inositol 4' kinase

Basal kinases found in Trichomonas , but not Giardia

AGC

MAST

MAST

Microtubule-associated serine kinases. Lost in fungi

Atypical

TAF1

Basal transcriptional machinery, TFIID subunit

CAMK

CDPK

Calcium-dependent protein kinase. Lost from unikonts

CK1

TTBK

Tau tubulin kinase. Found in unikonts, some chromalveolates, and excavates

CMGC

CDK

CDK7

Transcription initiation and DNA repair: subunit of TFIIH

CMGC

CDK

CDK12 (CRK7)

Phosphorylates CTD of RNA polymerase II

CMGC

DYRK

YAK

Lost in metazoans. Possible function in splicing

Other

TLK

DNA break repair. Lost in fungi, Dictyostelium

PKL

PIK

ATM

DNA break repair

PKL

PIK

ATR

DNA break repair

CMGC

CDK

CDK20 (CCRK)

Cilium-associated, CDK-activating kinase. Found in unikonts, algae, and Trichomonas

TKL

Diverse group related to tyrosine kinases

Basal kinases found in Leishmania but not Giardia or Trichomonas

PKL

ABC1

ABC1-A

Mitochondrial kinase

PKL

ABC1

ABC1-B

Mitochondrial kinase

PKL

ABC1

ABC1-C

Mitochondrial kinase

HisK

PDHK

BCKDK

Mitochondrial kinase

HisK

PDHK

PDHK

Mitochondrial kinase

CMGC

DYRK

DYRKP

Splicing? Also lost in animals, fungi, Dictyostelium

PKL

PIK

DNAPK

DNA break repair. Absent from fungi, nematodes, insects, some plants

Basal kinases not found in excavates

Other

IRE

Endoplasmic reticulum unfolded protein response

Other

PEK

PEK

Endoplasmic reticulum unfolded protein response. Absent from ciliates

Other

NAK

MPSK

Secretory pathway function. Absent from ciliates

Other

BUB

Mitotic spindle checkpoint. Absent from ciliates

CMGC

CDK

CDK8

Phosphorylates CTD of RNA polymerase II

CMGC

CDK

CDK11

Mitotic spindle function? Absent from fungi

CMGC

DYRK

PRP4

Splicing. Lost in fungi

PKL

PIK

SMG1

Nonsense-mediated decay of spliced transcripts. Absent from ciliates

HisK

HisK

Histidine kinases. Absent from metazoans

PKL

Alpha

VWL

Functions unknown. Absent from metazoans

AGC

PKG

cGMP-activated protein kinase. Absent from fungi, Dictyostelium

PKL

ABC1

ABC1-D

Mitochondrial kinase. Absent from ciliates

Atypical

G11

Function unknown. Absent from ciliates

Other

PLK

SAK

Mitotic kinase. Absent from plants

Other

Haspin

Functions in mitosis. Absent from ciliates

AGC

RSK

Ribosomal S6 kinase. Excavates lack conserved substrates sites in tail of ribosomal protein S6

CAMK

CAMKL

MARK

Microtubule affinity-regulating kinase. Absent from plants

Other kinases shared between excavates and one other ancient group

CAMK

CAMKL

LKB

Activator of other CAMKL kinases. Found in excavates and unikonts, lost in Giardia and L. major

CAMK

CAMKL

CIPK

1

16235

Found in plants and excavates. CBL-interacting protein kinases

CK1

CK1

CK1y

Found in plants and Trichomonas
Conclusions
Giardia encodes the simplest known kinome of any eukaryote that can be grown in axenic culture. Some obligate intracellular parasites have even more highly reduced genomes and kinomes (for example, the microsporidian Encephalitozoon cuniculi (29 kinases) [65], and Plasmodium falciparum (approximately 90) [51]), but are dependent on their hosts for many basic cellular functions, and their lost kinases may be functionally replaced by host kinases.
Protein kinases modulate the vast majority of biological pathways, and this minimal kinome still enables Giardia to carry out the broad repertoire of eukaryotic cellular functions needed for its complex life and cell cycles. Our comparison of the Giardia kinome to other early branching eukaryotes indicates that the last common ancestor of sequenced eukaryotes had a rich kinome of at least 67 kinase classes, from which Giardia has lost at least 18. These include kinases involved in central biological functions, such as DNA repair, transcription, splicing, and mitochondrial metabolism. Exploring how these pathways can function without individual components may help to understand the function of these pathways in more complex organisms.
Other missing kinases, such as those involved in endoplasmic reticulum stress response, are absent from all excavates, and may represent either early losses or reflect that excavates are the earliest branching of eukaryotic lineages. Conversely, Giardia retains many ancient kinases (Table 2) whose functions are still largely unexplored, despite their being essential for eukaryotic life.
The Giardia kinome is dominated by the expansion of the Nek kinases. The recurrent loss of kinase catalytic function coupled with the conservation of key structural and Nek-specific residues suggest that many Neks maintain a kinase-like fold and serve as scaffolds. The GL4 subfamily is highly dynamic, with most of its members being strain-specific, with loss of catalytic activity even within a single strain, and showing rampant gene duplication and pseudogenization. This high variation rate may underlie important strain differences. However, the rate of pseudogenization also suggests that the rate of duplication of this gene cluster may be enhanced and that at least some copies are under little purifying selection. By contrast, most other Neks are shared between strains and are likely to be anciently diverged, since their paralogs are more remote than orthologs between human and Giardia. While a homolog of the universal Nek1 was found, the vast majority of Neks are specific to Giardia, and the association with ankyrin repeats is not seen in any other species. The dual mitotic spindles and eight flagella of Giardia may explain some of the Nek expansion, but clearly not all of it. Ciliates are also binucleate and have expanded Neks, but no specific orthologs are found between the two clades, apart from Nek1.
We found long runs of a specific class of ankyrin repeat (TALM-Ankyrin: TA) in most Neks. These are likely important for their subcellular localization or protein interactions. While the four active Neks examined had very specific localization and did not contain ankyrin repeats, the deletion within the ankyrin region in Orf_15409 did alter its localization. Several genes annotated as Protein 21.1 are now found to be Neks, and the overall sequence and domain composition suggests that the Neks and Protein 21.1 genes may form a single family with related functions. The other two large, dynamic Giardia families (VSP and HCMP) are also related to each other and VSPs undergo antigenic variation [66]. However, the roles and reasons for the expansion and variability of HCMP, 21.1 and Nek remain obscure. The arrays of divergent TA repeats and our results with non-ankyrin-containing Neks indicate that specific subcellular targeting is important for their function, and may allow Giardia to regulate complex processes within its single cell by targeting proteins to specific organelles. The Neks constitute a major target for exploration of Giardia-specific and strain-specific biology, and their extreme sequence divergence will be useful to explore the sequence limits of the protein kinase-like fold.
The few published studies and our current work on the first five Nek kinases suggest that several signaling proteins have distinct associations with the PFR, the different flagellar axonemes, or the unique ventral disk and median bodies. The latter, like the basal bodies and flagella, are microtubule-based. Several signaling proteins are shared between the caudal flagella with its associated structures and the disk - Neks 16279 and 92498, ERK1 and PP2Ac (protein phosphatase 2A) - suggesting that they may function in the same signaling pathway.
Understanding the replication and segregation of the two nuclei and complex cytoskeleton during the Giardia cell cycle and life cycle has been challenging [67]. The flagellar basal bodies migrate laterally during mitosis to become spindle poles. Several of the Giardia kinases and phosphatases studied to date localize to the basal bodies during interphase, but most have not yet been studied in mitosis or differentiation (Table 1, Figure 1) and only AurK, PKA and PP2A phosphatase have been partially functionally analyzed. The strong pSer and pThr staining within the flagellar axonemes suggests that substrates may be phosphorylated in the basal bodies before incorporation into the axonemes. Analyses of flagellar-associated kinases and signaling may help better understand the roles of the four flagellar pairs in Giardia swimming, attachment, and detachment, which are central to disease [68], as well as to better understand the roles of this almost universal organelle.
Taken together, our data may help to prioritize future functional kinase studies, elucidate the signaling underlying the cell and life cycles and provide new drug targets to treat Giardia infections. Protein kinases are proven drug targets, and the high divergence of Giardia sequences suggests that specific inhibitors could be developed that have minimal activity against human kinases. Our findings help define the minimal kinase complement of a single-celled eukaryote with a complex life and cell cycle and add to our understanding of Giardia biology, pathogenesis, and evolution.
Abbreviations
CDK:

cyclin-dependent kinase
DAPI:

4',6-diamidino-2-phenylindole
DNAPK:

DNA protein kinase
EST:

expressed sequence tag
FITC:

fluorescein isothiocyanate
GSK:

glycogen synthase kinase
HA:

hemagglutinin
HCMP:

high cysteine membrane protein
HMM:

hidden Markov model
MAPK:

mitogen-activated protein kinase
ORF:

open reading frame
PBS:

phosphate-buffered saline
PFR:

paraflagellar rods
PIK:

phosphatidyl inositol kinase
PIKK:

phosphatidyl inositol 3' kinase-related kinase
PK:

protein kinase
pSer:

phosphoserine
pThr:

phosphothreonine
pTyr:

phosphotyrosine
SAGE:

serial analysis of gene expression
SP:

Ser-Pro
TA:

TALM-ankyrin
TK:

tyrosine kinase
TKL:

tyrosine kinase-like
TOR:

target of rapamycin
VSP:

variant-specific surface protein.
Declarations
Acknowledgements
This work was supported by NIH grants, AI42488, AI51687 and AI75527 (FG), and R01 HG004164 and P30 CA014195 (GM). AJS was supported by GI Training grant T32DK07202. We thank T Hunter and members of the Manning lab for critical reading of the manuscript. We are grateful to H Ward for the antibody to taglin. All sequence analysis presented here and additional supporting evidence are freely available at KinBase [18]. Sequences and other annotations are from GiardiaDB [69].
Authors' Affiliations
(1)
Razavi Newman Center for Bioinformatics, The Salk Institute for Biological Studies, La Jolla, USA
(2)
Department of Pathology, University of California at San Diego, San Diego, USA
(3)
Department of Microbiology, Tumor and Cell Biology (MTC), Nobels väg 16, KI Solna Campus, Karolinska Institutet, Stockholm, Sweden
(4)
Proveri Inc., San Diego, USA
(5)
Department of Cell and Molecular Biology, Uppsala University, BMC, Uppsala, Sweden
Copyright
© Manning et al.; licensee BioMed Central Ltd. 2011
This article is published under license to BioMed Central Ltd. This is an open access article distributed under the terms of the Creative Commons Attribution License (http://creativecommons.org/licenses/by/2.0), which permits unrestricted use, distribution, and reproduction in any medium, provided the original work is properly cited.