Design and evaluation of genome-wide libraries for RNA interference screens
Received: 27 April 2010
Accepted: 15 June 2010
Published: 15 June 2010
Abstract
RNA interference (RNAi) screens have enabled the systematic analysis of many biological processes in cultured cells and whole organisms. The success of such screens and the interpretation of the data depend on the stringent design of RNAi libraries. We describe and validate NEXT-RNAi, a software for the automated design and evaluation of RNAi sequences on a genome-wide scale. NEXT-RNAi is implemented as open-source software and is accessible at http://www.nextrnai.org/.
Keywords
Efficiency ScoreRNAi ScreenSeed MatchIndependent DesignRNAi Reagent
Rationale
RNA interference (RNAi) screens have become an important tool for the identification and characterization of gene function on a large-scale and complement classic mutagenesis screens by providing a means to target almost every transcript in a sequenced and annotated genome. RNAi is a post-transcriptional gene silencing mechanism conserved from plants to humans and relies on the delivery of exogenous short double-stranded RNAs (dsRNAs) that trigger the degradation of homologous mRNAs in cells [1, 2]. As an experimental tool, RNAi is now widely used to silence the expression of genes in a broad spectrum of organisms [3].
The availability of genome-wide RNAi libraries for cell-based assays and whole organisms has opened new avenues to query genomes for a broad spectrum of loss-of-function phenotypes [4, 5]. The number of sequenced genomes is steadily rising, enabling reverse genetic approaches using RNAi in many novel model systems, including, for example, the medically relevant vector Anopheles gambiae and species used to study evolutionary aspects of development, such as Tribolium castaneum, Acyrthosiphon pisum and Schmidtea mediterranea. RNAi libraries will facilitate the functional characterization of genes in these species, either through studying smaller subsets of candidates or on a genomic scale.
The design of RNAi reagents is key to obtaining reliable phenotypic data in large-scale RNAi experiments. Several recent studies demonstrated that the degradation of non-intended transcripts (so-called 'off-target effects') and knock-down efficiency depend on the sequence of the RNAi reagent and have to be carefully monitored [6–13]. Based on experimental studies, rules for the design of RNAi reagents have been devised to improve knock-down efficiency and simultaneously minimize unspecific effects.
In invertebrates such as Caenorhabditis elegans and Drosophila, RNAi can be triggered by long dsRNAs that are intracellularly broken down into short interfering RNAs (siRNAs) [1, 14, 15]. The design of a long dsRNA therefore needs to take into account both the properties of the target sequence, for example, its sequence complexity, as well as the properties of all siRNAs contained within the long dsRNA, such as their predicted target specificity and efficiency. Because long dsRNAs are often generated by in vitro transcription, the design of suitable primer pairs to amplify in vitro transcription templates through PCR from genomic DNA or cDNAs must be implemented.
In contrast, RNAi-mediated silencing in mammalian cells is achieved through siRNAs of 21 to 23 nucleotides [
16
] to circumvent the activation of an interferon response [
17
]. Such short dsRNAs can be generated by different methods. For mammalian cells, vectors transcribing short-hairpin RNAs [
18
–
20
] or synthetic siRNAs [
16
] are commonly used. Several recent studies have highlighted favorable sequence characteristics and suitable chemical modifications for these reagents [
21
–
23
]. The design of long
in vitro
endoribonuclease-prepared siRNA reagents (esiRNAs) [
24
] resembles that of long dsRNAs for model organisms. We list several factors that are important for the design of RNAi reagents in Figure
1
.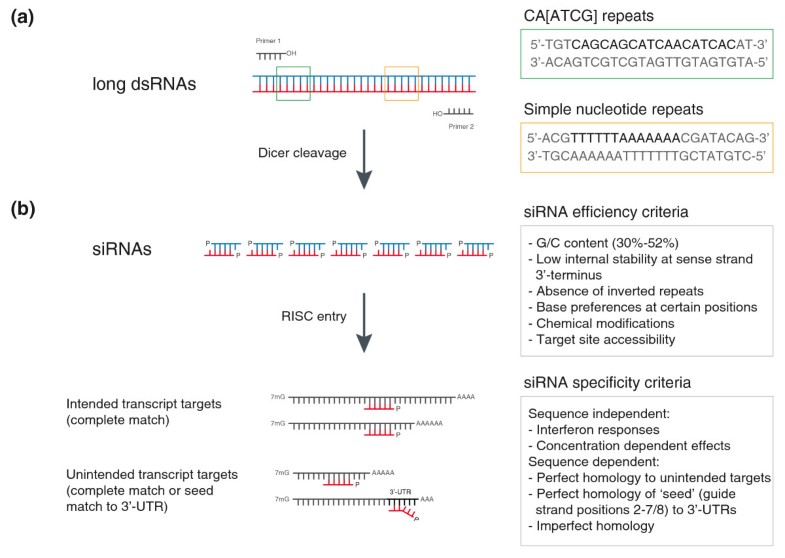 For large-scale functional screens, the design of RNAi reagents is particularly important because the specificity and efficiency of individual RNAi reagents can rarely be validated on a genome-wide scale. The systematic application of design criteria, often on poorly defined gene models, has a direct impact on the expected false positive and false negative rates of phenotypic screens. Previous computational tools are available to design short and long dsRNAs for individual genes [12, 25, 26]. However, the systematic and reproducible design of RNAi reagents for large sets of genes or even whole genomes using an expanded set of parameters, such as target analysis for all splice isoforms, overlap analysis with SNPs and calculation of seed match frequency, has remained an unresolved issue.
Here we present NEXT-RNAi, a software tool for the design and evaluation of RNAi libraries that can be used for projects with targets ranging from a limited gene set to a whole-genome scale. NEXT-RNAi can process annotations from various sources and thereby provides a powerful RNAi design pipeline for virtually any genome that is available in public databases. NEXT-RNAi can also be used to design independent RNAi reagents to complement existing libraries. To demonstrate its flexibility, we have designed multiple genome-wide RNAi libraries for different organisms, including Drosophila, Anopheles, Tribolium and humans. NEXT-RNAi also offers the opportunity to automatically evaluate and re-annotate existing RNAi libraries by generating user-friendly reports to reflect the regular update of genome annotations.
To validate knock-down efficiency of NEXT-RNAi's reagent designs, we generated two independent sets of long dsRNAs targeting protein and lipid phosphatases expressed in Drosophila D.Mel-2 cells and verified transcript knock-down by quantitative real-time RT-PCR.
Discussion
In large-scale RNAi experiments, the design of genome-wide silencing libraries has remained an important problem due to the flux of gene annotation and novel insights into the mechanisms that influence RNAi efficiency and off-target effects. We present an approach for the rapid design of whole-genome RNAi libraries and the re-annotation of already existing reagent collections. The method is flexible, identifies multiple independent reagents per gene model and has been implemented in an organism-independent manner. The design process is fully automated and can use annotations from various sequence- or model-organism databases as input, thereby enabling the design of RNAi reagents for any sequenced (and annotated) organism.
We have designed several independent RNAi libraries for a diverse group of organisms. The automated pipeline yielded designs for more than 95% of all predicted genes in the first round of prediction. All library designs are available as a resource for download from our webpage [44]. We validated the knock-down of 98 long dsRNAs directed against 49 Drosophila phosphatases expressed in our tissue culture model and found that approximately 89% of the reagents caused at least 60% mRNA knock-down. The application of a standardized design pipeline for independent designs leads to reproducible knock-downs in our experiments (correlation of 0.85 between the independent designs).
RNAi screens have become a key tool for functional genomic analyses. The interpretation of the increasing number of published data sets obtained through RNAi screens relies heavily on correctly annotated reagents. Phenotypes derived from large-scale screens should be linked to the sequence of the RNAi reagent rather than the gene model because off-target or splice-variant-specific silencing can rarely be excluded. For the correct interpretation of RNAi screens, and also the comparison between different libraries, reagent-to-gene-model linkages must be re-mapped in regular intervals because most genome annotations are still in flux. NEXT-RNAi can be used to rapidly evaluate and re-annotate existing genome-wide libraries. For example, we have applied the algorithm to re-annotate RNAi libraries for Drosophila and human cells. Our analysis of eight genome-wide RNAi libraries for Drosophila revealed differences in genome coverage and predicted quality (for example, specificity), most likely depending on two factors: the quality of the underlying genome release and the factors known to influence reagent quality at the time of the library design. Further, reagents in these libraries often share target sites, thus preventing an independent confirmation of phenotypes on a genomic scale. The re-annotation of commercially available human libraries revealed that a substantial part of the siRNAs (Ambion library, 15.8%; Qiagen library, 7.5%) either do not target the intended gene or are predicted to silence additional loci, demonstrating that quality control at the level of sequence mapping is crucial for the interpretation of large-scale screens.
Several tools for the design of RNAi reagents exist (including, for example, E-RNAi [25], DEQOR [26], SnapDragon [54], and siR[12], and commercial design tools such as siDESIGN Center (Dharmacon, ThermoScientific), BioPredsi (Qiagen) and siRNA Target Finder (Ambion)). However, these tools can only be used for designing long dsRNAs or siRNAs on a gene-by-gene basis. In contrast to available tools, our method allows for rapid batch design and evaluation of RNAi libraries for complete genomes or for any defined set of genes. In addition, our approach uses multiple parameters to calculate or evaluate designs, including sequence complexity, efficiency and specificity indicators, and allows for further refinement by scoring overlap with SNPs or UTRs. The software pipeline can also be used to obtain multiple independent RNAi designs per gene for independent validation of RNAi phenotypes. Additional strengths of NEXT-RNAi are its speed in designing comprehensive libraries and the generation of HTML reports including a variety of output options.
RNAi screening is being used increasingly in diverse organisms that only recently became amenable to genomic approaches. NEXT-RNAi can be deployed to design RNAi reagents for any sequenced genome to facilitate a better understanding of gene function through improved RNAi tools. This can be of particular utility for emerging model organisms that are suitable for large-scale RNAi studies but lack RNAi libraries. Further, in contrast to various microarray platforms, little attention has been paid to the re-annotation of existing RNAi screening data. We provide a fast and flexible software that accelerates the construction of consistent phenotypic data sets from RNAi screening experiments and helps to functionally annotate genome sequences.
Abbreviations
bp:

base pair
CAN:

CA[ACGT] repeats
DRSC:

Drosophila RNAi Screening Center
dsRNA:

double-stranded RNA
esiRNA:

endoribonuclease-prepared siRNA
GEO:

Gene Expression Omnibus
HD2:

Heidelberg 2
miRNA:

microRNA
MRC:

Medical Research Council
NCBI:

National Center for Biotechnology Information
NIG-Fly:

Fly stocks of National Institute of Genetics
RNAi:

RNA interference
RPKM:

reads per kilobase gene per million reads
siRNA:

short interfering RNA
SNP:

single nucleotide polymorphism
UTR:

untranslated region
VDRC:

Vienna Drosophila RNAi Center.
Declarations
Acknowledgements
We are grateful to Amy Kiger, Wolfgang Huber and Robert Gentleman for helpful discussions. We thank Stephanie Mohr and Norbert Perrimon for providing DRSC library information. TH is supported by a PhD fellowship by the Studienstiftung. TS is a postdoctoral fellow of the CellNetworks Cluster of Excellence [EXC81]. This work was in part supported by funding from the Deutsche Forschungsgemeinschaft, the Human Frontiers Sciences Program, the Helmholtz Association and the European Community's Seventh Framework Programme FP7/2007-2013 under grant agreement n° 201666.
Authors' Affiliations
(1)
German Cancer Research Center (DKFZ), Div. of Signaling and Functional Genomics and University of Heidelberg, Department of Cell and Molecular Biology, Faculty of Medicine Mannheim, Heidelberg, Germany
(2)
University of Heidelberg, Hartmut Hoffman-Berling International Graduate School for Molecular and Cellular Biology, Heidelberg, Germany
(3)
University of Heidelberg, CellNetworks Cluster of Excellence, Heidelberg, Germany
Copyright
© Horn et al.; licensee BioMed Central Ltd 2010
This article is published under license to BioMed Central Ltd. This is an open access article distributed under the terms of the Creative Commons Attribution License (http://creativecommons.org/licenses/by/2.0), which permits unrestricted use, distribution, and reproduction in any medium, provided the original work is properly cited.