The conservation and evolutionary modularity of metabolism
Received: 5 February 2009
Accepted: 12 June 2009
Published: 12 June 2009
Abstract
Background
Cellular metabolism is a fundamental biological system consisting of myriads of enzymatic reactions that together fulfill the basic requirements of life. The recent availability of vast amounts of sequence data from diverse sets of organisms provides an opportunity to systematically examine metabolism from a comparative perspective. Here we supplement existing genome and protein resources with partial genome datasets derived from 193 eukaryotes to present a comprehensive survey of the conservation of metabolism across 26 taxa representing the three domains of life.
Results
In general, metabolic enzymes are highly conserved. However, organizing these enzymes within the context of functional pathways revealed a spectrum of conservation from those that are highly conserved (for example, carbohydrate, energy, amino acid and nucleotide metabolism enzymes) to those specific to individual taxa (for example, those involved in glycan metabolism and secondary metabolite pathways). Applying a novel co-conservation analysis, KEGG defined pathways did not generally display evolutionary coherence. Instead, such modularity appears restricted to smaller subsets of enzymes. Expanding analyses to a global metabolic network revealed a highly conserved, but nonetheless flexible, 'core' of enzymes largely involved in multiple reactions across different pathways. Enzymes and pathways associated with the periphery of this network were less well conserved and associated with taxon-specific innovations.
Conclusions
These findings point to an emerging picture in which a core of enzyme activities involving amino acid, energy, carbohydrate and lipid metabolism have evolved to provide the basic functions required for life. However, the precise complement of enzymes associated within this core for each species is flexible.
Keywords
Metabolic NetworkAdditional Data FilePhylogenetic ProfileEnzyme Commission NumberGenome Dataset
Background
Cellular metabolism, represented by complements of enzymatic and transport reactions, is a fundamental biological system required for sustaining life. With a strong tradition in biochemistry, metabolism is probably the most widely characterized biological system studied to date. Several resources are now available that detail the metabolic complement of a wide range of organisms [1, 2]. With the exception of a few model organisms, for the most part these are derived through automated methods capable of reconstructing metabolic networks through sequence similarity searches of known enzymes against their genomes [1–8]. Representation of metabolism is typically provided in the form of pathway maps that collate enzymes on the basis of their involvement in related biochemical conversions [1, 2]. However, given that many pathways share common enzymes, metabolism is increasingly being viewed as an assemblage of functional modules, interconnected through common enzymes and substrates that together coordinate a cell's biochemical activities. This treatment of metabolism as a single integrated network allows the application of sophisticated graph theoretical analyses to uncover fundamental organizational principals within the network. For example, it has been suggested that metabolism displays the typical scale free behavior of small world networks [9–11] (that is, most of the enzymes within the network have only a few connections while a few enzymes, so called hubs, are very highly connected), although this has been questioned in a more recent study [12].
Recently, with the availability of increasing numbers of genomes, there has been considerable interest in examining biological networks from an evolutionary perspective [13–16]. Applied to metabolism, such studies are beginning to yield insights into the effects of selection pressures at both local (pathway) and global (network) scales. Recent studies suggest a 'core' set of metabolic reactions, conserved across many organisms, highlighting the fundamental role of metabolism that is subject to strong evolutionary constraint [17–19]. However, aside from the core, there is increasing evidence that pathway expansions have evolved through the recruitment and/or loss of functional modules of enzymes with related activities [17, 18, 20]. The ability of a functional module to evolve may play a key role in developing or limiting biological robustness [21]. For example, evolutionarily 'frozen' modules may be less able to withstand errors, such as mutational inactivation of gene products, within the same functional module. Focusing on metabolism, two recent studies have used Jaccard coefficients (JCs) to measure the similarity of phylogenetic profiles and identify modules of evolutionarily related enzymes [16, 22]. Yamada and colleagues [16], for example, identified over 200 'phylogenetic network modules' consisting of enzymes proposed to behave in a similar way in the evolutionary process of the metabolic network. Additional studies have further suggested that enzyme modularity is affected by both environmental factors and evolutionary relationships [23, 24]. For example, Kreimer and colleagues [23] noted a trend of modularity decrease from ancestors to descendants. Together these studies suggest the need to explore modularity from the perspective of known phylogenetic relationships.
Due to the paucity of available eukaryotic genomes (to date the full genome sequence of only approximately 60 eukaryotes are currently available [25]), previous comparative studies of metabolism have largely focused on prokaryotes. Recently, we have collated and processed expressed sequence tag datasets to generate so called 'partial genomes' for almost 200 eukaryotes, including members of underrepresented taxonomic classes such as plants, nematodes and various groups of protists [26]. These data represent a valuable sequence resource that provides a unique opportunity to perform more comprehensive studies of metabolic pathways within Eukaryotes, allowing comparisons to be placed within a detailed taxonomic context. The inclusion of these expressed sequence tag datasets allows us to build further on previous studies of metabolic conservation by providing greater confidence to determining the taxonomic coverage afforded by individual enzymes as well as pathways. We highlight enzymes and pathways associated with taxonomic innovations and examine the evolution of these metabolic processes in the context of a novel approach to examining enzyme co-conservation.
Discussion
Here we describe a systematic and comprehensive analysis of the conservation of the universal metabolic network (defined from the KEGG database) across a range of structural and taxonomic hierarchies. The inclusion of partial genomes provides a unique opportunity to extend our knowledge of the conservation of metabolism, particularly with respect to some of the more neglected Eukaryotic taxa (Figure S1 and Results in Additional data file 1). As such, this work builds on prior studies of metabolic conservation that were more restrictive in terms of sequence coverage and phylogenetic extent [18, 33, 46, 47]. For example, Tanaka and colleagues [46] examined enzyme gain and loss events across six eukaryotes to reveal a gain in lipid metabolic processes in vertebrates. Similarly Freilich and colleagues [33] looked at the evolution of the human metabolic network from the perspective of vertebrate evolution. In the current paper, we provide a broader perspective and examine the conservation of enzymes and pathways across 26 taxa, selected on the basis of species coverage and evolutionary relationships [32].
Consistent with previous studies, we found enzymes involved in multiple superclasses were most highly conserved and those involved in glycan metabolism were least highly conserved [18]. Observed differences between the three datasets (complete genomes, partial genomes and nr), revealed the bias towards prokaryotes in the complete genome datasets and highlight the need to consider integrative analyses such as these within a phylogenetic context. As noted earlier, the use of BLAST with a relatively flexible score cutoff will result in an over-prediction of enzymes. Consequently, the lack of homologs of enzymes involved in inositol phosphate and sphingophospholipid pathways in prokaryotes highlights the unique role of these pathways in the formation and function of lipid membranes associated with multi-compartment cells [36, 48]. Similarly, many glycan biosynthetic pathways are largely restricted to the Metazoa. The expansion of glycan pathways in these organisms increases the repertoire of post-translational modifications, resulting in the production of proteins of greater complexity. This enables the addition of new functionalities and specificities that likely underlie the complex array of developmental and signaling processes that facilitate multi-cellular life [49].
To circumvent biases that may occur in pathway definitions, recent studies of metabolic conservation are beginning to adopt a network approach in which metabolic components are linked as nodes in a graph [
10
,
16
,
22
,
50
]. The use of a global metabolic network map (Figure
4
) allowed the identification of a highly interconnected core of conserved enzymes, many of which are involved in multiple pathways. Such enzymes support the notion that 'enzyme recruitment' plays a large role in metabolic evolution where novel pathways can emerge through the recruitment of enzymes (and hence their metabolites) from existing pathways [
18
,
51
]. This is more clearly seen in Figure
6
, which shows the overlap of enzyme activities between different pathways. Pathways involving carbohydrate, amino acid and energy metabolism form a distinct core network with many shared enzyme activities. For example, pyruvate, butanoate and proponoate metabolism share large numbers of activities that are applied in slightly different contexts (for example, EC1.2.1.3, which represents a class of oxidoreductases with wide specificities). Tyrosine, tryptophan, phenylalanine and histidine pathways are also highly interlinked, presumably reflecting their common usage of aromatic substrates. Interestingly, xenobiotic pathways form their own interconnected cluster with a number of links (perhaps indicative of their origins) to the amino acid pathways: tyrosine and tryptophan metabolism and lysine degradation. On the other hand pathways involved in glycan metabolism and the generation of secondary metabolites are largely disconnected from the network, indicating their independent origins, perhaps from other processes not defined as part of metabolism. It should be noted that pathway overlap does not explicitly depict evolutionary relationships for the following reasons: firstly, enzyme activity relationships are independent of sequence relationships; and secondly, it is not clear to what extent pathway borders overlap. Nonetheless, these observations highlight the potential for enzymes to transcend pathway borders to facilitate new functions.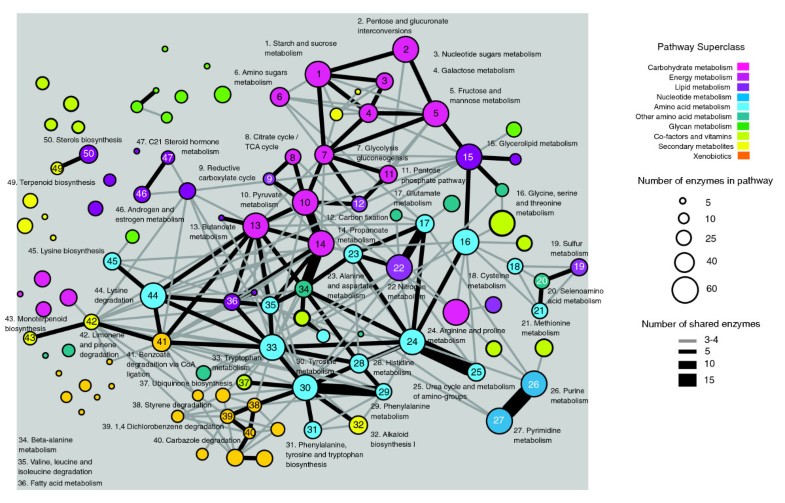 Previous studies examining the evolution of metabolism suggest the existence of functional modules of enzymes that share similar patterns of conservation and may act as evolutionary building blocks [16, 22–24, 52]. Two recent studies applied JCs to measure evolutionary modularity [16, 22]. However, as we have shown here, the use of JC to infer modularity can be misleading if conservation is not taken into account: a high JC may merely reflect proteins that are highly conserved rather than mutual evolutionary trajectories. Furthermore, as noted by Kreimer and colleagues, evolutionary modularity can be influenced by both phylogenetic and environmental relationships [23]. Consequently, in our analyses, we developed a novel algorithm to generate simulated metabolic complements that reflect such relationships. Comparisons with these simulated datasets enable us to identify genuine instances of co-inheritance that do not simply reflect patterns of conservation and common evolutionary histories. For the most part, co-inheritance was restricted mainly to enzymes peripheral to the global metabolic network (for example, N-glycan metabolism and diterpenoid biosynthesis), and represent functions that support taxonomic innovations [53]. The relatively low number of links between co-inherited enzymes at the core of the network or in the nucleotide pathways indicates that despite such enzymes being very highly conserved, they do not always occur together in the same genomes. Given the highly connected nature of many of these proteins, we may further infer that hub proteins may only be co-conserved with a limited number of partners.
These findings point at an emerging picture in which a core of enzyme activities involving amino acid, energy, carbohydrate and lipid metabolism have evolved to provide the basic functions required for life. However, as indicated by the relatively low number of significantly modular links, the precise complement of enzymes associated within this core for each species is flexible. It is important to remember that the network view provided in Figure 4 represents a conglomeration of metabolic pathways from many different species. Subsequently, if we were to visualize any single species, we may expect to find a varying fraction of these core components missing. This is consistent with the idea that the large number of connections provided by these core enzymes might provide a wide variety of alternative routes for the production of key metabolites. The integration of poorly conserved enzymes and pathways involving xenobiotics within this core (high betweenness values) yet possessing low connectivities, suggests that they arise through the recruitment and divergence of existing enzymes from the network core. The periphery of the metabolic network consists of more recent enzyme innovations that, unlike the core enzymes, do not possess similar flexibility in the production of substrates. In the case of pathways involved in glycan metabolism, the large number of shared substrates, together with their relatively recent origin, suggests that they may have evolved from recent gene family expansion events resulting in a large number of enzymes sharing substrates. For example a number of reactions in the N-glycan biosynthetic pathway involve sequential additions of UDP-N-acetyl-D-glucosamine through a set of N-acetylglucosaminyltransferases. Pathways producing secondary metabolites are also of relatively recent origin but, unlike the glycan pathways, involve the use of novel substrates and consist of linear chains of reactions. Their modularity and lack of integration within the rest of the network may reflect the need to tightly control the production and conversion of pathway intermediates to ensure that potentially toxic products are not produced through exposure to unrelated enzymes.
These analyses provide indications on the adaptations to metabolic networks that have been acquired by different sets of organisms. Applied in the context of organisms of industrial importance, such findings could find application in metabolic engineering. For example, there is considerable interest in the production of the diterpenoid paclitaxel, an important anti-cancer therapeutic. Alternatively, applied to organisms associated with pathogenicity, these findings could be exploited for identifying pathways and enzymes that could be usefully targeted for therapeutic intervention (see Additional data file 1 for a simple example). Finally, the approaches outlined here have been limited to the study of metabolism, but may also be applied to other systems such as regulatory pathways (Additional data files 1 and 7).
Conclusions
Here we have combined multiple sources of sequence data to perform a systematic and comprehensive analysis of the conservation and modularity of metabolism across the three domains of life. Intriguingly, while we identified a highly conserved set of enzymes at the core of the metabolic network, there appears to be enormous flexibility in their use across different organisms. It should be appreciated that in using BLAST to infer homology, this study does not claim to reconstruct the metabolic network of any single organism, but instead focuses on levels of sequence conservation associated with specific enzymes and pathways. As such a more detailed comparison of the metabolic networks encoded by individual species would help to further understand and interpret the biological meaning of the differences we have found. Given the scope of the analysis, we have been able to report only a small fraction of our findings. To facilitate further, in-depth explorations of the conservation and modularity of the metabolic network, we make the Cytoscape [54] files generated in this analysis freely available at [55].
Additional data files
The following additional data files are available with the online version of this paper: supplemental material in terms of results, discussion and methods and supplementary figures S1-S7 (Additional data file 1); a table listing the complete and partial genomes used in this study (Additional data file 2); a table listing the conservation of individual enzymes (Additional data file 3); a table listing enzymes restricted to either bacteria or eukaryotes (Additional data file 4); a table showing the conservation of 118 metabolic pathways analyzed in this study (Additional data file 5); a table listing the modularity of 166 metabolic pathways analyzed in this study (Additional data file 6); a table listing the conservation of 25 regulatory pathways defined by KEGG (Additional data file 7).
Abbreviations
EC:

Enzyme Commission
JC:

Jaccard coefficient
KEGG:

Kyoto Encyclopedia of Genes and Genomes
MJC:

mean Jaccard coefficient
MPC:

mean percentage of conservation
nr :

non-redundant protein database
SRS:

sequence retrieval system.
Declarations
Acknowledgements
We would like to thank James Wasmuth (Hospital for Sick Children, Toronto, Canada) and two anonymous reviewers for providing valuable comments during preparation of the manuscript. This work is funded by grants from the Natural Sciences and Engineering Research Council of Canada (NSERC #188266 - 04) and the Canadian Institute of Health Research (CIHR MOP #84556). JMP-A was supported in part by a Research Training award from the Hospital for Sick Children. JP is supported by a CIHR New Investigators award and an Early Researcher Award from the Ontario Ministry of Research and Innovation.
Authors' Affiliations
(1)
Program in Molecular Structure and Function, Hospital for Sick Children, Toronto, Canada
(2)
Department of Molecular Biology and Biochemistry, University of Malaga, Avda. Cevantes, Malaga, Spain
(3)
Department of Molecular Genetics, University of Toronto, King's College Circle, Toronto, Canada
(4)
Department of Biochemistry, University of Toronto, Toronto, Kings' College Circle, Canada
Copyright
© Peregrín-Alvarez et al.; licensee BioMed Central Ltd. 2009
This article is published under license to BioMed Central Ltd. This is an open access article distributed under the terms of the Creative Commons Attribution License (http://creativecommons.org/licenses/by/2.0), which permits unrestricted use, distribution, and reproduction in any medium, provided the original work is properly cited.