Learning to get along despite struggling to get by
Altruism occurs when individuals behave in ways that reduce their own survival or reproduction and provide a fitness benefit to others. While it is often studied in the context of societies or animal behavior, some of the most powerful examples in the biological world are found inside a multicellular organism. From apoptosis-induced suicide to the presentation of foreign antigens by cells that target them for death, it is clear that the cells of a multicellular organism cooperate and behave altruistically. Less obvious, however, is how acts of selflessness can evolve by natural selection if they reduce the fitness of the individuals which perform them, and how they persist despite the immediate benefits of behaving more selfishly.
Social evolution addresses the benefits that cooperation among individuals provides and how it can be maintained in the face of opportunities to cheat. An important goal is to understand how potential conflicts are resolved to give rise to stable societies, whether the society consists of a group of animals or the cells of a body [
1
–
3
]. Of course, genetic variation is the raw material upon which natural selection acts, and thus an obvious way to stamp out selection is to limit genetic variation. Indeed, many multicellular organisms develop from a single cell, and conflict is partly reduced by this and other mechanisms that limit genetic heterogeneity within the individual [
3
–
5
]. Much of social evolution theory, however, was developed around studies of animal societies, such as social insects, where interactions routinely take place between individuals which vary in their relatedness [
5
,
6
]. These studies have not only revealed strategies to direct the benefits of costly actions towards relatives, but also mechanisms to enforce cooperation, such as policing and punishment of rogue individuals whose selfish interests threaten the functioning of the colony [
7
,
8
]. For example, in some species of bees, ants and wasps, worker-laid eggs are sought out and destroyed by the queen or other workers (Figure
1
). Worker policing reduces the benefits that accrue to individuals who selfishly invest in their own reproduction rather than working to benefit that of the queen [
9
].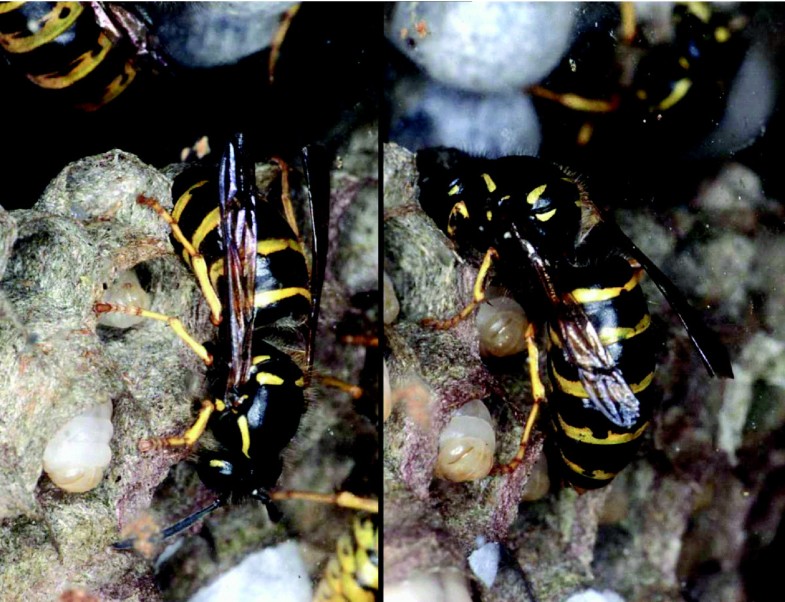 Here we review mechanisms that reduce conflicts and promote cooperation in taxonomically diverse organisms. We highlight why selfish behaviors sometimes arise and persist, and we argue that minimizing the opportunities for selfish behaviors may have played a vital role in many aspects of multicellular biology, both within the lifespan of the individual and across generations. We discuss these mechanisms from different viewpoints - from basic life-history features, such as unicellular bottlenecks during development, to the genetic and molecular bases of altruistic behaviors and how they might function to stabilize cooperation among different cells.
(1)
Department of Ecology and Evolutionary Biology, Rice University, Houston, TX 77005, USA
(2)
Department of Molecular and Human Genetics, Baylor College of Medicine, Houston, TX 77030, USA
© BioMed Central Ltd 2009