Model-based analysis of oligonucleotide arrays: model validation, design issues and standard error application
Genome Biology
2001
2:research0032.1
Received: 15 February 2001
Accepted: 13 June 2001
Published: 3 August 2001
Abstract
Background
A model-based analysis of oligonucleotide expression arrays we developed previously uses a probe-sensitivity index to capture the response characteristic of a specific probe pair and calculates model-based expression indexes (MBEI). MBEI has standard error attached to it as a measure of accuracy. Here we investigate the stability of the probe-sensitivity index across different tissue types, the reproducibility of results in replicate experiments, and the use of MBEI in perfect match (PM)-only arrays.
Results
Probe-sensitivity indexes are stable across tissue types. The target gene's presence in many arrays of an array set allows the probe-sensitivity index to be estimated accurately. We extended the model to obtain expression values for PM-only arrays, and found that the 20-probe PM-only model is comparable to the 10-probe PM/MM difference model, in terms of the expression correlations with the original 20-probe PM/MM difference model. MBEI method is able to extend the reliable detection limit of expression to a lower mRNA concentration. The standard errors of MBEI can be used to construct confidence intervals of fold changes, and the lower confidence bound of fold change is a better ranking statistic for filtering genes. We can assign reliability indexes for genes in a specific cluster of interest in hierarchical clustering by resampling clustering trees. A software dChip implementing many of these analysis methods is made available.
Conclusions
The model-based approach reduces the variability of low expression estimates, and provides a natural method of calculating expression values for PM-only arrays. The standard errors attached to expression values can be used to assess the reliability of downstream analysis.
Keywords
Fold ChangePerfect MatchProbe PairExpression IndexOriginal Cluster
Background
The statistical model proposed in [1] for one probe set in multiple oligonucleotide arrays has the form
It states that the perfect match (PM)/mismatch (MM) difference in array i, probe j of this probe set is the product of model-based expression index (MBEI) in array i (θ i ) and probe-sensitivity index of probe j (

j ) plus random error. Here J is the number of probe pairs in the probe set. Fitting the model, we can identify cross-hybridizing probes (

j with large standard error (SE), which are excluded during iterative fitting) and arrays with image contamination at this probe set (θ i with large SE), as well as single outliers (image spikes) which are replaced by the fitted values. In effect the estimated expression index θ i is a weighted average of PM/MM differences:
Methods and materials
Software
We have developed a software package DNA-Chip Analyzer (dChip [10]) to perform invariant-set normalization (see below), calculation of MBEI [1], computation of confidence intervals of fold changes, and hierarchical clustering with resampling.
Our experience is that more than 10 arrays are appropriate for model training, outlier detection and MBEI calculation. Researchers with fewer than 10 arrays may seek arrays of the same chip type and hybridizing to similar tissue samples, and combine them in a single dChip analysis session. We are exploring model-based meta-analysis of many arrays of the same chip type but hybridizing to a heterogeneous set of tissues samples, and will present such analysis in future work.
Normalization of arrays based on an 'invariant set'
As array images usually have different overall image brightness (Figure
9a
), especially when they are generated at different times and places, proper normalization is required before comparing the expression levels of genes between arrays. Model-based expression computation requires normalized probe-level data (from Affymetrix's DAT or CEL files). For a group of arrays, we normalize all arrays (except the baseline array) to a common baseline array having the median overall brightness (as measured by the median CEL intensity in an array).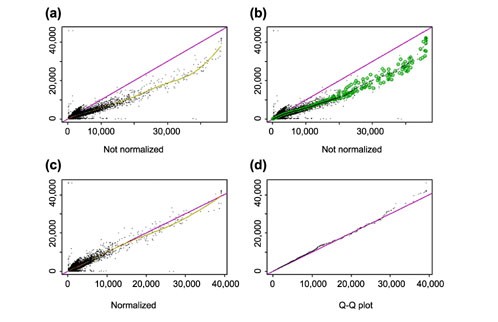 A normalization relation can be understood as a curve in the scatterplot of two arrays with the baseline array drawn on the y-axis and the array to be normalized on the x-axis. A straight line running through the origin is a multiplicative normalization method (GeneChip's scaling method), and a smoothing spline through the scatterplot can also be used (Figure 9a, also see [11]).
We should base the normalization only on probe values that belong to non-differentially expressed genes, but generally we do not know which genes are non-differentially expressed (control or housekeeping genes may also be variable across arrays). Nevertheless, we expect that a probe of a non-differentially expressed gene in two arrays to have similar intensity ranks (ranks are calculated in two arrays separately). We use an iterative procedure to identify a set of probes (called the invariant set), which presumably consists of points from non-differentially expressed genes (Figure
9b
). Specifically, we start with points of all PM probes (about 140,000 for HU6800 array). If a point's proportion rank difference (PRD, absolute rank difference in two arrays divided by
n =
140,000) is small enough, it is kept for the new set. Here the threshold of being small is PRD < 0.003 when a points's average intensity ranks in the two arrays is small and PRD < 0.007 when it is large, accounting for fewer points at high-intensity range; and the threshold is interpolated in between. We chose these parameters empirically to make the selected points in the invariant set thin enough to naturally determine a normalization relation. In this way we may obtain a new set of 10,000 points, and the same procedure is applied to the new set iteratively, until the number of points in the new set does not decrease anymore. A piecewise linear running median line is then calculated and used as the normalization curve. After normalization, the two arrays have similar overall brightness. (Figure
9c
). Figure
10
shows another pair of arrays where the normalization relationship is non-linear.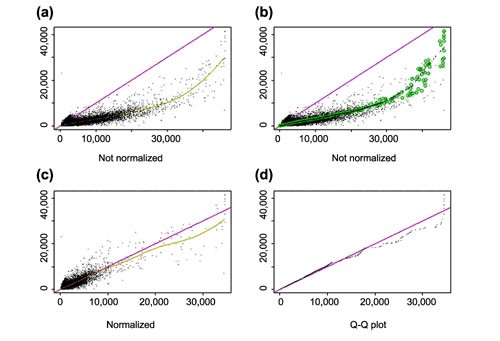 Declarations
Acknowledgements
We thank Sven de Vos, Dan Tang, Nik Brown, Stan Nelson, Jae K. Lee, Yaron Hakak, John Walker and Arindam Bhattacharjee for providing data, and the editor and referees who provided valuable suggestions. This work is supported in part by NIH grant 1 RO1 HG02341-01 and NSF grant DBI-9904701.
Authors' Affiliations
(1)
Department of Biostatistics, Harvard School of Public Health, Boston, USA
(2)
Department of Statistics, Harvard University, Boston, USA
Copyright
© Li and Wong, licensee BioMed Central Ltd 2001