Mash: fast genome and metagenome distance estimation using MinHash
Received: 31 December 2015
Accepted: 3 June 2016
Published: 20 June 2016
Abstract
Mash extends the MinHash dimensionality-reduction technique to include a pairwise mutation distance and P value significance test, enabling the efficient clustering and search of massive sequence collections. Mash reduces large sequences and sequence sets to small, representative sketches, from which global mutation distances can be rapidly estimated. We demonstrate several use cases, including the clustering of all 54,118 NCBI RefSeq genomes in 33 CPU h; real-time database search using assembled or unassembled Illumina, Pacific Biosciences, and Oxford Nanopore data; and the scalable clustering of hundreds of metagenomic samples by composition. Mash is freely released under a BSD license (https://github.com/marbl/mash).
Keywords
Comparative genomicsGenomic distanceAlignmentSequencingNanoporeMetagenomics
Background
When BLAST was first published in 1990 [1], there were less than 50 million bases of nucleotide sequence in the public archives [2]; now a single sequencing instrument can produce over 1 trillion bases per run [3]. New methods are needed that can manage and help organize this scale of data. To address this, we consider the general problem of computing an approximate distance between two sequences and describe Mash, a general-purpose toolkit that utilizes the MinHash technique [4] to reduce large sequences (or sequence sets) to compressed sketch representations. Using only the sketches, which can be thousands of times smaller, the similarity of the original sequences can be rapidly estimated with bounded error. Importantly, the error of this computation depends only on the size of the sketch and is independent of the genome size. Thus, sketches comprising just a few hundred values can be used to approximate the similarity of arbitrarily large datasets. This has important applications for large-scale genomic data management and emerging long-read, single-molecule sequencing technologies. Potential applications include any problem where an approximate, global distance is acceptable, e.g. to triage and cluster sequence data, assign species labels, build large guide trees, identify mis-tracked samples, and search genomic databases.
The MinHash technique is a form of locality-sensitive hashing [5] that has been widely used for the detection of near-duplicate Web pages and images [6, 7], but has seen limited use in genomics despite initial applications over ten years ago [8]. More recently, MinHash has been applied to the relevant problems of genome assembly [9], 16S rDNA gene clustering [10, 11], and metagenomic sequence clustering [12]. Because of the extremely low memory and CPU requirements of this probabilistic approach, MinHash is well suited for data-intensive problems in genomics. To facilitate this, we have developed Mash for the flexible construction, manipulation, and comparison of MinHash sketches from genomic data. We build upon past applications of MinHash by deriving a new significance test to differentiate chance matches when searching a database, and derive a new distance metric, the Mash distance, which estimates the mutation rate between two sequences directly from their MinHash sketches. Similar "alignment-free" methods have a long history in bioinformatics [13, 14]. However, prior methods based on word counts have relied on short words of only a few nucleotides, which lack the power to differentiate between closely related sequences and produce distance measures that can be difficult to interpret [15–18]. Alternatively, methods based on string matching can produce very accurate estimates of mutation distance, but must process the entire sequence with each comparison, which is not feasible for all-pairs comparisons [19–22]. In contrast, the Mash distance can be quickly computed from the size-reduced sketches alone, yet produces a result that strongly correlates with alignment-based measures such as the Average Nucleotide Identity (ANI) [23]. Thus, Mash combines the high specificity of matching-based approaches with the dimensionality reduction of statistical approaches, enabling accurate all-pairs comparisons between many large genomes and metagenomes.
Mash provides two basic functions for sequence comparisons:
sketch
and
dist
. The
sketch
function converts a sequence or collection of sequences into a MinHash sketch (Fig.
1
). The
dist
function compares two sketches and returns an estimate of the Jaccard index (i.e. the fraction of shared k-mers), a
P
value, and the Mash distance, which estimates the rate of sequence mutation under a simple evolutionary model [
22
] (see "
Methods
"). Since Mash relies only on comparing length
k
substrings, or k-mers, the inputs can be whole genomes, metagenomes, nucleotide sequences, amino acid sequences, or raw sequencing reads. Each input is simply treated as a collection of k-mers taken from some known alphabet, allowing many applications. Here we examine three specific use cases: (1) sketching and clustering the entire NCBI RefSeq genome database; (2) searching assembled and unassembled genomes against the sketched RefSeq database in real time; and (3) computing a distance between metagenomic samples using both assembled and unassembled read sets. Additional applications can be envisioned and are covered in the "Discussion".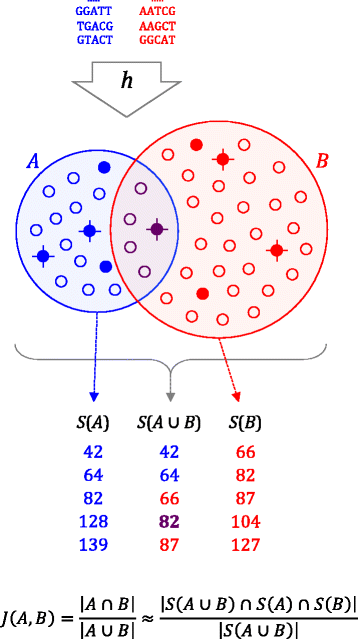 Results and discussion
Clustering all genomes in NCBI RefSeq
Mash enables scalable whole-genome clustering, which is an important application for the future of genomic data management, but currently infeasible with alignment-based approaches. As genome databases increase in size and whole-genome sequencing becomes routine, it will become impractical to manually assign taxonomic labels for all genomes. Thus, generalized and automated methods will be useful for constructing groups of related genomes, e.g. for the automated detection of outbreak clusters [24]. To illustrate the utility of Mash, we sketched and clustered all of NCBI RefSeq Release 70 [25], totaling 54,118 organisms and 618 Gbp of genomic sequence. The resulting sketches total only 93 MB (Additional file 1: Supplementary Note 1), yielding a compression factor of more than 7000-fold versus the uncompressed FASTA (674 GB). Further compression of the sketches is possible using standard compression tools. Sketching all genomes and computing all ~1.5 billion pairwise distances required just 26.1 and 6.9 CPU h, respectively. This process is easily parallelized, which can reduce the wall clock time to minutes with sufficient compute resources. Once constructed, additional genomes can be added incrementally to the full RefSeq database in just 0.9 CPU s per 5 MB genome (or 4 CPU min for a 3 GB genome). Thus, we have demonstrated that it is possible to perform unsupervised clustering of all known genomes and to efficiently update this clustering as new genomes are added.
Importantly, the resulting Mash distances correlate well with ANI (a common measure of genome similarity), with
D
 ≈ 1 − 
ANI
over multiple sketch and k-mer sizes (Fig.
2
). Due to the high cost of computing ANI via whole-genome alignment, a subset of 500 Escherichia genomes was selected for comparison (Additional file
1
: Supplementary Note 1). For ANI in the range of 90–100 %, the correlation with Mash distance is very strong across multiple sketch sizes and choices of
k
. For the default sketch size of
s
 = 1000 and
k
 = 21, Mash approximates 1–ANI with a root-mean-square error of 0.00274 on this dataset. This correlation begins to degrade for more divergent genomes because the variance of the Mash estimate grows with distance. Increasing sketch size improves the accuracy of Mash estimates, especially for divergent genomes (Table
1
, Additional file
1
: Figures S1 and S2). This results in a negligible increase in runtime for sketching, but the size of the resulting sketches and time required for distance comparisons increases linearly (Table
2
). The choice of
k
is a tradeoff between sensitivity and specificity. Smaller values of
k
are more sensitive for divergent genomes, but lose specificity for large genomes due to chance k-mer collisions (Additional file
1
: Figure S3). Such chance collisions will skew the Mash distance, but given a known genome size, undesirable k-mer collisions can be avoided by choosing a suitably large value of
k
(see "
Methods
"). However, too large of a k-mer will reduce sensitivity and so choosing the smallest
k
that avoids chance collisions is recommended.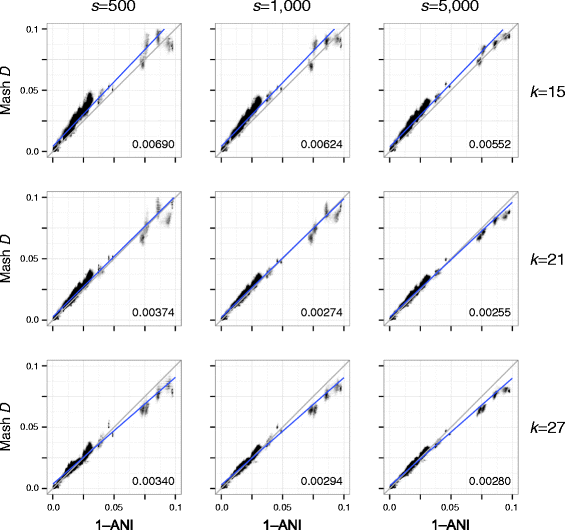 Table 1
Example Mash error bounds for a k-mer size of 21 and increasing sketch sizes
Mash distance

Sketch size

0.05

0.10

0.15

0.20

0.25

0.30

0.35

0.40

100

0.0271

0.0868

–

–

–

–

–

–

500

0.0098

0.0245

0.0473

–

–

–

–

–

1000

0.0068

0.0158

0.0323

0.0630

–

–

–

–

5000

0.0029

0.0065

0.0124

0.0235

0.0460

–

–

–

10,000

0.0020

0.0046

0.0086

0.0159

0.0300

0.0726

–

–

50,000

0.0009

0.0020

0.0037

0.0065

0.0116

0.0219

0.0396

0.0822

100,000

0.0006

0.0014

0.0026

0.0046

0.0081

0.0143

0.0250

0.0492

500,000

0.0003

0.0006

0.0011

0.0020

0.0035

0.0060

0.0105

0.0187

1,000,000

0.0002

0.0004

0.0008

0.0014

0.0024

0.0042

0.0072

0.0128
Table 2
Mash runtime and output size for all-pairs RefSeq computation using various sketch and k-mer sizes
k = 16

k = 21

Sketch size

Sketch (CPU h)

Dist (CPU h)

Size (Mb)

gzip (Mb)

Sketch (CPU h)

Dist (CPU h)

Size (Mb)

gzip (Mb)

500

26.4

8.4

120.1

89.7

31.3

9.0

229.8

201.8

1000

27.7

15.9

224.9

179.7

31.3

17.4

439.2

399.6

5000

26.4

74.5

1022.5

873.8

31.6

83.6

2034.5

1924.6

10,000

26.8

146.9

1961.8

1691.1

31.7

164.0

3913.0

3696.2
Approximate species clusters can be generated from the all-pairs distance matrix by graph clustering methods or simple thresholding of the Mash distance to create connected components. To illustrate, we linked all RefSeq genomes with a pairwise Mash distance ≤0.05, which equates to an ANI of ≥95 %. This threshold roughly corresponds to a 70 % DNA-DNA reassociation value—a historical, albeit debatable, definition of bacterial species [
23
]. Figure
3
shows the resulting graph of significant (
P
≤10
–10
) pairwise distances with
D
≤0.05 for all microbial genomes. Simply considering the connected components of the resulting graph yields a partitioning that largely agrees with the current NCBI bacterial species taxonomy. Eukaryotic and plasmid components are shown in Additional file
1
: Figures S4 and S5, but would require alternate parameters for species-specific clustering due to their varying characteristics.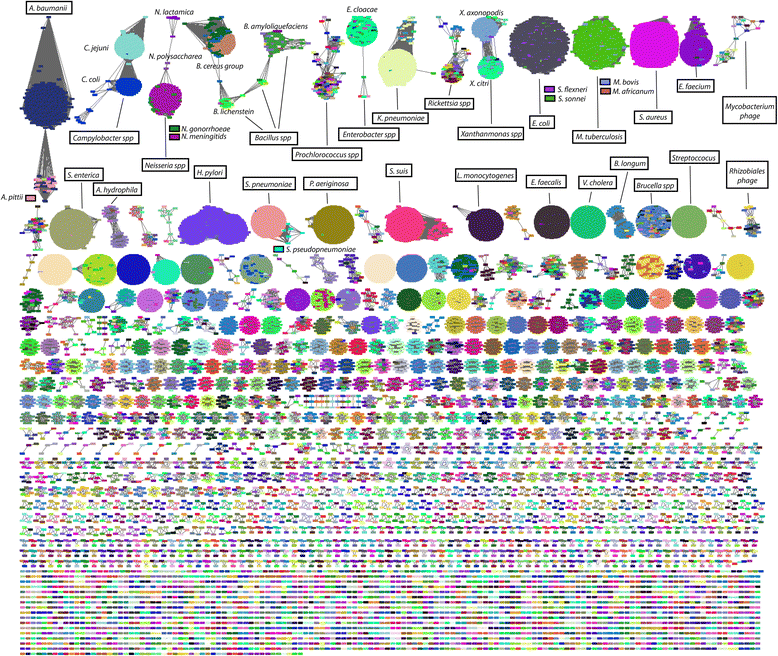 Beyond simple clustering, the Mash distance is an approximation of the mutation rate that can also be used to rapidly approximate phylogenies using hierarchical clustering. For example, all pairwise Mash distances for 17 RefSeq primate genomes were computed in just 2.5 CPU h (11 min wall clock on 17 cores) with default parameters (
s
 = 1000 and
k
 = 21) and used to build a neighbor-joining tree [
26
]. Figure
4
compares this tree to an alignment-based phylogenetic tree model downloaded from the UCSC genome browser [
27
]. The Mash and UCSC primate trees are topologically consistent for everything except the Homo/Pan split, for which the Mash topology is more similar to past phylogenetic studies [
28
] and mitochondrial trees [
14
]. On average, the Mash branch lengths are slightly longer, with a Branch Score Distance [
29
] of 0.10 between the two trees, but additional distance corrections are possible for k-mer based models [
22
]. However, due to limitations of both the k-mer approach and simple distance model, we emphasize that Mash is not explicitly designed for phylogeny reconstruction, especially for genomes with high divergence or large size differences. For example, clustering the treeshrew, mouse, rat, guinea pig, and rabbit genomes alongside the primate genomes causes the tarsier to become misplaced (Additional file
1
: Figure S6). Increasing the sketch size from 1000 to 5000 corrects this placement, but Mash has limited accuracy at these distances and should only be used in cases where such approximations are sufficient.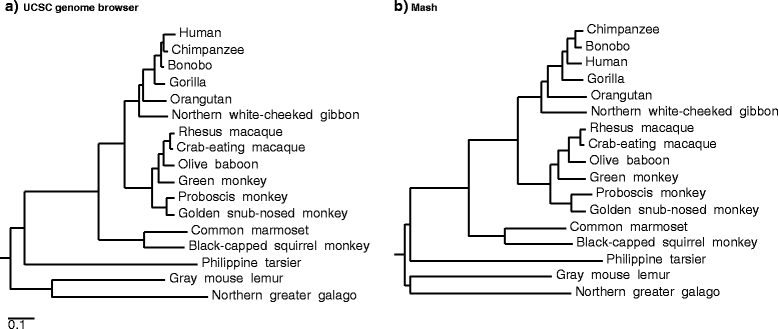 Real-time genome identification from assemblies or reads
With a pre-computed sketch database, Mash is able to rapidly identify isolated genomes from both assemblies and raw sequencing reads. To illustrate, we computed Mash distances for multiple
Escherichia coli
datasets compared against the RefSeq sketch database (Table
3
). This test included the K12 MG1655 reference genome as well as assembled and unassembled sequencing runs from the ABI 3730, Roche 454, Ion PGM, Illumina MiSeq, PacBio RSII, and Oxford Nanopore MinION instruments. For assembled genomes, the correct strain was identified as the best hit in a few seconds. For each unassembled genome, a single sketch was constructed from the collection of k-mers in the reads and compared to the sketch database. In these cases, the best hit was to the correct species, including for
E. coli
1D MinION reads [
30
], which had an average sequencing error rate of ~40 %. However, the best-hit strain was often incorrect due to noise in the raw reads. To account for this uncertainly, we applied lowest common ancestor (LCA) classification (see "
Methods
"), which was correct in all cases, albeit with reduced resolution. To further mitigate the problem of erroneous k-mers, Mash can filter low-abundance k-mers from raw sequencing data to improve accuracy. Increasing the sketch size can also improve sensitivity, as would error correction using dedicated methods [
31
]. However, there are tradeoffs to consider when filtering or correcting low-coverage datasets (e.g. less than 5X coverage [
22
]).
Table 3
Sequencing runs and assemblies searched against the Mash RefSeq database
Organism

Tech

Type

NCBI accession

Size (Mbp)

Time (CPU s)

LCA

Best hit

E. coli

K12 MG1655

MiSeq

Assembly

(SPAdes)

4.6

2.45

Entero.

E. coli

K12 MG1655

E. coli

K12 MG1655

PacBio

Assembly

GCA_000801205

4.6

2.66

Entero.

E. coli

K12 MG1655

E. coli

DH1

ABI 3730

Reads

(Trace Archive)

60

17.08

Entero.

E. coli

DH1

E. coli

K12 MG1655

454

Reads

SRR797242

233

57.12

Entero.

E. coli

K12 MG1655

E. coli

K12 MG1655

Ion PGM

Reads

SRR515925

407

72.01

E. coli

E. coli

K12 1655

E. coli

K12 MG1655

MiSeq

Reads

SRR1770413

387

72.01

Entero.

E. coli

KLY

E. coli

K12 MT203

HiSeq

Reads

SRR490124

2155

369.86

E. coli

E. coli

GCF_000833635

E. coli

K12 MG1655

PacBio

Reads

SRR1284073

397

77.96

E. coli

E. coli XH140A GCF_000226585

E. coli

K12 MG1655

MinION

1D

ERR764952..55

248

55.52

Entero.

E. coli

O113 H21

E. coli

K12 MG1655

MinION

2D

ERR764952..55

134

27.82

E. coli

E. coli GCF_000953515

B. anthracis Ames

MinION

1D + 2D

SRR2671867

210

44.66

B. anthracis

B. anthracis

str. Carbosap

B. cereus ATCC 10987

MinION

1D + 2D

SRR2671868

266

76.85

B. cereus ATCC 10987

B. cereus

ATCC 10987

Zaire ebolavirus

MinION

1D + 2D

ERR1050070

8.7

2.06

Zaire ebolavirus

Zaire ebolavirus Mayinga
To test Mash's discriminatory power, we searched Oxford Nanopore MinION reads collected from Bacillus anthracis and Bacillus cereus against the full RefSeq sketch database. In both cases Mash was able to correctly differentiate these closely related species (ANI ≈ 95 %) using 43,806 and 91,379 sequences collected from single MinION R7.3 runs of B. anthracis Ames and B. cereus ATCC 10987, respectively (combined 1D and 2D reads). In the case of the higher quality B. cereus reads, processed with a more recent ONT workflow (1.10.1 vs. 1.6.3), the correct strain was identified as the best hit. These two searches both required just 1 min of CPU and 209 MB of RAM. Such low-overhead searches could be used for quickly triaging unknown samples or to rapidly select a reference genome for performing further, more detailed comparative analyses. For example, Mash uses an online algorithm for sketch construction and can therefore compare a sequencing run against a sketch database in real time. When tested on the Ebola virus MinION dataset, the Zaire ebolavirus reference genome was matched with a Mash P value of 10–10 after processing the first 227,445 bases of sequencing data, which were collected by the MinION after just 770 s of sequencing. However, analyzing such streaming data presents a multiple testing problem and determining appropriate stopping conditions is left for future work (e.g. by monitoring the stability of a sketch as additional data are processed).
Clustering massive metagenomic datasets
Mash can also replicate the function of k-mer based metagenomic comparison tools, but in a fraction of the time previously required. The metagenomic comparison tool DSM, for example, computes an exact Jaccard index using all k-mers that occur more than twice per sample [
32
]. By definition, Mash rapidly approximates this result by filtering unique k-mers and estimating the Jaccard index via MinHash. COMMET also uses k-mers to approximate similarity, but attempts to identify a set of similar reads between two samples using Bloom filters [
33
,
34
]. The similarity of two samples is then defined as the fraction of similar reads that the two datasets share, which is essentially a read-level Jaccard index. Thus, both DSM and COMMET report Jaccard-like similarity measures, which drop rapidly with increasing divergence, whereas the Mash distance is linear in terms of the mutation rate, but becomes less accurate with increasing divergence. Figure
5a
replicates the analysis in Maillet et al. [
33
] using both Mash and COMMET to cluster Global Ocean Survey (GOS) data [
35
]. On this dataset, Mash is over tenfold faster than COMMET and correctly identifies clusters from the original GOS study. This illustrates the incremental scalability of Mash where the primary overhead is sketching, which occurs only once per each sample. After sketching, computing pairwise distances is near instantaneous. Thus, Mash avoids the quadratic barrier usually associated with all-pairs comparisons and scales well to many samples. For example, COMMET would require 1 h to add a new GOS sample to this analysis, compared to less than 1 min for Mash.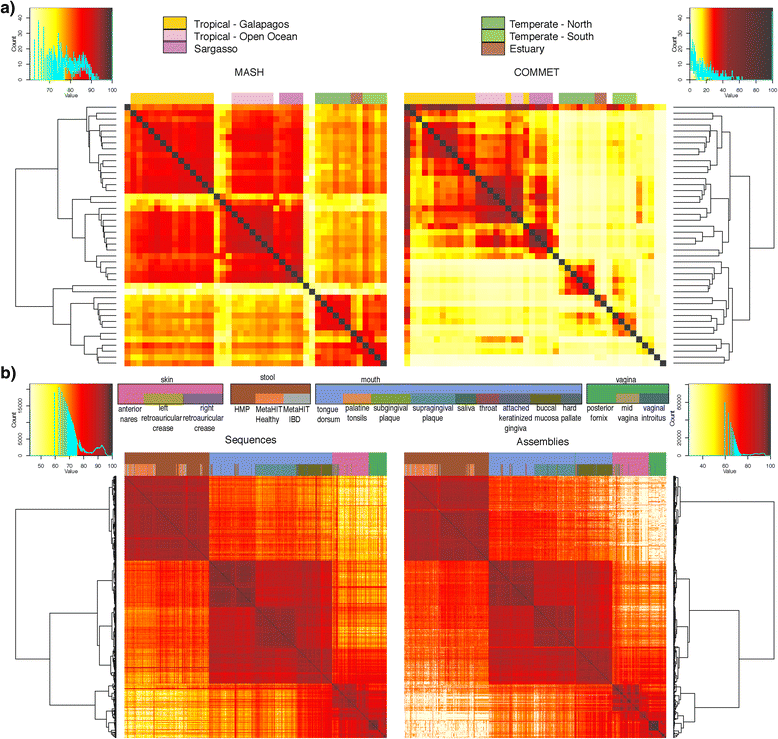 For a large-scale test, samples from the Human Microbiome Project [36] (HMP) and Metagenomics of the Human Intestinal Tract [37] (MetaHIT) were combined to create a ~10 TB 888-sample dataset. Importantly, the size of a Mash sketch is independent of the input size, requiring only 70 MB to store the combined sketches (s = 10,000, k = 21) for these datasets. Both assembled and unassembled samples were analyzed, requiring 4.4 CPU h to process all assemblies and 279.6 CPU h to process all read sets. We estimated that COMMET would require at least 140,000 CPU h to process all read sets (500 times slower than Mash), so it was not run on the full dataset. The Mash assembly-based and read-based clusters are remarkably similar, with all samples clearly grouped by body site (Fig. 5b). Additionally, Mash identified outlier samples that were independently excluded by the HMP's quality control process. When included in the clustering, these samples were the only ones that failed to cluster by body site (Additional file 1: Figure S7). However, because the Mash distance is based on simple k-mer sets, it may be more prone to batch effects from sequencing or sample preparation methods. For example, Mash does not cluster MetaHIT samples by health status, as previously reported [37], and MetaHIT samples appear to preferentially cluster with one another.
Conclusions
Mash enables the comparison and clustering of whole genomes and metagenomes on a massive scale. Potential applications include the rapid triage and clustering of sequence data, for example, to quickly select the most appropriate reference genome for read mapping or to identify mis-tracked or low quality samples that fail to cluster as expected. Strong correlation between the Mash distance and sequence mutation rate enables approximate phylogeny construction, which could be used to rapidly determine outbreak clusters for thousands of genomes in real time. Additionally, because the Mash distance is based upon simple set intersections, it can be computed using homomorphic encryption schemes [38], enabling privacy-preserving genomic tests [39].
Future applications of Mash could include read mapping and metagenomic sequence classification via windowed sketches or a containment score to test for the presence of one sequence within another [4]. However, both of these approaches would require additional sketch overhead to achieve acceptable sensitivity. Improvements in database construction are also expected. For example, rather than storing a single sketch per sequence (or window), similar sketches could be merged to further reduce space and improve search times. Obvious strategies include choosing a representative sketch per cluster or hierarchically merging sketches via a Bloom tree [40]. Finally, both the sketch and dist functions are designed as online algorithms, enabling, for example, dist to continually update a sketch from a streaming input. The program could then be modified to terminate when enough data have been collected to make a species identification at a predefined significance threshold. This functionality is designed to support the analysis of real-time data streams, as is expected from nanopore-based sequencing sensors [24].
Declarations
Acknowledgements
The authors thank Konstantin Berlin, Ben Langmead, Michael Schatz, and Nicolas Maillet for their helpful suggestions; Brian Walenz and Torsten Seemann for reviewing the draft; Jiarong Guo, Sherine Awad, C. Titus Brown, and an anonymous referee for their constructive reviews; and Philip Ashton, Aleksey Jironkin, and Nicholas Loman for providing early feedback on the software.
Funding
This research was supported in part by the Intramural Research Program of the National Human Genome Research Institute, National Institutes of Health, and under Contract No. HSHQDC-07-C-00020 awarded by the Department of Homeland Security (DHS) Science and Technology Directorate (S&T) for the management and operation of the National Biodefense Analysis and Countermeasures Center (NBACC), a Federally Funded Research and Development Center. The views and conclusions contained in this document are those of the authors and should not be interpreted as necessarily representing the official policies, either expressed or implied, of the DHS or S&T. In no event shall the DHS, NBACC, S&T, or Battelle National Biodefense Institute (BNBI) have any responsibility or liability for any use, misuse, inability to use, or reliance upon the information contained herein. DHS does not endorse any products or commercial services mentioned in this publication.
Availability of data and materials
Additional file 1 is available with the online version of this paper. This file includes all supplementary figures, tables, and notes referenced in the manuscript. The Oxford Nanopore MinION runs for B. anthracis and B. cereus are available from the NCBI SRA repository under accessions SRR2671867 and SRR2671868, respectively. All experiments described here were run using Mash v1.0. Mash source code and precompiled binary releases are freely available from https://github.com/marbl/mash under a three-clause BSD license. Mash documentation and additional supporting data are available from http://mash.readthedocs.org. Mash is written in C++ and has been tested on Linux and Mac OS X.
Authors' contributions
AMP conceived the project, designed the methods, and wrote the paper with input from BDO, TJT, SK, and PM. BDO wrote the software and assisted with analyses. TJT led the RefSeq and tree analyses. SK led the search and metagenomic analyses. ABM and NHB performed sequencing experiments. All authors read and approved the final manuscript.
Competing interests
The authors declare that they have no competing interests.
Consent for publication
Not applicable.
Ethics approval and consent to participate
Not applicable.
Open AccessThis article is distributed under the terms of the Creative Commons Attribution 4.0 International License (http://creativecommons.org/licenses/by/4.0/), which permits unrestricted use, distribution, and reproduction in any medium, provided you give appropriate credit to the original author(s) and the source, provide a link to the Creative Commons license, and indicate if changes were made. The Creative Commons Public Domain Dedication waiver (http://creativecommons.org/publicdomain/zero/1.0/) applies to the data made available in this article, unless otherwise stated.
Authors' Affiliations
(1)
National Biodefense Analysis and Countermeasures Center, Frederick, USA
(2)
Faculty of Industrial Engineering, Mechanical Engineering and Computer Science, University of Iceland, Reykjavik, Iceland
(3)
Genome Informatics Section, Computational and Statistical Genomics Branch, National Human Genome Research Institute, National Institutes of Health, Bethesda, USA