Integrative genomic deconvolution of rheumatoid arthritis GWAS loci into gene and cell type associations
Received: 9 November 2015
Accepted: 12 April 2016
Published: 30 April 2016
Abstract
Background
Although genome-wide association studies (GWAS) have identified over 100 genetic loci associated with rheumatoid arthritis (RA), our ability to translate these results into disease understanding and novel therapeutics is limited. Most RA GWAS loci reside outside of protein-coding regions and likely affect distal transcriptional enhancers. Furthermore, GWAS do not identify the cell types where the associated causal gene functions. Thus, mapping the transcriptional regulatory roles of GWAS hits and the relevant cell types will lead to better understanding of RA pathogenesis.
Results
We combine the whole-genome sequences and blood transcription profiles of 377 RA patients and identify over 6000 unique genes with expression quantitative trait loci (eQTLs). We demonstrate the quality of the identified eQTLs through comparison to non-RA individuals. We integrate the eQTLs with immune cell epigenome maps, RA GWAS risk loci, and adjustment for linkage disequilibrium to propose target genes of immune cell enhancers that overlap RA risk loci. We examine 20 immune cell epigenomes and perform a focused analysis on primary monocytes, B cells, and T cells.
Conclusions
We highlight cell-specific gene associations with relevance to RA pathogenesis including the identification of FCGR2B in B cells as possessing both intragenic and enhancer regulatory GWAS hits. We show that our RA patient cohort derived eQTL network is more informative for studying RA than that from a healthy cohort. While not experimentally validated here, the reported eQTLs and cell type-specific RA risk associations can prioritize future experiments with the goal of elucidating the regulatory mechanisms behind genetic risk associations.
Keywords
Genome-wide association studies (GWAS)EpigenomicsExpression quantitative trait loci (eQTLs)Rheumatoid arthritis
Background
Rheumatoid arthritis (RA) is a common autoimmune disease that results in progressive disability. RA primarily affects the small joints of the hands and feet, where immune cells invade the lining of the joint, causing synovial inflammation and hyperplasia. Disease progression leads to cartilage and bone destruction as well as systemic comorbidities that result in higher mortality rates in RA patients than healthy adults [1]. The genetic factors underlying susceptibility to RA have been examined with multiple genome-wide association studies (GWAS) that have identified over 100 single nucleotide polymorphisms (SNPs) associated with RA [2]. However, the translation of these findings into disease understanding and therapeutic interventions is not straightforward. Besides the difficulty in identifying disease-casual variants (and not those in high linkage disequilibrium [LD] with the true causal variant), most reported GWAS SNPs do not reside in protein-coding regions and may be near many candidate genes. These challenges have limited the ability to translate genetic studies into RA disease understanding.
While most identified disease-associated genetic variants do not result in functional mutations, multiple lines of evidence support a gene regulatory role for these variants. It has been demonstrated that non-coding GWAS SNPs are more likely to reside in DNaseI hypersensitivity sites indicative of cis-regulatory elements [3]. Moreover, immune disease-associated SNPs are highly enriched at intergenic regulatory enhancers, with a limited set perturbing known transcription factor motifs [3–7]. There are also several mechanistic demonstrations of specific GWAS-identified SNPs that have been linked to disease through gene mis-regulation [8, 9]. Together, these studies provide strong evidence that SNPs identified through GWAS need to be further annotated with additional data to understand their function.
The regulatory role of GWAS loci is further supported by the finding that GWAS SNPs are enriched at DNA variants correlated with gene expression changes, known as expression quantitative trait loci (eQTLs) [10]. eQTLs are a powerful tool to connect SNPs of unknown function with expression of putative disease-relevant genes. Toward the goal of elucidating the gene regulatory role of disease-associated variants, previous studies have used publicly available eQTL datasets to annotate GWAS SNPs [2, 11, 12]. Increasingly, eQTLs mapped from sorted cell populations or tissues are used because of evidence that gene regulation is highly context specific [4, 13–15]. It is often prohibitively difficult to obtain eQTL datasets from large patient cohorts or access disease-relevant cells or tissues; therefore, data from healthy cohorts and not the disease of interest are used. However, we hypothesize that studies of relevant patient populations could provide better information than these non-disease datasets.
Herein, we present the results of an investigation to address some of the challenges described above. We mapped eQTLs using whole-genome sequencing data and whole blood gene expression data from a population of 377 unrelated RA patients. To our knowledge, this is the first study to map eQTLs from RA patient samples. We find greater than 6000 genes with significant eQTLs that are enriched with RA relevant pathways. The RA mapped eQTLs are enriched at RA GWAS loci and enhancers from immune cell epigenome maps. Comparison to eQTLs from healthy donors revealed greater enrichment in RA GWAS loci in our dataset derived from RA patients. Next, we associated known RA GWAS loci with proposed gene and cell type annotations by performing an integrative genomics analysis of: RA eQTLs, RA GWAS loci, and immune cell epigenome maps. We find greater cell type-specific chromatin activity at enhancers overlapping RA GWAS loci compared to gene body/promoters overlapping GWAS loci across various cell type datasets. As our deconvolution converts loci associations into cell type and gene associations, it simplifies the choice of an experimental system for validation. As an example, we identify FCGR2B in B cells as possessing both intragenic and enhancer regulatory GWAS hits, suggesting that this gene is potentially a key RA driver in B cells. We provide our results as a foundation to generate hypotheses for the design of validation experiments, which could tease apart the genetic and biologic mechanisms underlying the development and progression of RA, a disease where there remains a large unmet therapeutic need.
Discussion
Mapping gene regulatory components of RA
Understanding the genetic and regulatory component of complex diseases such as RA remains a large challenge. Here, we present a resource to study the connections between RA risk loci and gene expression. We used matched whole-genome sequencing and mRNA profiling from 377 patients with moderate to severe RA. This dataset has the advantage of being disease-specific, unlike eQTLs derived from healthy (non-RA) subjects. We demonstrated that the eQTLs mapped from the whole blood of RA patients are more enriched for RA GWAS SNPs than other eQTL datasets (Fig. 2). We confirmed that eQTLs mapped from RA patients are enriched in enhancer regions of relevant cell types such as peripheral blood B cells and T cells. We mapped previously reported RA GWAS loci to enhancers from peripheral blood datasets and then genes using our eQTLs. This method was able to identify connections between genes and regions associated with RA risk, providing a mechanism to better understand RA disease biology as well as potential pathways for drug discovery.
The finding that our eQTL dataset mapped from RA patients is more enriched with RA GWAS loci that previously published datasets in non-RA cohorts could be due to several factors, which are explored further in Additional file 13: Figure S9. One possible explanation is that the eQTL variants have higher allele frequencies in RA subjects, therefore boosting the power to detect associations with gene expression. However, GWA studies indicate that the allele frequencies should not be greatly different for most variants in RA cases versus healthy controls. Therefore, this is unlikely to explain the observed difference. We confirmed this by comparing the allele frequencies of eQTLs observed in our cohort to the allele frequencies for the same variants in the 1000 genomes EUR population (Additional file 13: Figure S9A–C). A second possible explanation for the enrichment of RA GWAS loci in our RA dataset is that RA blood contains a larger proportion of relevant cell types compared to healthy blood, which could boost the power to detect eQTLs for genes expressed predominantly in these cell types. Indeed, there are several publications documenting changes in cell frequency in peripheral blood of RA patients compared to non-RA healthy controls [32–34]. A comparison of egenes from our study to those from healthy donors demonstrated that egenes detected uniquely in RA blood (and not healthy donors) were highly expressed in relevant cell populations such as T lymphocytes (Additional file 13: Figure S9F). A third explanation for the difference between RA and healthy eQTLs, which is potentially the most intriguing, is that the conditions present in RA patients result in context-specific gene regulation resulting in detection of eQTLs not present in healthy donors. In support of this hypothesis, stimulation-dependent eQTLs have been reported in human monocytes stimulated with lipopolysaccharide or interferon-ɣ [35]. In order to further explore this possibility for the eQTLs detected here, further focused studies would need to be performed.
Identification of novel disease-relevant genes
While many of the genes we identified have been mapped to RA GWAS loci in previous reports and have documented associations with RA, such as PTPN22 (protein tyrosine phosphatase, non-receptor type 22) [36], others are less well studied, such as PAM (Peptidylglycine alpha-amidating monooxygenase), an enzyme that catalyzed the C-terminal amidation of peptides. Another example of a gene not previously linked to RA genetics is CTSB (Cathepsin B), a proteinase involved in amyloid precursor protein processing that is known to be elevated in the synovial fluid of RA patients and could be involved in collagen destruction [37].
Our approach facilitates the interpretation of GWAS loci in specific cellular contexts, suggesting an experimental cell type that could be used for validation of proposed therapeutic targets or disease-specific biomarkers. As an illustrative example,
FCRL5
(Fc receptor-like 5) was identified as associated with rs2317230 on chromosome 1 and overlapping a B cell-specific enhancer (Fig.
5a, c
). Recent literature reports support our cell-type association for
FCRL5. FCRL5
is known to be involved in B cell signaling and is highly expressed in tonsil plasma cells, naïve B cells, and memory B cells [
38
]. The FCRL5 cytoplasmic domain has both an immunoreceptor tyrosine-based activation motif (ITAM)-like sequence and two consensus immunoreceptor tyrosine-based inhibitory motifs (ITIM) and appears to have an inhibitory effect on BCR signaling [
39
]. FCRL5/IgG interaction results in IgG auto-regulation, although FCRL5 does not bind IgG in a traditional manner via the Fc like Fc receptors [
40
]. Furthermore, in the treatment of RA with Rituxan (anti-CD20), low
FCRL5
mRNA levels in B cells from whole blood have been shown to predict positive response [
41
]. Taken together, there is strong evidence to support the genetic association with
FCRL5
in the B cell lineage. In contrast,
FCRL3
is associated RA in both T cells and B cells but is repressed by H3K27me3 in monocytes (Fig.
5a, c
).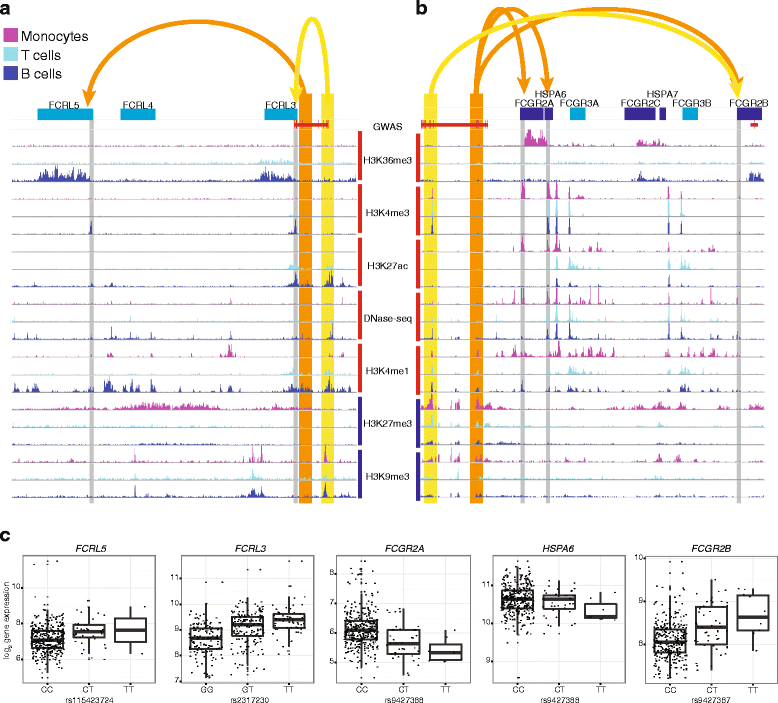 FCGR2B is an example of a gene that overlaps a GWAS SNP and also has a cis-eQTL that overlaps a different reported GWAS SNP. A cis-eQTL for FCGR2B overlaps with enhancers in monocytes and B cells and the reported risk SNP rs72717009 (OR 1.13; [2]). A different reported risk SNP at chr1:161644258 (OR 1.15; [2]) also overlaps with the FCGR2B transcript (Fig. 5b, c). The two independent GWAS associations between RA and FCGR2B highlight its potential importance. Literature supports the association between RA and FCGR2B expression in B cells as FCGR2B expression is reduced in memory B cells and plasmablasts from RA patients compared to healthy controls and FCGR2B expression is associated with levels of anti-citrullinated autoantibodies [42].
TAGAP (T-cell activation Rho GTPase activating protein) is another example gene that was also identified with a cis-eQTL overlapping a B cell-specific enhancer, but a specific role for TAGAP in RA disease has not previously been demonstrated. Our study suggests that the function could be specific to B cells. This is further supported by gene expression data that demonstrate that TAGAP expression is highest in naïve B cells compared to CD4-positive and CD8-positive T cell subtypes or other B cell subtypes [43]. Furthermore, a previous publication found that the association of a TAGAP variant (rs182429) was stronger in patients with anti-cyclic citrillinated peptide (anti-CCP) antibodies [44 ].
Limitations of the current approach
While our study was able to annotate many reported RA GWAS SNPs with potential genes, there were several SNPs that were not associated with enhancers or located within any active genes in the blood cell types evaluated. One possibility is that the medications used by the subjects in this study altered gene transcription in the blood and either masked some true effects or created false positives. The cohort used here was relatively homogeneous in current medications because this was an inclusion criterion of the study [16]. All subjects were on a stable dose of methotrexate with no exposure to biologics such as TNF-alpha inhibitors. A second possibility is that these GWAS SNPs are associated with regulation of genes expressed in other cell types. The known pathology of RA suggests these SNPs could function in fibroblast-like synoviocytes (FLS), as it is known that the FLS in affected joints of individuals with RA exhibit a transformed, invasive phenotype [45]. Additionally, genome-wide analysis of DNA methylation has identified a stable RA-specific signature at disease-related genes [46–48]. In these studies, several of the SNPs that were not annotated in blood cell types, were previously described in analyses of RA FLS [49]. For example, the reported risk SNP rs10175798 was not annotated by any gene in our study, but is proximal to LBH. This gene was found to be differentially expressed and differentially methylated in RA FLS [49]. Furthermore, LBH was shown to regulate proliferation in FLS [50]. Unfortunately, FLS could not be included in our analysis as there is currently no histone modification or eQTL data available in this cell type. To date, the large number of RA FLS samples needed for eQTL mapping has been difficult to obtain as synovial biopsies are not routinely performed. However, new methods to improve synovial biopsy collection may make this type of study possible in the near future [51].
Besides FLS, our study may also not be able to detect eQTLs from cell types that are rare in whole blood. We focused our analysis on epigenome maps from monocytes, B cells, and T cells, but a focused study using isolated regulatory T cells or other cell types of interest will likely be necessary to fully annotate the RA risk loci with prioritized gene connections. In our present study, we use co-overlap of GWAS SNP and eQTL SNP with histone modification ChIP-seq peaks to link GWAS loci to target genes without assessing the exact colocalization of the two signals at one SNP. The two pieces of information are used distinctly: (1) the RA GWAS hit is used to associate the enhancer's dysregulation with RA; and (2) the eQTL is used to link the enhancer to target genes. Further insights into RA genetics would be obtained through careful measurement and testing of eQTL and GWAS signal colocalization; however, such studies would require larger samples sizes and eQTLs from a wide variety of purified cell types in resting, active, healthy, and diseased states [52].
Additional limitations of the present study are the availability of epigenomic datasets, coverage of histone marks within epigenomic datasets, and the potential for false positives. More datasets from the cell types of interest from added donors would allow for estimations of the variability of chromatin states across the genome. Therefore, allowing researchers to assign confidence to the likelihood of a particular mark in each cell type. Furthermore, the inclusion of epigenomes from RA patients (and not only healthy donors) is likely to identify differential enhancer activity. Related to this limitation is the unknown accuracy of the method for selecting gene and cell type connections for a given GWAS loci. All the proposed connections need to be confirmed with focused experimentation. We demonstrated that H3K4me1 peaks identified more RA GWAS/eQTL overlapping enhancers than H3K27ac. Because of the higher genomic coverage of H3K4me1, it is possible a greater number of these connections are caused by chance.
Conclusions
To our current knowledge, the study presented here is the most comprehensive dissection of the transcriptional regulation of RA GWAS in immune cell types. We leveraged a large study of DNA variation and gene expression from RA patients to map eQTLs. Then, using this dataset and publicly available epigenome maps, we attempted to deconvolute the RA GWAS loci into potential protein and cell type associations. This integrative analysis provides a bridge to better understand RA GWAS and enable future validation studies to elucidate disease mechanisms.
Ethics approval
RA patient samples were collected from a phase III clinical trial of golimumab in Patients with Active Rheumatoid Arthritis Despite Methotrexate Therapy (GO-FURTHER). [16] The study (NCT00973479, EudraCT 2008-006064-11) was conducted according to the Declaration of Helsinki and the International Committee on Harmonisation good clinical practices. The protocol was reviewed and approved by each site's institutional review board or ethics committee. All patients provided written informed consent to genetic and transcriptomics analyses.
Availability of data and materials
The microarray gene expression data are available from NCBI GEO with accession number GSE74143. The eQTLs are provided as supplemental data files.
Declarations
Acknowledgements
The authors would like to thank Sunil Nagpal and Kurtis E. Bachman for contributions to the interpretation and review of the manuscript. The authors would also like to thank Yuchen Bai for guidance and Antonio R. Parrado for his contributions to the genome sequencing data.
Funding
Janssen Research and Development, LLC provided support for this study. The authors are employees of Janssen Research and Development, LLC.
Open AccessThis article is distributed under the terms of the Creative Commons Attribution 4.0 International License (http://creativecommons.org/licenses/by/4.0/), which permits unrestricted use, distribution, and reproduction in any medium, provided you give appropriate credit to the original author(s) and the source, provide a link to the Creative Commons license, and indicate if changes were made. The Creative Commons Public Domain Dedication waiver (http://creativecommons.org/publicdomain/zero/1.0/) applies to the data made available in this article, unless otherwise stated.
Authors' Affiliations
(1)
Immunology, Janssen Research and Development, LLC., Spring House, USA
(2)
Discovery Sciences, Janssen Research and Development, LLC., San Diego, USA