Correlation of proteome-wide changes with social immunity behaviors provides insight into resistance to the parasitic mite, Varroa destructor, in the honey bee (Apis mellifera)
Received: 14 April 2012
Accepted: 28 September 2012
Published: 28 September 2012
Abstract
Background
Disease is a major factor driving the evolution of many organisms. In honey bees, selection for social behavioral responses is the primary adaptive process facilitating disease resistance. One such process, hygienic behavior, enables bees to resist multiple diseases, including the damaging parasitic mite Varroa destructor. The genetic elements and biochemical factors that drive the expression of these adaptations are currently unknown. Proteomics provides a tool to identify proteins that control behavioral processes, and these proteins can be used as biomarkers to aid identification of disease tolerant colonies.
Results
We sampled a large cohort of commercial queen lineages, recording overall mite infestation, hygiene, and the specific hygienic response to V. destructor. We performed proteome-wide correlation analyses in larval integument and adult antennae, identifying several proteins highly predictive of behavior and reduced hive infestation. In the larva, response to wounding was identified as a key adaptive process leading to reduced infestation, and chitin biosynthesis and immune responses appear to represent important disease resistant adaptations. The speed of hygienic behavior may be underpinned by changes in the antenna proteome, and chemosensory and neurological processes could also provide specificity for detection of V. destructor in antennae.
Conclusions
Our results provide, for the first time, some insight into how complex behavioural adaptations manifest in the proteome of honey bees. The most important biochemical correlations provide clues as to the underlying molecular mechanisms of social and innate immunity of honey bees. Such changes are indicative of potential divergence in processes controlling the hive-worker maturation.
Keywords
Honey bee
Proteomics
Social immunity
Hygienic behavior
Varroa sensitive hygiene
Background
Social insects such as the honey bee (Apis mellifera L.) derive great benefit from living in tight-knit groups that enable greater efficiencies in brood care, foraging and defense against predation. However, the high population densities and relatedness of individuals leave colonies susceptible to emerging infectious diseases [1]. Varroa destructor, an ectoparasitic mite of the honey bee [2] causes varroasis, which is a leading contributor to ongoing colony losses in commercial apiculture worldwide [3]. V. destructor feeds on the hemolymph of larval and adult bees, inflicting nutritional stress and immune suppression, as well as acting as a major vector for viral pathogen transmission [4].
In solitary insects, cellular or humoral-based defenses provide the only known system for immunity, but A. mellifera's genome reveals that while honey bees contain these systems for immunity, the number of immunity genes is lower than that of solitary insects such as flies, moths and mosquitoes [5]. As an apparent compensation for this, social insects have evolved collective systems of behavior that provide defenses against disease and parasitism. Two related behaviors, hygienic behavior (HB) and Varroa sensitive hygiene (VSH), are highly variable among A. mellifera colonies and are seen as important traits in the development of disease and mite-resistant stock. HB is a well-documented protective behavior that involves nurse-aged worker bees uncapping brood cells and removing parasitized or diseased pupae [6]. VSH is less well-understood but it encompasses a suite of behaviors that ultimately suppress mite reproduction by uncapping and/or removing mite-infested pupae from sealed brood resulting in a high proportion of non-reproductive mites in the brood that remains [7, 8]. HB and VSH can be quantified using field assays and are heritable so, while both are now used in the selective breeding of Varroa-resistant bees [9, 10], the genetic and biochemical mechanisms that drive them are poorly resolved.
To date, most selective breeding in commercial apiculture focuses on traits such as honey production, color, gentleness, winter survival or other economic parameters. When combined with continual dilution of the gene pool through importation of susceptible stock, these selections limit host adaptation to pathogens. In order to improve disease and mite tolerance, field assays for HB and VSH must be incorporated into the stock selection process [11, 12]; however, these assays are resource intensive, lack sensitivity and may require closed breeding [13], limiting their suitability for widespread application. To support the creation of novel assays, a molecular-level mechanistic understanding of resistance traits is seen as a promising avenue to support commercial breeding and disease prevention through marker-assisted selection (MAS) [14]. To date, low-resolution microsatellite-based quantitative trait loci (QTL) for HB have been reported [15], as have some of the biochemical consequences to the host of infection by V. destructor and associated viruses [16, 17]. Transcriptome changes in A. mellifera and in Varroa's natural host A. cerana also pinpoint subtle changes in transcript expression for components responsible for neuronal rewiring, olfaction, metabolism and aspects of social behavior that may be critical components driving mechanisms of Varroa tolerance [18, 19].
All the molecular investigations of HB and VSH have used well-controlled colonies or individual bees without examining the natural variation and distribution of both the traits and their molecular components. Thus, here we tested the hypothesis that inter-colony variation in disease resistance parameters is reflected by changes in the expression of specific proteins. Sampling from a large cohort of colonies, we measured the relative abundance of approximately 1,200 proteins from two bee tissues involved in interactions with the pathogens and correlated these with estimates for active bee behavioral phenotypes for HB and VSH, as well as host-pathogen population dynamics. Through meta-analysis of these data with other available information, proteins and biochemical processes most likely to be responsible for the observed disease resistance traits were identified.
Discussion
We have described here the discovery of several proteins whose expression levels may impact honey bee resistance to infestation by the Varroa mite. Natural diversity in these behaviors was a prerequisite to this study and we observed that the levels of each behavior in any given colony were not random. As expected, there was a strong negative correlation between mite infestation levels and HB. At the expression level, several proteins were highly significant predictors of HB and mite infestation dynamics. Highlighted within these proteins were the putative ApoO homolog and a putative Tg. Apolipoproteins are called apolipophorins in insects, and they have diverse roles in lipid solubilization and the transport of small hydrophobic ligands [27–29]. In innate immunity the apolipophorin ApoLp-III stimulates antimicrobial activity in the hemolymph, acting as a pattern recognition system for LPS and lipoteichoic acid (LTA) [29]. Lastly, the strong correlation of Tg with both NDs and an increase in the ratio of phoretic mites to brood mites suggests that Tg activity could provide a measure of resistance to Varroa reproduction.
V. destructor is an ecto-parasite feeding communally and repeatedly on hemolymph of the honey bee through a bite wound in the cuticle [30–32]. In insects' innate immunity the cuticle provides the first line of defense; once breeched, innate defense systems of the haemocoel cavity are orchestrated by hemocytes, the fat body and hemocoel [33]. Normal wounds heal as hemocytes and plasmatocytes exocytose the clotting factors hemolectin and Eig71Ee [34]. These molecules and other plasma-based factors such as fondue are cross-linked by Tgs in a Ca2+ dependent mechanism to form a primary clot. However, V. destructor transmits bio-active compounds that prevent healing and allow continued feeding to occur at the same wound [35]. In the tick arthropod-mammalian ecto-parasitic systems, 18 known bio-active suppressants target innate antiseptic defenses, including several immune cells types, inflammatory and coagulatory cascades [36]. In honeybees, the effect V. destructor elicits on the immune system is uncertain. Yang and Cox-Foster [37] demonstrated that Varroa parasitism increases the susceptibility of adult bees to bacterial infection, but no major immunosuppressive effects were revealed by transcriptomic studies on specific immune genes or in global analyses [38, 39]. More recently a study has reveled that salivary secretions from the Varroa mite are able to damage hemocyte aggregation in the tomato moth, (Lacanobia oleracea) [38] but no known factors of either pathogen or host are identified. We report here that elevated expression of a putative key clotting factor (Tg) is found in the larva of Varroa resistant bee colonies. These data indicate that honey bees have adapted to Varroa, increasing the clotting capacity of hemolymph in order to limit mite reproduction.
While the experiments described here were clearly of sufficient power to permit the discovery of some correlations between protein expression and behavioral traits, the variability within such out-bred populations is very high. This is likely a significant limitation in fully defining the molecular mechanism of something as complex as a behavior. Practical limitations in the number of colonies that could be sampled and the depth to which the proteome could be measured across multiple samples were inherent problems here, as with any proteomics study. Even so, an exploratory approach was seen as an important step in generating new hypotheses in a currently poorly understood area of biology.
It is thought that the speed with which hygienic bees respond is driven by a lower limit of olfactory detection of the diseased brood odor [40], which is in turn influenced by the neuromodulator octopamine [41]. In the antennal lobe, octopamine concentration varies between behavioral state, being low in nurse bees and high in foragers. Juvenile hormone and brood pheromone both modulate behavioral responses to octopamine [42] and both are involved in several aspects of behavioral maturation, with the best-understood system being the transition from nurse to forager. This maturation invokes physiological changes that are underpinned by increased neural processing which is required to interpret complex visual information for flight behavior. Anatomically, expansion of the mushroom body neurophil space in the brain and decrease in the volume of the olfactory glomeruli of the antennal lobes occurs during this transition [43]. Olfactory sensory neurons from the antennae project onto the glomeruli of the antennal lobe via the antennal nerve, and olfactory information is processed and projected to higher-order brain centers such as the mushroom bodies or lateral protocerebrum.
The data presented here indicates that cells (most likely neurons with antennal axons) of bees performing rapid hygiene express different levels of proteins involved in adhesion and vesicle processing (Figure
6a
), supporting the role of octopamine and maturation as an important control of this behavior. The cell adhesion proteins identified were all integrin proteins, some of which have been reported to regulate synaptic plasticity [
44
]. Specifically, ankerin 2 stabilizes synaptic connections to the spectrin-actin cytoskeleton and laminin A, Zasp and Fas1 are involved in the assembly of functional integrin adhesion sites essential for growth cone extension in axon guidance during neurogensis [
45
]. The increased expression of vesicle sorting proteins in hygienic bees indicates that while plasticity may be reduced, antennae of hygienic bees provide a strong input into higher brain function. These data could be explained by the environment of a hygienic nest bee, in which strong brood and queen-based olfactory cues are the major sensory inputs for bee development, behavior and social cohesion [
43
] (Figure
6d
). Dimorphism in neural plasticity has been well characterized in the antennae of drones, where the antennal sensory nerves are thicker but project into a smaller number of glomeruli than in workers [
46
,
47
]. This configuration provides drones with the lower limit of detection for queen pheromone, enabling efficient queen finding during mating flights.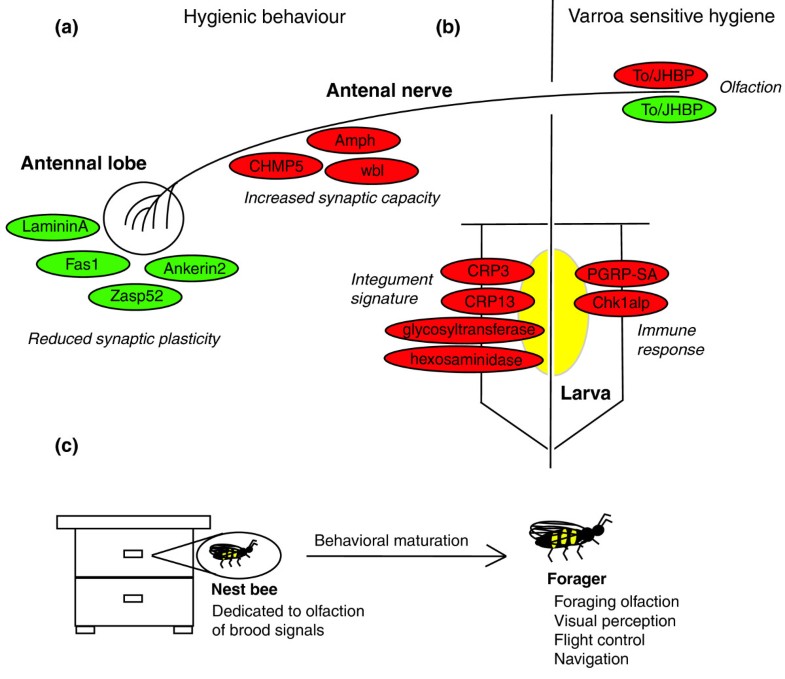 VSH limits mite reproductive success in the brood by specifically detecting the presence of a post-ovipositional mite. As part of the bees' response, a sensitive adult uncaps and re-caps the cell, effectively inhibiting mite reproduction [48]. The signal being sensed in this process remains unknown, although it peaks between three and five days after the cell is initially capped, leading to speculation that VSH adult bees respond to temporal fluxes in pathology mediated by oviposition, wounding related stress responses, infections, and olfactory cues [48]. Correlation between VSH scores and two proteins encoding divergent members of the To/JHBP super-family suggest they may be functionally linked to the behavior; To/JHBPs contain a conserved ligand binding domain with differing affinities to small lipophilic molecules such as JH and the N-terminal signal peptide indicates that they are probably secreted into the hemolymph where they act as soluble receptors for their ligands [49, 50]. In the honey bee genome there are eight To/JHBP genes, located at two distinct loci, and we see one protein from each loci, one positively correlated with VSH and one negatively correlated (Figure 6b). Biologically, this separation in the genome suggests divergent functions and this is further supported by their differential regulation in our study. One of these proteins is completely uncharacterized but in Phormia regina the ortholog of the other To/JHBP is thought to be involved in chemosensation in antennal olfaction and taste [49] leading to the attractive hypothesis that it is playing a similar role in sensing brood.
That sensory and neuronal processes have a link to disease tolerant behavior may be expected but, intriguingly, a class of proteins involved in larval cuticle formation/structure also emerged as likely candidates. An arthropod's cuticle forms the primary physical barrier to the environment so while the cuticle plays an obvious role in pathogen defense, how it may contribute to social immunity mechanisms is less clear. Cuticular lipids differ between bees depending upon caste and attacks by V. destructor can alter the composition in adults and larvae [51, 52]. The role of the cuticle in social immunity is supported by the data presented here, which indicates that several proteins involved in forming and maintaining the cuticle are significantly correlated with disease tolerance behaviors of nurse bees (Figure 6c).
Conclusions
Our analysis of tissue proteomes from a large cohort of commercial honey bee colonies provides new clues to the evolution of biochemical components facilitating adaptation to disease. The control of behavior potentially represents the most complex paradigm in all living creatures so its study in natural, outbred systems is fraught with many difficulties, explaining the lack of coherent mechanisms describing these processes. Honey bees live in eusocial colonies and provide a scalable system for the study of developmental social biology and the divisions of labor it defines. Our results represent indications of molecular mechanisms underlying innate and social immunity behaviors in honey bees and build upon previous work demonstrating adaption involving neural remodeling and odorant recognition. A focused investigation of the processes identified here will provide an explanation of how host-pathogen interactions drive selection to generate disease tolerant colonies.
Abbreviations
Apo:

apolipoprotein
BI:

brood infestation
CCD:

colony collapse disorder
CHIP:

chromatin immunoprecipitation
Fas1:

fasciclin 1
FDR:

false discovery rate
Gasp:

gene analogous to small peritrophins
HB:

hygienic behavior
HPLC:

high pressure liquid chromatography
JH:

juvenile hormone
LC:

liquid chromatography
LPS:

lipopolysaccharide
LTA:

lipoteichoic acid
MS:

mass spectrometry
ND:

natural drop
PBS:

phosphate buffered saline
Pgm:

phosphoglucomutase
PG:

petidoglycan
PGRP-SA:

peptidoglycan recognition protein SA
PH:

phoretic
PPMC:

Pearson's Product movement correlation
QTL:

quantitative trait loci
RCF:

relative centrifugal force
STAGE:

stop and go extraction
To/JHBP:

take-out/juvenile hormone binding protein
VSH:

Varroa sensitive hygiene
Zasp:

Z band alternately spliced PDZ-motif protein.
Declarations
Acknowledgements
The authors wish to thank Nikolay Stoynov for technical assistance in LC/MS analysis, Julian Yiu and Tram Nguyen for help with sample collection, as well as members of our respective groups for advice and fruitful discussions. This work was supported by funding from Genome Canada, Genome British Columbia, the British Columbia Honey Producers Association through the Boone-Hodgson-Wilkinson Trust Fund, the Canadian Honey Council and Canadian Association of Professional Apiculturists through the Canadian Bee Research Fund, the British Columbia Blueberry Council and the British Columbia Cranberry Marketing Association. Mass spectrometry infrastructure used in this project was supported by the Canada Foundation for Innovation, the British Columbia Knowledge Development Fund and the British Columbia Proteomics Network (BCPN). LJF is the Canada Research Chair in Quantitative Proteomics.
Authors' Affiliations
(1)
University of British Columbia, Centre for High-Throughput Biology and Department of Biochemistry & Molecular Biology, Vancouver, Canada
(2)
Agriculture & Agri-Food Canada, Beaverlodge Research Farm, Beaverlodge, Canada
(3)
Department of Statistics, University of British Columbia, Vancouver, Canada
(4)
Kettle Valley Queens, Grand Forks, Canada
Copyright
© Parker et al.; licensee BioMed Central Ltd. 2012
This article is published under license to BioMed Central Ltd. This is an open access article distributed under the terms of the Creative Commons Attribution License (http://creativecommons.org/licenses/by/2.0), which permits unrestricted use, distribution, and reproduction in any medium, provided the original work is properly cited.