Surveying the epigenomic landscape, one base at a time
Published: 22 October 2012
Abstract
Epigenomics, the determination of epigenetic landscapes on a genome-wide scale, has progressed at an astounding rate over the past decade. Recent technological developments have enabled base-pair resolution of various epigenomic features, leading to new insights into epigenetic regulation.
Keywords
epigenomicschromatin immunoprecipitationChIP-exomicrococcal nuclease mappingdeoxyribonuclease I mapping
The epigenome
Eukaryotic genomes are packaged into chromatin, consisting mostly of nucleosomes composed of approximately 147 bp of DNA wrapped around basic histone octamers [1]. Nucleosomes package DNA approximately 10,000-fold to form metaphase chromosomes, and so are essential for faithful segregation of sister genomes at mitosis. As nucleosomes occupy approximately 70% of the chromatin landscape during interphase, they must be mobilized during processes that require access to DNA, such as replication, transcription, repair, and binding by regulatory proteins. The occupancy, positioning, and composition of nucleosomes, as well as chemical modifications of histones and DNA, form a complex landscape superimposed on the genome: the epigenome [2]. Whereas the genome sequences of many organisms are now essentially complete [3], inquiry into their epigenomes is grossly incomplete due to the complexity and dynamics of the individual epigenomic constituents.
As in prokaryotes, sequence-specific DNA-binding proteins stand at the top of the eukaryotic transcriptional regulatory hierarchy, and differential expression of transcription factors (TFs) results in cell type-specific differences. Most other key chromatin components are found in all cells of an organism, and dynamically change their distribution as a result of TF binding. The incorporation of histone variants [4] and the covalent modification of histone tails [5] help to mediate the inheritance of expression states of a gene by regulating the accessibility of DNA. Additionally, hundreds of chromatin-associated proteins, including ATP-dependent chromatin remodelers [6] and histone modifying enzymes [5], interact with chromatin to modulate its structure. Notably, mutations in nucleosome remodelers and in the histone constituents of chromatin have been implicated in human developmental disorders and cancer [6, 7]. Thus, high-resolution genomic analysis of chromatin structure and the proteins that influence it is a major focus of biological technology development to study both basic cellular processes and the pathogenesis of human disease.
Many methods have been put forth with which to probe various aspects of the epigenome (Table
1
), but until recently, the resolution of genome-wide methods for epigenome characterization, such as ChIP-chip [
8
] and MeDIP [
9
], was on the order of hundreds of base pairs, with the use of hybridization-based read-out technologies and chromatin preparation protocols based on random fragmentation. However, with the advent of massively parallel short-read DNA sequencing and its potential for single base-pair resolution, there has been a renaissance of interest in traditional methods for chromatin characterization, including the use of bisulfite sequencing for mapping DNA methylation [
10
] and the use of non-specific nucleases, including micrococcal nuclease (MNase) [
11
], deoxyribonuclease I (DNase I) [
12
] and exonuclease [
13
] (Table
1
). Here, we focus on recently developed strategies for characterizing nucleosomes, TFs and chromatin-associated proteins at base-pair resolution, and we discuss prospects for full epigenome characterization.
Table 1
Strategies for epigenome mapping
| Method | Strategy | Features | Base-pair resolution possible? | Reference |
| --- | --- | --- | --- | --- |
| MNase digestion | Digests non-occluded DNA | Maps nucleosomes, other DNA-occluding particles | | [11] |
| DNase I hypersensitivity | Digests non-occluded DNA and nucleosomes with 10 bp periodicity | Maps 'open' chromatin | | [12] |
| Salt fractionation | Extracts chromatin from intact nuclei with increasing salt concentrations | Maps 'active' and 'nuclear matrix' chromatin | Yes, in combination with MNase digestion | [45] |
| ChIP | Affinity purification of specific chromatin fragments | Maps protein binding sites | Yes (see ChIP-exo) | [46] |
| DamID | DNA marking by tethered Dam methyltransferase | In vivo marking of protein-DNA interactions | No | [47] |
| FAIRE | Differential solubility of 'open' and nucleosomal chromatin by sonication and phenol/chloroform extraction | Maps 'open' chromatin | Maybe | [38] |
| Sono-seq | Differential solubility of 'open' and nucleosomal chromatin by sonication and phenol/chloroform extraction | Maps 'open' chromatin | Maybe | [39] |
| CATCH-IT | Metabolic labeling of histones | Measures nucleosome turnover | Maybe | [48] |
| Genome-wide psoralen crosslinking | Treatment of DNA with the intercalating agent psoralen | Measures helical tension of DNA | No | [49] |
| ChIP-exo | ChIP followed by exonuclease digestion of immunoprecipitated DNA | Removes non-occluded flanking DNA | Yes | [35] |
| Targeted chemical cleavage | Targeted chemical cleavage of DNA wrapped around modified nucleosomes | Maps nucleosome positions | Yes | [37] |
Technologies for base-pair resolution epigenomic mapping
Several recent studies have introduced methods for analyzing various protein components of the epigenome at base-pair resolution while simultaneously addressing specific limitations of current epigenomic protocols. Below, we discuss the techniques upon which each of these high-resolution methods is based and how these new methods address the limitations of current epigenomic technologies.
Summary and future directions
While the development of technologies for base-pair resolution characterization of epigenomes is still in its early stages, important insights regarding chromatin organization have already been obtained with these methods. ChIP-exo provides a method to precisely map the genomic binding of proteins in systems where ChIP reagents are readily available. MNase-seq allows for mapping of nucleosomes and non-histone proteins within a single sample and like DNase-seq is easily adapted to any system with a sequenced genome. In combination with ChIP-seq, MNase-seq and DNase-seq provide powerful methods for base-pair resolution identification of protein binding sites. These techniques are summarized schematically in Figure
2
.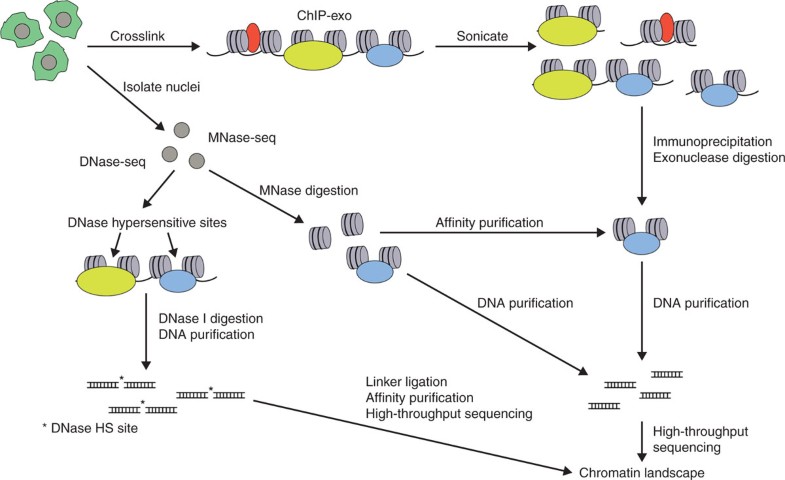 While epigenomic profiling is relatively straightforward in single-cell systems, it is more challenging in multicellular organisms, where different cell types are tightly interwoven in complex tissues. Indeed, ChIP-exo, MNase-seq, and DNase-seq have generally been performed either in yeast, which are unicellular, or cultured cells from other organisms, which are not necessarily reflective of the in vivo situation in the organism from which they were derived. To profile cell type-specific epigenomes at base-pair resolution, it will be necessary to combine the above technologies with methods for the isolation of specific cell types from a complex milieu. One such method is fluorescence-activated cell sorting (FACS), involving purification of fluorescently labeled cells or nuclei. FACS has been used to isolate specific cell populations from mouse and human brain and mouse embryonic mesoderm for chromatin analysis [40, 41]. Another technique, isolation of nuclei tagged in specific cell types (INTACT) has been used to isolate nuclei from individual cell types in Arabidopsis, Caenorhabditis elegans, and Drosophila for expression and preliminary chromatin profiling [42, 43]. Combining these techniques with the various methods of base-pair resolution epigenome analysis detailed above should provide striking insights into the regulatory networks underlying specific cell identities.
As base-pair resolution epigenomic techniques are further developed and the cost of sequencing continues to decrease, genome-wide profiling of cell type-specific chromatin landscapes will become increasingly routine. The precise mapping of TFs, of nucleosomal features (positioning, occupancy, composition, and modification), and of ATP-dependent chromatin remodelers may provide the epigenomic equivalent of genome sequencing projects, delineating the regulatory frameworks by which the various cell types within an organism use the same genome to generate distinct cellular identities.
Abbreviations
bp:

base pair
ChIP:

chromatin immunoprecipitation
ChIP-chip:

chromatin immunoprecipitation with tiled microarray analysis
ChIP-seq:

chromatin immunoprecipitation with high-throughput sequencing
ChIP-exo:

chromatin immunoprecipitation with exonuclease digestion and high-throughput sequencing
DNase I:

deoxyribonuclease I
DNase-chip:

deoxyribonuclease I digestion with tiled microarray analysis
DNase-seq:

deoxyribonuclease I digestion with high-throughput sequencing
FAIRE:

formaldehyde-assisted isolation of regulatory elements
MNase:

micrococcal nuclease
MNase-chip:

micrococcal nuclease digestion with tiled microarray analysis
MNase-seq:

micrococcal nuclease digestion with high-throughput sequencing
Sono-seq:

sonication of DNA and high-throughput sequencing
TF:

transcription factor
TFBS:

transcription factor binding site
X-ChIP:

chromatin immunoprecipitation with formaldehyde crosslinking.
Declarations
Acknowledgements
We thank John Latham, Paul Talbert, and Frank Pugh for comments on the manuscript. Work in our lab is supported by NIH grants 5U01 HG004274, U54 CA143862, and R01 ES020116 and by the Howard Hughes Medical Institute.
Authors' Affiliations
(1)
Basic Sciences Division, Fred Hutchinson Cancer Research Center, Seattle, USA
(2)
Howard Hughes Medical Institute, Fred Hutchinson Cancer Research Center, Seattle, USA
Copyright
© BioMed Central Ltd 2012