Extensive characterization of NF-κB binding uncovers non-canonical motifs and advances the interpretation of genetic functional traits
Received: 2 February 2011
Accepted: 29 July 2011
Published: 29 July 2011
Abstract
Background
Genetic studies have provided ample evidence of the influence of non-coding DNA polymorphisms on trait variance, particularly those occurring within transcription factor binding sites. Protein binding microarrays and other platforms that can map these sites with great precision have enhanced our understanding of how a single nucleotide polymorphism can alter binding potential within an in vitro setting, allowing for greater predictive capability of its effect on a transcription factor binding site.
Results
We have used protein binding microarrays and electrophoretic mobility shift assay-sequencing (EMSA-Seq), a deep sequencing based method we developed to analyze nine distinct human NF-κB dimers. This family of transcription factors is one of the most extensively studied, but our understanding of its DNA binding preferences has been limited to the originally described consensus motif, GGRRNNYYCC. We highlight differences between NF-κB family members and also put under the spotlight non-canonical motifs that have so far received little attention. We utilize our data to interpret the binding of transcription factors between individuals across 1,405 genomic regions laden with single nucleotide polymorphisms. We also associated binding correlations made using our data with risk alleles of disease and demonstrate its utility as a tool for functional studies of single nucleotide polymorphisms in regulatory regions.
Conclusions
NF-κB dimers bind specifically to non-canonical motifs and these can be found within genomic regions in which a canonical motif is not evident. Binding affinity data generated with these different motifs can be used in conjunction with data from chromatin immunoprecipitation-sequencing (ChIP-Seq) to enable allele-specific analyses of expression and transcription factor-DNA interactions on a genome-wide scale.
Keywords
Binding Potential
Position Weight Matrix
Enrich Sequence
Protein Binding Microarrays
Deep Sequencing Approach
Background
Single nucleotide polymorphisms (SNPs) that change the pattern of transcription factor (TF) binding to DNA are believed to be a major contributing factor to cis-modulation of gene expression; approximately 30% of expressed genes show evidence of cis-regulation being influenced by common alleles [1]. In particular, polymorphisms occurring in TF binding sites (TFBSs) that change the pattern of regulatory protein binding to DNA are believed to be a major contributing factor to cis-modulation of gene expression. Recent advances in genomic technologies [2–4] are now making allele-specific analyses of expression, TF-DNA interactions and chromatin states possible across the human genome, aiding in evaluation of how DNA polymorphisms in regulatory elements control gene expression.
Chromatin immunoprecipitation-sequencing (ChIP-Seq) and related approaches are now extensively applied to study genome-wide binding of TFs. ChIP-Seq allows the detection of total binding at specific sequences and of their allele-specific activity in cases in which heterozygous sites overlap ChIP-Seq peaks. For example, recent reports extended global allele-specific analysis across individuals to DNA-protein binding [5, 6]. Of particular relevance to our study is the work of Kasowski and co-workers [6], in which the authors analyzed binding of the NF-κB protein RELA in stimulated lymphoblastoid cells across eight individuals and documented binding differences between paired individuals at numerous genomic locations.
A major impediment to the ChIP-based evaluation of cis-regulatory SNPs is that, by its nature, ChIP can identify genomic regions that interact with TFs but not individual binding sites [7, 8]. Other limiting factors in ChIP that can confound measured TF-DNA binding include the state of chromatin at binding regions [9], differing extents of nucleosome occupancy [10], the quality of the antibodies that are so vital to its success and also the near impossibility of isolating a specific dimer instead of all dimers having a subunit in common. Thus, a ChIP-based method is typically used in conjunction with other techniques that can map the site of TF-DNA interactions more precisely. In particular, protein binding microarrays have significantly enhanced our understanding of what individual sequence variants do to alter binding potential within an in vitro setting, allowing for greater predictive capability of the effect of a SNP on a TFBS [11–13]. While microarrays were established using a stable attachment of DNA to a solid surface that is in contact with a TF through a liquid medium, other alternative high-throughput platforms, such as Bind-n-Seq [14] or multiplexed massively parallel SELEX (systematic evolution of ligands by exponential enrichment) [8]), are based on both the TF and DNA being in a purely liquid environment. SELEX is a process through which consecutive rounds of selective purification are employed to progressively enrich for a population of DNA ligands that are 'preferentially' bound by the TF in question.
This study focuses on NF-κB, but there is, in general, a great interest within the scientific community to qualitatively and quantitatively define at high resolution all the different DNA sequences bound by TFs [15]. The NF-κB family of TFs has been extensively studied due to its roles in different biological processes like inflammation, apoptosis, development and oncogenesis [16–20]. NF-κB proteins function as homo- or heterodimers, which are made up of Rel homology domain-containing monomers from two subfamilies: the p50 and p52 subfamily (type I subunits); and the RELA, RELB and C-Rel subfamily (type II subunits). Type I subunits lack a transactivation domain and can only activate transcription as a heterodimer with a type II subunit or as a homodimer in complex with co-factors, such as BCL3, IKBZ, and so on [18]. In a given heterodimer, the type II subunit confers transcription-activating capability. Members of the NF-κB TF family bind to a 'core motif' that is between 10 to 11 bases in length [21–23].
Our overall approach is outlined in Figure
1
. We first characterized the binding of nine NF-κB dimers (homodimers of RELA, p50 and p52 and the heterodimers RELAp50, RELAp52, RELBp50, RELBp52, C-Relp50 and C-Relp52) to a limited, 11-mer NF-κB consensus binding space using our microarray platform. This produced data that did not require extensive post-processing and allowed for rapid visualization of the different binding profiles for the dimers. Previously, Badis and co-workers [
24
] highlighted binding models with coverage of sequence space beyond what has been defined by more canonical models. Included in their study were models with sequence compositions that were again substantially different from those in the canonical models. This suggested that there may be an entire area of 'less canonical' k-mer space that is, as yet, not well defined. We therefore extended our observations to cover this space by further profiling the three RELA dimers using a method we have developed, electrophoretic mobility shirt assay-sequencing (EMSA-Seq) combining EMSA assays done with purified proteins and degenerate oligonucleotide libraries with complete coverage of 11-mer space followed by next generation sequencing of bound DNA molecules. Our results show that a high number of sequences are binders that fall outside of the canonical NF-κB consensus and specificity of binding for typical examples of these novel sequences was validated by UV-laser footprinting.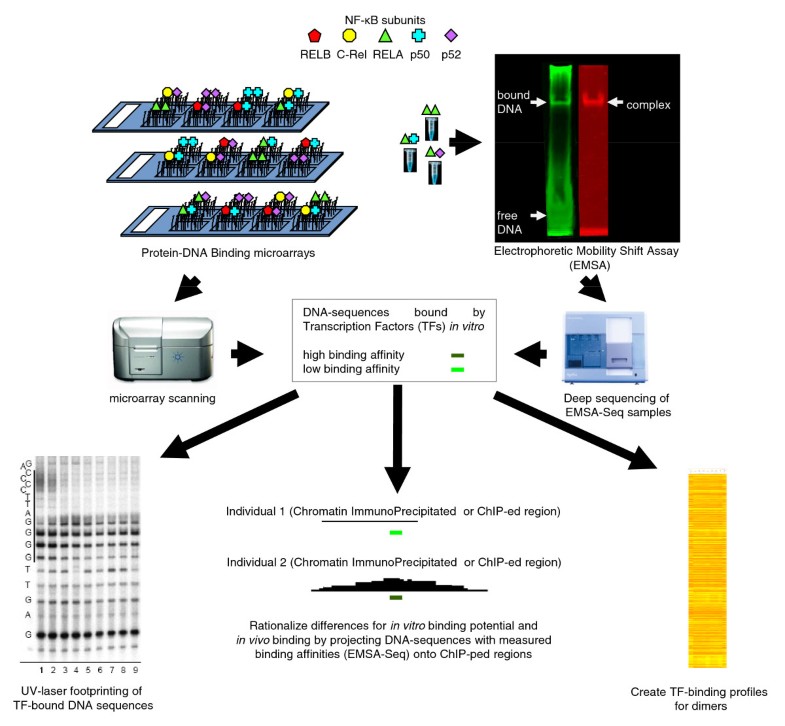 Finally, we examine the relationships between NF-κB in vitro binding affinities (defined as binding potential) and their significance in vivo by overlaying sequences and measured binding affinities from our datasets onto genomic locations of RELA ChIP-Seq peaks containing SNPs in stimulated lymphoblastoid cells across eight individuals [6]. Direct positive correlation of NF-κB binding potential with in vivo NF-κB binding can be found in 65% of relevant cases examined and these span 1,405 genomic locations that show differences in ChIP-Seq peak heights between individuals. These include regions that may also have potential implications for disease association studies and we show examples in which the risk allele for disease is present in the haplotype associated with higher binding properties in vitro and in vivo, whereas the normal allele haplotype contains motifs with lower binding properties. This illustrates the utility of studies utilizing TF binding potential for the interpretation of regulatory functional traits.
Discussion
Eukaryotic genes are regulated largely through the interactions of TFs and their assembly into enhancer complexes. There are many examples of DNA variation in enhancers that affects transcription factor binding and has functional consequences for gene expression, for example in the NF-κB and OCT1 sites in the tumor necrosis factor promoter [28, 29]. Our earlier studies aimed to predict in silico the effects of SNPs within regulatory sequences using a statistical model to describe NF-κB-DNA interactions [21]. Here we applied a novel experimental approach to profile NF-κB DNA binding properties in vitro (but which is applicable to any other TF) and documented differences in binding preferences between the various protein dimers. We then used our data to explain differences in in vivo NF-κB recruitment between eight individuals [6]. We achieved a significant increase in the number of interpretable effects compared to when only canonical motifs were considered and also observed an association between TF binding and the allelic signature for disease.
Profiles of binding affinities built using this dual-platform approach (microarrays and EMSA-Seq)
The correlation of binding data generated by both EMSA-Seq and microarray platforms is in the order of 77 to 84% (Figure S5 in Additional file 1), indicating that they cross-validate each other well. Using both platforms we observed that the RELARELA homodimer was most distinct from the other dimers (Figures 2 and 4a), a finding confirmed by DNaseI and UV laser footprinting. On the other hand, the binding profiles of heterodimers containing p50 or p52 subunits were more similar (Table 3). These results agree with the findings of Chen and co-workers [30, 31], who showed that DNA sequences bound by RELARELA were distinct from those bound by homodimers of p50 and p52. The GGAA motif was strongly associated with RELA-bound sequences whilst GGGRY was more prevalent in sequences bound by p50 and p52. Indeed, we found that within the 100 11-mer sequences for which RELARELA had the highest affinity, 76% of these contained a GGAA motif whilst only 42% contained a GGGRY motif. This is manifested in a representative binding model for RELARELA built using 61 sequences that were preferentially bound by this dimer only (Figure 2). Conversely, with RELAp50 and p50p50, only 37 to 47% of the 100 sequences for which they had the highest affinity contained a GGAA motif, whilst 64 to 67% of these sequences contained a GGGRY motif. Our results support the hypothesis that p50 and p52 subunits have a major influence on the binding characteristics of NF-κB dimers (Figures 2 and 4a; Table 3). Of interest, in agreement with Badis and co-workers [24], we observed that lower affinity sequences contributed most to dimer-specific preferences. Two of the proteins in our study, RELAp50 and RELBp52, are activated by distinct NF-κB pathways within the cell, the canonical and alternative, respectively. Interestingly, two previous studies examining the binding characteristics of these TFs reached different conclusions. In their approach using 200 sequences containing 10-mer motifs derived from random site selection, Britanova et al. [32] reported a lack of distinction in the binding of these two heterodimers. This contradicts a previous report by Bonizzi et al. [33] in which these two heterodimers could recognize distinct motifs. In particular, the sequence GGGAGATTTC present at the B-Lymphocyte Chemoattractant (BLC)-κB binding site, for which Britanova et al. could not detect any binding. Overall, our data agree with Britanova et al. in that we did observe a 95% correlation in the binding properties of these two dimers (Table S2 Additional file 1). On the other hand, we also identified RELBp52 as being the stronger binder of the BLC-κB sequence and this is in agreement with Bonizzi et al (microarray data provided as Additional file 2). The discrepancy concerning specifically this sequence may have arisen from differences between protein preparations (mammalian- versus bacteria-based systems) or experimental conditions.
We feel that whilst our profiling, done using microarrays that encompass a comparatively larger number of sequences, has shown that RELBp52 has an overall similar binding profile to RELAp50, individual sequences did show distinct binding properties between the two proteins. Thus, an exhaustive profiling of these dimers using EMSA-Seq would be a logical follow-on to this study, which should then give us more insight into their binding preferences.
Optimal interpretation of NF-κB DNA binding requires both canonical and non-canonical sequences
A recent study examining the relationship between protein binding microarray-derived binding-models and in vivo binding had to make an assumption that the experimentally derived affinities of DNA sequences were equally applicable to binding in vivo [7]. Analyzing the relationship between DNA sequence and binding using a dataset derived from several individuals offers the advantage of examining binding between individuals at the same genomic location rather than across different ones. Data from the 1000 Genomes Project coupled with those from Kasowski and co-workers have enabled us to compare differences in binding between individuals across the same genomic locations but that had polymorphisms in DNA sequence. Our set of 'extended NF-κB binders' provided the optimal compromise between sensitivity and accuracy for estimation (Figure S3c in Additional file 1). When we interrogated the same data using only our measured binding affinities obtained for 3,109 of the 4,399 'canonical NF-κB binders', we could visualize differences across only 892 comparisons covering 276 BRSs with direct positive correlation in 82% of the data (Figure S6 in Additional file 1). Whilst this is comparable to a computationally derived result of 79% in yeast [4], it also clearly demonstrates the limitation of canonical NF-κB binding motifs in interpreting more than a small fraction of binding events overall. For example, 1,273 BRSs do not involve 'canonical NF-κB binders' in any pair-wise comparison but do include 'extended NF-κB binders'. Our data thus provide strong evidence for the value of in vitro-enriched k-mers in estimating NF-κB binding potential and emphasize the positive contribution of non-canonical binders outside of the classical NF-κB consensus (Figure 6; Figure S3b in Additional file 1).
Of interest, despite us having profiled three RELA-containing dimers, there are still 1,893 comparisons covering 883 BRSs for which there is no direct correlation between binding potential and in vivo binding (Figure S3c in Additional file 1). Immunoprecipitated TFs are often part of larger protein complexes and identifying direct binding to DNA is therefore no trivial task in these cases [34, 35]. It is possible, therefore, that for the comparisons where we were unable to correlate NF-κB binding potential with in vivo NF-κB binding, RELA may not have bound directly to DNA. By mapping TASs within the BRS, we observed that there was a high prevalence of inflammatory disease-associated polymorphisms. This includes auto-immune conditions, such as celiac disease [36], systemic lupus erythematosus [37], primary biliary cirrhosis [38], rheumatoid arthritis [39], Crohn's disease [36], multiple sclerosis [40] and also a trait associated with immunoglobulin A deficiency [41]. The inflammatory response, of which NF-κB is a key modulator, features prominently in all of the above mentioned conditions. As a ubiquitously expressed TF, NF-κB plays a major role in many biological processes, namely inflammation and immunity. Upon activation, NF-κB translocates to the nucleus and binds specific motifs within the genome in order to activate transcription of genes associated with these and other processes. We used a database of disease-associated polymorphisms and identified 13 SNPs, all present within 1 kb of the BRS, of which 8 were linked to inflammatory diseases. It is reasonable to hypothesize then that increased NF-κB binding observed at BRs associated with disease traits may contribute to increased levels of inflammation and immune activity.
Our design for EMSA-Seq included a deep sequencing approach, which allowed for an extensive survey of sequences bound by TFs far beyond the numbers achieved by methods such as standard SELEX, and provided the statistical power to discriminate enriched sequences from background. Our deep sequencing approach yielded an average of 6 million reads per experiment, with the highest being 15 million, in contrast to 30,000 to 300,000 reads obtained in experiments with a single TF in two other comparable methodologies [8, 14]. Despite this, there remained 2,310 comparisons in which genomic variation has apparently not resulted in any difference in binding potential between individuals (see Results). To address this, deeper sequencing may be required in order to both identify other binders and enhance perception of differences in binding affinities between binders, thus offering invaluable insights into the strengths and limitations of different implementations of EMSA-based technologies.
Conclusions
With our data we were able to describe differences in binding preferences between NF-κB dimers. We showed that NF-κB binds not only canonical but also non-canonical motifs and generated data that greatly enhances our ability to describe NF-κB binding sites. This facilitated the analysis of NF-κB binding sites throughout the genome, revealing SNP variation between individuals. Through this we were able to determine the effect of SNPs on NF-κB binding. This study represents a major development in interpreting data generated by techniques like ChIP-Seq, as well as expression quantitative trait loci (eQTL) data and variations reported in GWASs of functional traits. NF-κB is only one among scores of common TFs that regulate a majority of genes. It should be feasible, therefore, to generate similar data for other TFs to interpret and predict the effects of variations on TF binding genome-wide and to begin to model how gene expression varies as a function of polymorphisms within binding sites.
Materials and methods
Sequences of the different primers and DNA ligands can be found in Additional file 5. All quantification of nucleic acid samples was performed according to manufacturer instructions on a Qubit Fluorometer (Invitrogen #Q32857, Paisley, United Kingdom) and with either the Quant-iT dsDNA High Sensitivity Assay Kit (Invitrogen #Q33120) or the Quant-iT dsDNA Broad Range Assay Kit (Invitrogen #Q33130). Protein assays were performed using the Quant-iT™ Protein Assay Kit (Invitrogen #Q33210).
Abbreviations
bp:

base pair
BR:

binding region
BRS:

binding region summit
ChIP-Seq:

chromatin immunoprecipitation-sequencing
EMSA-Seq:

electrophoretic mobility shirt assay-sequencing
GEO:

Gene Expression Omnibus
GWAS:

genome-wide association study
NF:

nuclear factor
PCR:

polymerase chain reaction
PWM:

position weight matrix
SELEX:

systematic evolution of ligands by exponential enrichment
SNP:

single nucleotide polymorphism
TAS:

trait/disease-associated SNP
TF:

transcription factor
TFBS:

transcription factor binding site.
Declarations
Acknowledgements
The research leading to these results has received funding from the European Community's Seventh Framework Programme FP7/2007-2013: Model-In (222008) awarded to JR, IAU, DA and SD, the FP7 ITN Network INTEGER (214902) awarded to JR. In addition, the MRC project grant G0700818 awarded to IAU and JR. JR was also supported by the Wellcome Trust through grant 075491/Z/04. We would like to thank Ross Richardson for his invaluable contribution to our earlier efforts towards data analyses, and also Ray Owens and Rene Assenberg from the Oxford Protein Production facility (OPPF) for their expertise and generous support.
Authors' Affiliations
(1)
Wellcome Trust Centre for Human Genetics, University of Oxford, Oxford, UK
(2)
Laboratoire de Biologie Moléculaire de la Cellule, CNRS-UMR 5239/INRA 1237/IFR128 Biosciences, Ecole Normale Supérieure de Lyon, Université de Lyon, Lyon, France
(3)
Kennedy Institute of Rheumatology, Imperial College, London, UK
(4)
Division of Genetics, Brigham and Women's Hospital and Harvard Medical School, Boston, USA
(5)
Harvard-MIT Division of Health Sciences and Technology (HST), Harvard Medical School, Boston, USA
(6)
Department of Pathology, Brigham and Women's Hospital and Harvard Medical School, Boston, USA
(7)
INSERM Institut Albert Bonniot, Université Joseph Fourier - Grenoble 1, Grenoble Cedex 9, France
Copyright
© Wong et al.; licensee BioMed Central Ltd. 2011
This article is published under license to BioMed Central Ltd. This is an open access article distributed under the terms of the Creative Commons Attribution License (http://creativecommons.org/licenses/by/2.0), which permits unrestricted use, distribution, and reproduction in any medium, provided the original work is properly cited.