Protein family review

Open Access
Atg8: an autophagy-related ubiquitin-like protein family
Abstract
Autophagy-related (Atg) proteins are eukaryotic factors participating in various stages of the autophagic process. Thus far 34 Atgs have been identified in yeast, including the key autophagic protein Atg8. The Atg8 gene family encodes ubiquitin-like proteins that share a similar structure consisting of two amino-terminal α helices and a ubiquitin-like core. Atg8 family members are expressed in various tissues, where they participate in multiple cellular processes, such as intracellular membrane trafficking and autophagy. Their role in autophagy has been intensively studied. Atg8 proteins undergo a unique ubiquitin-like conjugation to phosphatidylethanolamine on the autophagic membrane, a process essential for autophagosome formation. Whereas yeast has a single Atg8 gene, many other eukaryotes contain multiple Atg8 orthologs. Atg8 genes of multicellular animals can be divided, by sequence similarities, into three subfamilies: microtubule-associated protein 1 light chain 3 (MAP1LC3 or LC3), γ-aminobutyric acid receptor-associated protein (GABARAP) and Golgi-associated ATPase enhancer of 16 kDa (GATE-16), which are present in sponges, cnidarians (such as sea anemones, corals and hydras) and bilateral animals. Although genes from all three subfamilies are found in vertebrates, some invertebrate lineages have lost the genes from one or two subfamilies. The amino terminus of Atg8 proteins varies between the subfamilies and has a regulatory role in their various functions. Here we discuss the evolution of Atg8 proteins and summarize the current view of their function in intracellular trafficking and autophagy from a structural perspective.
Keywords
Autophagosome FormationAutophagic ProcessAtg8 GeneMulticellular AnimalAtg8 Protein
Gene organization and evolutionary history
Autophagy-related 8 proteins (Atg8s) are one of the 62 highly conserved eukaryote-specific protein families [
1
]. Whereas yeast and other fungal species have a single Atg8 gene, multicellular animals, green plants and some protists have several. Animal Atg8 proteins comprise three subfamilies: microtubule-associated protein 1 light chain 3 (MAP1LC3, hereafter referred to as LC3), γ-aminobutyric acid receptor-associated protein (GABARAP) and Golgi-associated ATPase enhancer of 16 kDa (GATE-16) (Figure
1a
). Humans have a single GATE-16 gene, two GABARAP genes and four LC3 genes (Table
1
). In addition,
LC3A
encodes two isoforms resulting from alternative splicing. All three subfamilies are also present in diverse other bilateral species and in the earlier diverging animals - cnidarians (such as sea anemones, corals and hydras) and sponges. Atg8 genes have been both duplicated and lost during evolution, leading to the extinction and expansion of some subfamilies in specific lineages (Table
2
). One example is in arthropods: the blacklegged tick
Ixodes scapularis
(an arachnid) [
2
] has GATE-16, GABARAP and LC3 genes, but in insects, the honey bee
Apis mellifera
has only a GABARAP and an LC3 gene [
3
] and the fruit fly
Drosophila
has two GABARAP genes [
4
]. One of the fruit fly GABARAP genes has no coding region introns and could be the result of a retrotransposition of the other gene's transcript during the emergence of the fruit flies. The human LC3 gene
MAP1LC3B2
also lacks coding region introns and its coding region has 376 out of 378 bases identical with the human gene
MAP1LC3B
, which has three coding region introns and is more than 10 kb long (Table
1
). The human genome also includes intron-less copies of all three ATG8 gene subfamilies, which are apparently inactive as a result of frameshifts and nonsense mutations.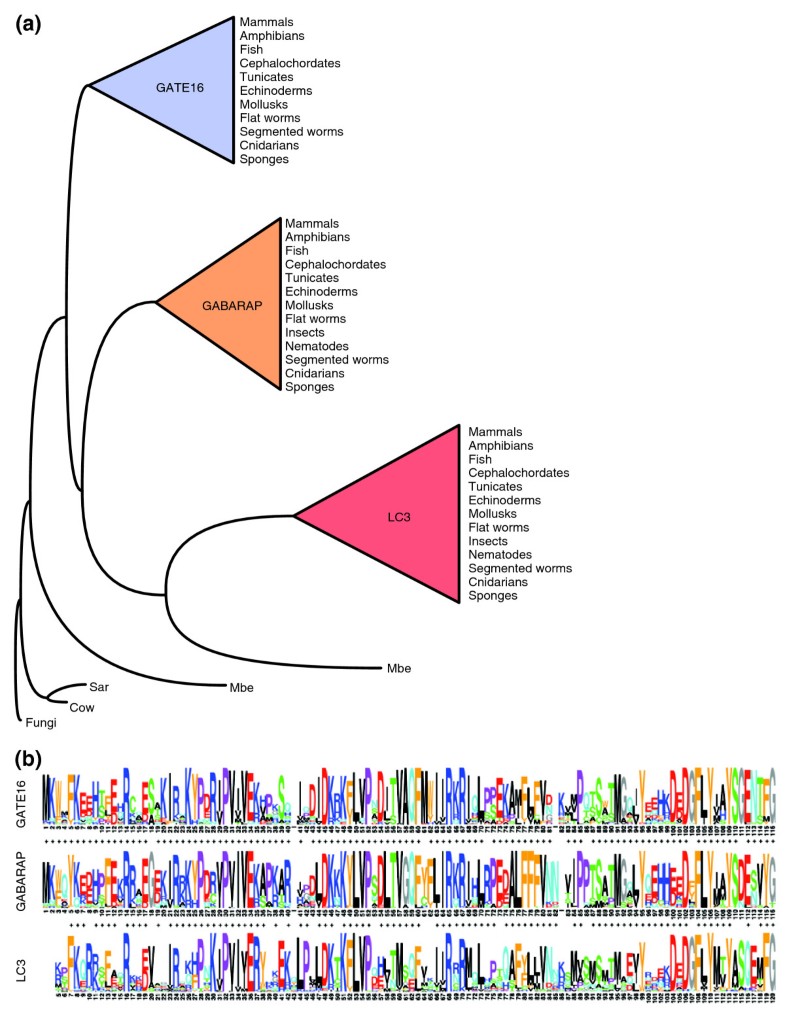 | Subfamily | Gene names | Chromosome location | Gene size (kb)* | Coding region introns |
| --- | --- | --- | --- | --- |
| GATE-16 | GATE-16/GABARAPL2/GEF2 | 16q22.1 | 10.9 | 3 |
| GABARAP | GABARAPL1/GEC1 | 12p13.31 | 8.7 | 3 |
| | GABARAP | 17p13.1 | 1.5 | 3 |
| LC3 | MAP1LC3A | 20q11.22 | 1.0 | 3 |
| | MAP1LC3B | 16q24.2 | 10.7 | 3 |
| | MAP1LC3B2 | 12q24.22 | 0.4 | 0 |
| | MAP1LC3C | 1q43 | 2.8 | 3 |
Table 2
Atg8 subfamilies in metazoan lineages
Number of genes

Lineage

Representative species

GATE-16

GABARAP

LC3

Mammals

Human

1

2

4

Amphibians

Xenopus tropicalis (Western clawed frog)

1

1

4

Fish

Danio rerio (zebrafish)

1

3

4

Cephalochordates

Branchiostoma floridae (amphioxus)

1

1

2

Tunicates

Ciona savignyi (Pacific transparent sea squirt)

1

1

2

Echinoderms

Strongylocentrotus purpuratus (California purple sea urchin)

2

1

2

Mollusks

Aplysia californica (California sea slug)

1

1

2

Flat worms

Schmidtea mediterranea (planarian)

Schistosoma mansoni (trematode)

1

1

1

1

1

-

Nematodes

Caenorhabditis elegans

-

1

1

Insects

Drosophila melanogaster

Apis mellifera (honey bee)

-

-

2

1

-

1

Segmented worms

Capitella teleta

1

1

2

Cnidarians

Nematostella vectensis (starlet sea anemone)

1

1

2

Sponges

Amphimedon queenslandica

2

1

2
Each Atg8 subfamily has some distinct sequence features (Figure 1b). For example, position 18 of the GATE-16 subfamily is typically a serine and sometimes an alanine residue. The corresponding position in the GABARAP subfamily, 18, is an invariant glycine residue, and in the LC3 subfamily the corresponding position, 20, is typically hydrophobic (a valine or alanine residue), and only sometimes a serine residue. Positions 40 in GABARAP and 42 in LC3 subfamilies are conserved and typically basic, whereas the GATE-16 family position corresponding to them, 40, is not well conserved and includes basic residues only in some proteins. At present it is unclear what functions, if any, are associated with these sequence features. Sponges, the oldest surviving basal multicellular animals [5], have genes from all three ATG8 subfamilies. Choanoflagellates, unicellular species that are the closest known relatives of animals [6], have ATG8 genes that do not belong to the three metazoan subfamilies (Figure 1a). It thus seems that the ATG8 gene family diverged into its three subfamilies during the emergence of multicellular animals, and that although the subfamilies underwent further expansion in some lineages, in other lineages some subfamilies were lost. In higher plants the ATG8 genes have also diverged, with Arabidopsis thaliana including eight such genes that can be grouped into three clusters. Different A. thaliana ATG8 genes showed distinct spatial and temporal expression patterns in different tissues [7].
Characteristic structural features
The structures of several Atg8 family members have been solved for mammals, yeast, invertebrates and the parasite
Trypanosoma brucei
[
8
–
15
]. These studies showed that all Atg8 proteins share a strong structural similarity to ubiquitin, despite the lack of similarity in amino acid sequence. GATE-16, the first Atg8 to be crystallized, contains two amino-terminal α-helices in addition to its carboxy-terminal ubiquitin core [
13
]. Subsequent studies confirmed that these features are a unique characteristic of all Atg8 proteins [
8
–
15
] (Figure
2
). The two amino-terminal α helices differ between the various mammalian Atg8 proteins; thus, for example, the first α helix of the LC3 subfamily is strongly basic, whereas in the GABARAP and GATE-16 subfamilies this region is acidic [
15
]. The ubiquitin core of the Atg8 proteins consists of a four-stranded central β sheet, in which the two central strands are parallel to each other and the two outer strands are antiparallel to the central strands. Between these strands lie two α helices: α3 between β2 and β3, and α4 between β3 and β4 [
16
]. This domain contains a basic feature that is conserved among family members and is suggested to have a role in protein-protein interactions. The molecular surface lying on the opposite side of the three-dimensional structure is poorly conserved and might mediate interactions specific to different Atg8 proteins [
17
], whereas the conserved domain is probably responsible for characteristic interactions of Atg8 proteins, such as binding to the conjugation machinery proteins.

During the autophagic process Atg8 proteins bind to numerous factors, such as proteins and possibly membranes [18]. A study by Coyle et al. [8] provides structural evidence for conformational changes resulting from protein-protein interactions. GABARAP was found to have two distinct conformations: a closed conformation, in which the α helices project down towards the surface of the ubiquitin core, and an open conformation, in which the ten amino-terminal amino acids are directed away from the ubiquitin core. The latter conformation is stabilized by the oligomeric state of the protein and points to flexibility in the Atg8 amino-terminal region. A conformational change was also reported in an in vitro reconstitution assay of yeast Atg8, in which accessibility of the amino terminus to antibody increased on conjugation of Atg8 to phosphatidylethanolamine (PE)-containing liposomes [19]. Taken together, these findings suggest that the Atg8 amino-terminal region has a crucial role in the functions of these proteins [20–22]. Differences between the various Atg8 proteins in this region might reflect their distinct functions. The amino-terminal region might also be a target for post-translational regulation.
Localization and function
Frontiers
Atg8 proteins act in diverse intracellular trafficking and autophagy processes. Although the number of Atg8 genes increases if one compares organisms that diverged early with those that diverged late in evolution, their conjugation to PE on the autophagic membrane remains a common feature conserved through evolution. Considerable scientific advancement over the past few years has revealed many Atg8 functions during autophagy, but has also raised many new questions. One major question is how these factors orchestrate their dual role in membrane fusion and cargo recruitment into autophagosomes.
Although mammalian cells are thought to have as many as eight Atg8 proteins, the exact number is not clear, largely because these factors do not show a unique pattern of expression. Although the mammalian Atg8 subfamilies seem to act differently during the formation of autophagosomes, the need for up to four members from each subfamily has yet to be revealed. In particular, it is crucial to determine whether different members of one subfamily occupy the same autophagosomes or whether each member acts in a distinct autophagosome. This may help in deciphering whether autophagy, induced by different stress conditions, results in the formation of 'specialized' autophagosomes containing distinct Atg8 members. Moreover, substantial proteomic data are needed to establish the cargo specificity of each Atg8 member. Selectivity of autophagy was recently reported for many organelles, such as peroxisomes (pexophagy), mitochondria (mitophagy) and ribosomes (ribophagy) [18]. It is feasible that different members of the Atg8 family are crucial for selective autophagy. The role of Atg8s in intracellular trafficking has not been extensively studied. Some lines of evidence show that the conjugation of Atg8s, specifically GABARAPs, to PE is essential for their activity. This should be further investigated by testing the requirement of the Atg8 conjugation system for Golgi-to-plasma-membrane trafficking.
One major obstacle in studying the role of individual Atg8 family members is their high sequence similarity. This feature reduces the specificity of antibodies, as antibodies against GABARAP, for example, may interact with GABARAP-L1. It is therefore crucial to exploit unique epitopes within these proteins to construct novel specific antibodies. Furthermore, the overexpression approach is not optimal as LC3 proteins tend to form aggregates when transiently expressed [110]. To overcome this pitfall, species that contain one Atg8 representative from each subfamily could be used to elucidate their role. Moreover, knockout mice of specific Atg8 subfamily members will help in dissecting these proteins' roles during development and in a tissue-specific manner. These are some of the questions and challenges that will be the focus of future studies.
Declarations
Acknowledgements
ZE is the incumbent of the Harold Korda Chair of Biology and is supported in part by the Legacy Heritage Fund, and by the Louis Brause Philanthropic Fund. SP holds a Hermann and Lilly Schilling Foundation chair.
Authors' Affiliations
(1)
Department of Biological Chemistry, The Weizmann Institute of Science, Rehovot, Israel
(2)
Department of Molecular Genetics, The Weizmann Institute of Science, Rehovot, Israel
Copyright
© BioMed Central Ltd 2011