Genome sequence of the insect pathogenic fungus Cordyceps militaris, a valued traditional chinese medicine
Genome Biology
2011
12:R116
Received: 4 July 2011
Accepted: 23 November 2011
Published: 23 November 2011
Abstract
Background
Species in the ascomycete fungal genus Cordyceps have been proposed to be the teleomorphs of Metarhizium species. The latter have been widely used as insect biocontrol agents. Cordyceps species are highly prized for use in traditional Chinese medicines, but the genes responsible for biosynthesis of bioactive components, insect pathogenicity and the control of sexuality and fruiting have not been determined.
Results
Here, we report the genome sequence of the type species Cordyceps militaris. Phylogenomic analysis suggests that different species in the Cordyceps/Metarhizium genera have evolved into insect pathogens independently of each other, and that their similar large secretomes and gene family expansions are due to convergent evolution. However, relative to other fungi, including Metarhizium spp., many protein families are reduced in C. militaris, which suggests a more restricted ecology. Consistent with its long track record of safe usage as a medicine, the Cordyceps genome does not contain genes for known human mycotoxins. We establish that C. militaris is sexually heterothallic but, very unusually, fruiting can occur without an opposite mating-type partner. Transcriptional profiling indicates that fruiting involves induction of the Zn2Cys6-type transcription factors and MAPK pathway; unlike other fungi, however, the PKA pathway is not activated.
Conclusions
The data offer a better understanding of Cordyceps biology and will facilitate the exploitation of medicinal compounds produced by the fungus.
Keywords
Fruiting BodyGraminearumTrichotheceneErgot AlkaloidPatulin
Background
The Ascomycete genus Cordyceps includes over 500 species that are pathogens of arthropods. Cordyceps militaris (CCM) is the type species and occurs throughout much of the Northern Hemisphere as a pathogen of lepidopteran insect pupae [1]. C. militaris is readily characterized by the sexual fruiting bodies forming on mycosed pupae, the structures giving the fungus its common name of 'pupa grass' in China. Anamorphic Cordyceps species, such as Beauveria spp., Metarhizium spp. and Paecilomyces spp., have been developed as insect biocontrol agents [2, 3]. Although C. militaris and Cordyceps sinensis (syn. Ophiocordyceps sinensis) are best known as traditional Chinese medicines, they are also increasingly being studied and used in the West [4, 5]. An array of pharmacologically active components has been identified, including cordycepin, cordycepic acids, polysaccharides and macrolides [6]. Cordycepin (3'-deoxyadenosine) has so far only been reported in C. militaris and is a broad spectrum antimicrobial [5] and polyadenylation inhibitor that is currently undergoing clinical trials against cancers [7]. The biosynthetic pathway of cordycepin production has not been determined.
In spite of their market values - for example, > $10,000 per kilo for the fruiting bodies of the un-cultivatable
C. sinensis
[
8
] - very little is known about sex and developmental processes in
Cordyceps
species, and remedying this deficiency should help in production/cultivation of these enigmatic fungi.
C. militaris
is notable as it readily performs sexual reproduction on artificial media and is thus a good target for studying the molecular underpinnings of sex and development in
Cordyceps
spp. (Figure
1
).
C. militaris
also has the potential to be a versatile new model for studying the evolution of sex and reproductive structures. While current fungal models have provided numerous insights into the evolution of sex [
9
], there is still much to be understood about the mechanisms, evolution and ecological impact of sexuality in fungi. This is, in part, because fungal mating and sexual cycles are often complicated; for example, aspergilli have both self-fertile (homothallism) and self-sterile (heterothallism) mating systems [
10
].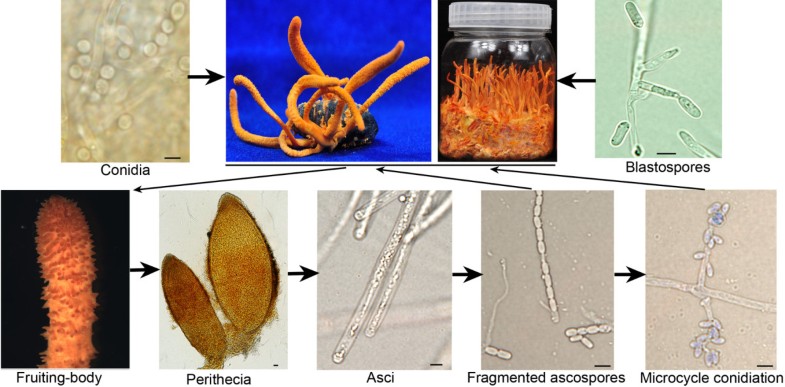 There is also much to be learnt about the nature and evolution of interactions of Cordyceps spp. with their hosts and with the wider environment. As entomopathogenicity appears to have evolved independently in Cordyceps and two Metarhizium species [11], comparative genomics will provide independent assessments of what is required to be entomopathogenic, identify the degree to which evolution between these fungi has been convergent, and identify the genomic basis of their differing physiologies and host-specificity. Last but not least, genomic sequencing of C. militaris will enable a systematic exploration of the biology and pharmaceuticals underlying the widespread medical impact of Cordyceps spp., and identify potential safety hazards, including genes for known human mycotoxins.
Discussion
We report here the first genome analysis of a Cordyceps species, the medicinal lepidopteran pathogen C. militaris, and show that the fungus is capable of fruiting without an opposite mating-type partner. We also show that it lacks genes known to be involved in production of human mycotoxins. Being an insect pathogen, the C. militaris genome contains thousands of genes putatively involved in interactions with insect hosts. Cordyceps resembles Metarhizium spp. in having a very high percentage of secreted proteins relative to plant pathogens and saprophytes and expanded families of proteases and chitinases with targets in insect hosts. However, insect-killing strategies may differ between Cordyceps and Metarhizium due to differences in gene content. Mating-type analysis indicated that sexual reproduction in C. militaris is heterothallic. Transcriptional profiling indicated that fruiting of the MAT1-1 C. militaris strain involves induction of the MAPK pathway, but unlike other homothallic or heterothallic fungi, the PKA pathway was not up-regulated. It remains to be determined whether this reflects the very unusual ability of C. militaris to produce fruiting bodies without an opposite mating-type partner.
Aside from knowing that C. militaris infects lepidopteran pupae [37], the life cycle of C. militaris in nature is poorly understood [8]. Following disease, survival in soil may depend on the sexual stage of Cordyceps providing resilient long-lived ascospores as described in other fungi [38]. Micro-cycle conidiation from germinated ascospores could adapt the fungus to nutrient poor niches (Figure 1). Metarhizium does not produce ascospores but flourishes in plant rhizospheres, which thus provide an alternative habitat in the absence of insect hosts. C. militaris can grow on germinated soybeans [39], suggesting a potential for an association with plants. However, relative to Metarhizium and most other ascomycetes, many protein families are smaller in the C. militaris genome, especially serine proteases, GHs, CYPs, MFS transporters and signal transduction factors. These families would be involved in scavenging for nutrients, avoidance of host defenses and toxins and other processes related to pathogenicity and a saprobic lifestyle. Around two-thirds of these protein families include pathogen-host interaction genes in plant-associated fungi (Table S4 in Additional file 1). Further studies on the ecology of Cordyceps spp. will shed more light on the relevance of the C. militaris genome to the evolution of gene families in relation to acquisition/loss of capability for dual plant/insect colonization and host range specialization.
The phylogenomic analysis demonstrated that the lineage leading to Cordyceps spp. diverged after most well known plant pathogens, including F. graminearum, but 130 MYA before Metarhizium diverged from the grass endophyte Epichloë festucae. The estimate of a Triassic-Jurassic boundary origin for the Cordyceps lineage and the post-Cretaceous origin of Metarhizium spp. is consistent with the hypocrealean fungi of Cordycipitaceae (includes Cordyceps spp.), Clavicipitaceae (includes Metarhizium spp.) and Ophiocordycipitaceae splitting about the same time as insects and angiosperms were diversifying [40]. Families of proteases and chitinases are not expanded or lost in the E. festucae genome as they are in Cordyceps and Metarhizium, exemplifying convergent evolution to insect pathogenicity. Besides proteases and chitinases, experimentally verified Metarhizium virulence-associated genes with homologs in the C. militaris genome include a perilipin-like protein (CCM_06103 versus MAA_08819) to control cellular lipid storage and appressorium penetration [41], and an osmosensor (CCM_04885 versus MAA_01551) to mediate adaptation to the insect hemocoel [42]. Homologs of these genes are broadly distributed among ascomycetes, indicative of an ancient origin. However, Cordyceps lacks other Metarhizium pathogenicity-related genes, including a collagen-like protein to evade the host immune system [43], a phosphoketolase for pentose metabolism [24] and the adhesins to mediate spore adhesions to insect and plant surfaces [44]. The absence of key components of the Metarhizium entomopathogenicity 'toolkit' from C. militaris indicates that it has evolved different determinants to mediate its interactions with insects.
Like N. crassa and F. graminearum, C. miltaris lacks highly similar paralogs, a hallmark of the repeat-induced point mutation (RIP) mechanism [20]. C. militaris has an ortholog (CCM_03609) of the N. crassa RIP defective gene (NCU02034), a cytosine methyltranserase essential for RIP [45]. The high C→T and G→A mutation bias in the C. militaris genome and the readiness of C. miltaris to undergo the sexual cycle suggests that RIP is commonplace in C. militaris like many ascomycetes [10, 15, 19]. Since RIP can function effectively against selfish DNAs [46], it likely contributes, at least in part, to C. militaris having few DNA type transposon encoded genes, that is, transposases [15].
There are many more orphan genes in Cordyceps than in Metarhizium spp., underscoring that much about the proteome of Cordyceps spp. remains unknown. It is speculated that orphan genes arise from gene duplication, shuffling of gene fragments, mobile element effects, mutation of existing sequences, horizontal gene transfer and de novo origination from non-coding DNAs [47]. De novo creation of new genes is probably rare [48]. A role for mobile element effects is also unlikely given how few putative transposase genes are present in the C. militaris genome. Putative horizontal gene transfer genes are even fewer in Cordyceps than in Metarhizium. Thus, the numerous orphans in the C. militaris genome most likely arose from frequent mutations caused by RIP in existing (duplicated) sequences. Just as the Metarhizium-specific collagen-like protein is essentially required to camouflage cells from host immune recognition [43]. The transcriptome data showed that 428 of the 1,329 orphan genes were transcribed during fruiting. Of the 100 most highly expressed genes in developing C. militaris fruiting bodies, about one-third are orphans (Table S17 in Additional file 1), underscoring the potential of orphans to have specific functions. Likewise, genes that are apparently unique to the mushroom Schizophyllum commune are more likely to be expressed during mushroom formation [49].
Concern has been raised about the possibility of harmful side effects of traditional Chinese medicines, including Cordyceps [50]. Consistent with genotoxicity and cytotoxicity assays that show Cordyceps products to be safe for consumption [51], there is no evidence in the C. militaris genome for genes involved in the production of known mycotoxins. However, safety could only be completely verified by meticulous profiling of the metabolites produced by the fungus under diverse growth conditions. The C. militaris genome data will facilitate these processes as well as help with elucidation of the biosynthetic pathways of different metabolites.
The analysis of C. militaris genome indicates that it is sexually heterothallic, but strikingly, both the MAT1-1 single mating-type and MAT1-1/MAT1-2 hybrid strains can form fruiting bodies, which means that C. militaris is capable of fruiting without a partner. Single mating-type (haploid) fruiting has also been observed in the human pathogens Cryptococcus neoformans and Candida albicans [52]. Given that perithecia and ascospores are not produced by MAT1-1 fruiting bodies, C. militaris haploid fruiting is different from the same-sex mating and fruiting of C. neoformans, in which diploidization and meiosis can occur. In budding yeast, meiotic recombination is initiated by the formation of double-strand breaks catalyzed by SPO11, a meiosis-specific endonuclease [53]. The meiosis-specific recombinase DMC1 and the DNA repair enzyme RAD51 then co-localize to double-strand breaks and function together for meiotic recombination [54]. The C. militaris homologue of yeast SPO11 (CCM_09527) was up-regulated more than five-fold during fruiting body maturation (the TPM ratio of FB2/FB1 = 8.1; FB3/FB2 = 5.7). Intriguingly, the C. militaris genome lacks a yeast RAD51 ortholog, but its DMC1 ortholog (CCM_06822) contains a RAD51 domain. CCM_06822 was not expressed by C. militaris during fruiting, which may explain why the C. militaris MAT1-1 strain forms fruiting bodies without meiosis. Consistent with this, a putative cyclin dependent kinase 7 (CDK7; CCM_03900) was up-regulated during fungal fruiting (Table S19 in Additional file 1). Orthologs of CDK7 initiate DNA synthesis and facilitate mitosis instead of meiosis [55].
Conclusions
In conclusion, we report on the genome sequencing, comparative genome analysis and transcriptional regulation of fruiting body development in the medicinal fungus C. militaris. The sequence data should markedly enhance the pace of molecular research on Cordyceps biology, fungal sex and pathogenicity, and will have impacts on the commercial production of fruiting structures. The genomic sequence will also be an essential tool to unravel the mechanisms by which C. militaris produces medicinal compounds and so further their exploitation.
Abbreviations
ABC:

ATP-binding cassette
bp:

base pair
BSR:

Blast score ratio
CCM:

Cordyceps militaris
CYP:

cytochrome P450
DMAT:

dimethylallyl tryptophan synthase
FDR:

false discovery rate
GH:

glycoside hydrolase
GI:

genomic island
GPCR:

G-protein coupled receptor
MAA:

Metarhizium anisopliae
MAC:

Metarhizium acridum
MAPK:

mitogen-activated protein kinase
MAT:

matting-type
MFS:

major facilitator superfamily
MYA:

million years ago
NRPS:

non-ribosomal peptide synthetase
PKA:

protein kinase A
PKS:

polyketide synthase
RIP:

repeat-induced point mutation
RNR:

ribonucleotide trisphosphate reductase
SDB:

Sabouraud dextrose broth
TF:

transcription factor
TPM:

transcripts per million tags.
Declarations
Acknowledgements
CSW was supported by the Ministry of Science and Technology of China (grant number 2009CB118904), the Ministry of Agriculture of China (grant number 2009ZX08009-035B), the Science and Technology Commission of Shanghai Municipality (grant number 08DZ1970200) and the Chinese Academy of Sciences (KSCX2-EW-N-06 and KSCX2-EW-G-16).
Authors' Affiliations
(1)
Key Laboratory of Insect Developmental and Evolutionary Biology, Institute of Plant Physiology and Ecology, Shanghai Institutes for Biological Sciences, Chinese Academy of Sciences, Shanghai, China
(2)
Chinese National Human Genome Center at Shanghai, Shanghai, China
(3)
Institute of Microbiology, Chinese Academy of Sciences, Beijing, China
(4)
Department of Entomology, University of Maryland, College Park, USA
Copyright
© Zheng et al.; licensee BioMed Central Ltd 2011
This article is published under license to BioMed Central Ltd. This is an open access article distributed under the terms of the Creative Commons Attribution License (http://creativecommons.org/licenses/by/2.0), which permits unrestricted use, distribution, and reproduction in any medium, provided the original work is properly cited.