Conserved developmental transcriptomes in evolutionarily divergent species
Received: 16 December 2009
Accepted: 17 March 2010
Published: 17 March 2010
Abstract
Background
Evolutionarily divergent organisms often share developmental anatomies despite vast differences between their genome sequences. The social amoebae Dictyostelium discoideum and Dictyostelium purpureum have similar developmental morphologies although their genomes are as divergent as those of man and jawed fish.
Results
Here we show that the anatomical similarities are accompanied by extensive transcriptome conservation. Using RNA sequencing we compared the abundance and developmental regulation of all the transcripts in the two species. In both species, most genes are developmentally regulated and the greatest expression changes occur during the transition from unicellularity to multicellularity. The developmental regulation of transcription is highly conserved between orthologs in the two species. In addition to timing of expression, the level of mRNA production is also conserved between orthologs and is consistent with the intuitive notion that transcript abundance correlates with the amount of protein required. Furthermore, the conservation of transcriptomes extends to cell-type specific expression.
Conclusions
These findings suggest that developmental programs are remarkably conserved at the transcriptome level, considering the great evolutionary distance between the genomes. Moreover, this transcriptional conservation may be responsible for the similar developmental anatomies of Dictyostelium discoideum and Dictyostelium purpureum.
Keywords
Gene OntologyTranscript AbundanceRead CountDictyostelium DiscoideumDevelopmental Time Point
Background
Comparisons between morphology, physiology and developmental transitions of organisms have been used for some time to study evolutionary relationships between species. We can now use genome sequence comparisons and start to relate genetic information to organismal function and morphology. High-throughput methods for the analysis of RNA, protein and metabolites are beginning to bridge the gap between genomes and functions, and evolutionary comparisons between organisms using these methods are increasing our understanding of the relationship between genes and function.
Gene regulation is sometimes surprisingly similar between divergent species, revealing common pathways in fundamental processes despite vast evolutionary distances [1, 2]. Comparing the transcriptomes of evolutionarily distant organisms has revealed ancient conserved genetic networks and helped in assigning function to unknown genes [3, 4]. On the other hand, there is evidence for extensive divergence of developmental gene regulation in closely related species [5] and comparative studies have shown that evolution of transcriptional regulation in specific pathways can drive divergence of developmental anatomies. For example, differences in the spatiotemporal regulation of Hox genes can account for variations in animal patterning [6] and differences in the expression patterns of conserved genes can determine variations in heart development [7]. In light of these findings, it is interesting that divergent species sometimes share developmental anatomies despite differences in their genome sequences and in their gene regulation [8]. We therefore wanted to study the global transcriptional basis of evolutionarily conserved developmental anatomies between divergent organisms.
Deep RNA sequencing (RNA-seq), in which millions of short reads are mapped to fully sequenced genomes, introduces a new dimension to transcriptome analysis. The method yields a quantitative, digital description of all the mRNA molecules in a given sample, in addition to improved sensitivity and increased dynamic range relative to hybridization based microarrays [9]. Moreover, mRNA abundance can be directly compared between genes with different sequences, within and between organisms. We used RNA-seq to compare the developmental transcriptomes of two dictyostelid species, Dictyostelium discoideum and Dictyostelium purpureum, that exhibit vast sequence divergence. The genome of D. purpureum has been sequenced recently and compared to that of the previously sequenced genome of D. discoideum (R Sucgang et al "Comparative genomics of the social amoeba: Dictyostelium discoideum and Dictyostelium purpureum", unpublished work). The two genomes are almost identical in size and both have a high A+T content. The genome divergence between the two species was estimated by analyzing numerous orthologous protein clusters representing plant, animal, fungal and amoebal species. This analysis suggested that the genomes of D. discoideum and D. purpureum are as different from each other as the genome of jawed fish is from that of humans (R Sucgang et al, unpublished work). Considering the estimate that the rates of protein evolution in the amoebozoa are comparable to those of plants and animals [10], D. purpureum and D. discoideum probably shared a common ancestor approximately 400 million years ago.
The dictyostelids are an order of amoebae that prey on bacteria in the soil and propagate by fission as solitary cells. Upon starvation they become social and embark on a developmental program that begins with aggregation of thousands of cells into a mound and ends with a multicellular structure that consists of a ball of spores carried atop a cellular stalk. Despite their vast evolutionary distance,
D. discoideum
and
D. purpureum
exhibit very similar developmental programs and inhabit the same ecological niche [
11
]. Both organisms begin their multicellular development immediately following starvation, both use chemotaxis towards cAMP as a means of aggregation, and both differentiate into two types of cells during the slug stage - prespore and prestalk cells (Figure
1a
). The two cell types eventually develop into a cluster of spores, called the sorus, and a thin rod of vacuolated cells called the stalk. The fruiting bodies of the two species are similar in size and shape [
12
], although
D. purpureum
commits its cells to the sterile stalk tissue during the multicellular phase by generating a stalk during slug migration, whereas
D. discoideum
does not. There is also a difference in pigmentation of the sori, as illustrated in Figure
1a
. Despite the similarities between the species, if cells of
D. discoideum
and
D. purpureum
happen to aggregate together, they soon sort out to form species-specific fruiting bodies [
11
]. Other prominent differences are a 4-hour delay in aggregation and a 4-hour delay in culmination of
D. purpureum
compared to
D. discoideum
. However, by the end of the 24-hour developmental program, both species have formed fruiting bodies, consisting of spore-filled sori carried atop cellular stalks. We wanted to test whether the developmental transcriptional profiles of the two species mirror the morphological similarities despite the protein sequence divergence.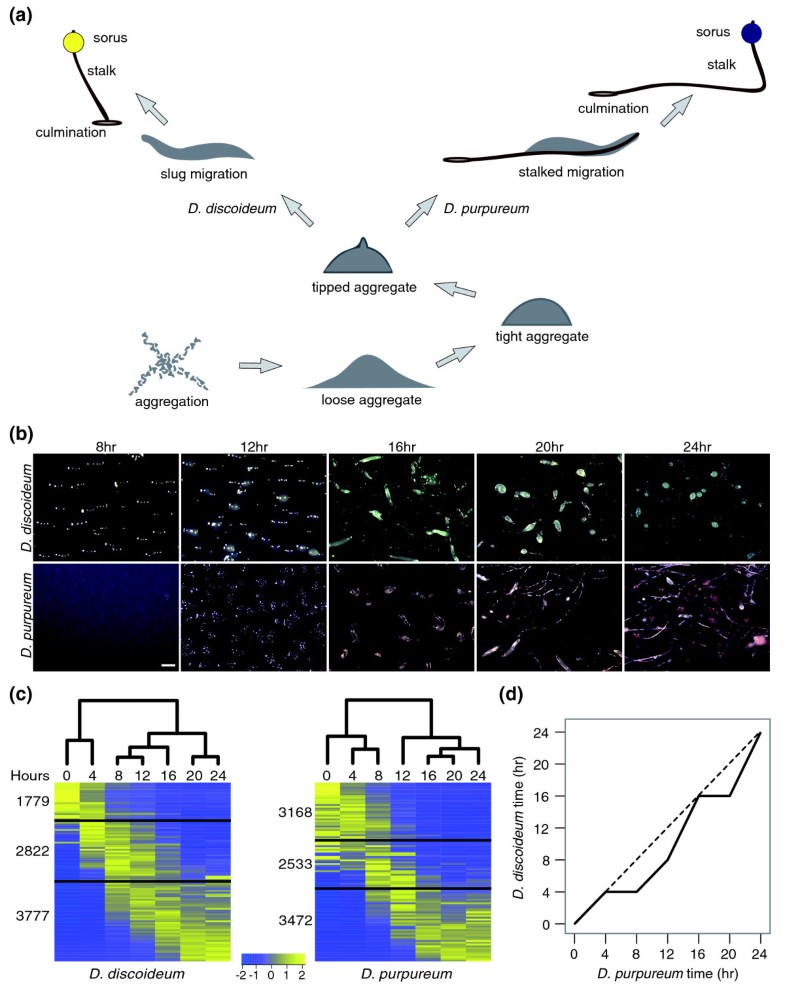 Conclusions
The conservation of the developmental transcriptomes of D. discoideum and D. purpureum is rather surprising, considering the evolutionary distance between the genomes of the two species (R Sucgang et al, unpublished work). Previous studies have argued that divergent regulation of gene expression is a major component of morphological divergence during evolution [6, 27]. Our analysis shows the other side of that argument, suggesting that conservation of transcriptional regulation may be responsible for anatomical conservation.
Comparison of D. discoideum and D. purpureum offers a unique insight into the role of transcriptional regulation in developmental programs, because both developmental processes are highly synchronous and the two species have only two major cell types. Furthermore, Dictyostelium is particularly amenable to RNA-seq transcriptome analyses since large amounts of homogeneous biological samples can be collected at all stages throughout development and the two major cells types can be separated at the slug stage. Other multicellular organisms may present more complicated patterns of cellular differentiation and it may be difficult to define analogous developmental stages between distant species. Nevertheless, comparative transcriptome analyses by RNA-seq could still be quite informative in such organisms, especially for the analysis of defined tissues and purified cell types.
Abbreviations
Bp:

base pair
GO:

Gene Ontology
RNA-seq:

RNA sequencing.
Declarations
Acknowledgements
We thank members of our research groups for technical assistance and discussions. This work was supported by grants from the National Institutes of Health. AP and REM were supported by fellowships from the Keck Center for Interdisciplinary Bioscience Training of the Gulf Coast Consortia.
Authors' Affiliations
(1)
Department of Molecular and Human Genetics, Baylor College of Medicine, Houston, USA
(2)
Graduate Program in Structural and Computational Biology and Molecular Biophysics, Baylor College of Medicine, Houston, USA
(3)
Graduate Program in Developmental Biology, Baylor College of Medicine, Houston, USA
(4)
Section of Cell and Developmental Biology, University of California San Diego, La Jolla, USA
(5)
Faculty of Computer and Information Science, University of Ljubljana, Ljubljana, Slovenia
(6)
Department of Biochemistry and Molecular Biology, Baylor College of Medicine, Houston, USA
Copyright
© Parikh et al.; licensee BioMed Central Ltd. 2010
This article is published under license to BioMed Central Ltd. This is an open access article distributed under the terms of the Creative Commons Attribution License (http://creativecommons.org/licenses/by/2.0), which permits unrestricted use, distribution, and reproduction in any medium, provided the original work is properly cited.