Identification and analysis of unitary pseudogenes: historic and contemporary gene losses in humans and other primates
Received: 2 October 2009
Accepted: 8 March 2010
Published: 8 March 2010
Abstract
Background
Unitary pseudogenes are a class of unprocessed pseudogenes without functioning counterparts in the genome. They constitute only a small fraction of annotated pseudogenes in the human genome. However, as they represent distinct functional losses over time, they shed light on the unique features of humans in primate evolution.
Results
We have developed a pipeline to detect human unitary pseudogenes through analyzing the global inventory of orthologs between the human genome and its mammalian relatives. We focus on gene losses along the human lineage after the divergence from rodents about 75 million years ago. In total, we identify 76 unitary pseudogenes, including previously annotated ones, and many novel ones. By comparing each of these to its functioning ortholog in other mammals, we can approximately date the creation of each unitary pseudogene (that is, the gene 'death date') and show that for our group of 76, the functional genes appear to be disabled at a fairly uniform rate throughout primate evolution - not all at once, correlated, for instance, with the 'Alu burst'. Furthermore, we identify 11 unitary pseudogenes that are polymorphic - that is, they have both nonfunctional and functional alleles currently segregating in the human population. Comparing them with their orthologs in other primates, we find that two of them are in fact pseudogenes in non-human primates, suggesting that they represent cases of a gene being resurrected in the human lineage.
Conclusions
This analysis of unitary pseudogenes provides insights into the evolutionary constraints faced by different organisms and the timescales of functional gene loss in humans.
Keywords
Gene LossWorld MonkeyHuman LineageMouse Genome InformaticsMouse Protein
Background
Pseudogenes (ψ) are nongenic DNA segments that exhibit a high degree of sequence similarity to functional genes but contain disruptive defects. The initial pseudogenization of a functional gene is most likely a single mutagenic event that results in premature stop codons, abolished splice junctions, shifts to the coding frame, or impaired transcriptional regulatory sequences. Most pseudogenes are disabled copies of a functional 'parent' gene and can be classified as either processed or duplicated pseudogenes depending on whether they are generated by the retro-transposition of processed mRNA transcripts or the duplication of gene-containing DNA segments in the genome. Recently, the pseudogene complement of the human genome has been investigated both in gene family-specific studies [1–4] and in comprehensive surveys [5–7]. Of the approximately 20,000 pseudogenes identified in early studies, most, if not all, do not represent the extinction of a function as their 'parent' genes are intact and functional.
A third group of pseudogenes particularly relevant to functional analyses are unitary pseudogenes, which are unprocessed pseudogenes with no functional counterparts. They are generated by disruptive mutations occurring in functional genes and prevent them from being successfully transcribed or translated. They differ from duplicated pseudogenes in that the disabled gene had an established function rather than being a more recent copy of a functional gene. The initial analysis of the euchromatic sequence of the human genome identified 37 unitary pseudogene candidates [8]. In addition to unitary pseudogenes with fixed disruptive nucleotide substitutions, human genes with polymorphic disruptive sites that are currently segregating in the human population have also been indentified [8–10], and many of them provide the genetic bases of certain inheritable diseases [11]. Such gene deactivation, which happens in situ giving rise to a unitary pseudogene, results in a loss to the functional part of the genetic repertoire of the organism. Polymorphic pseudogenes are unlikely to become fixed in a population if the gene loss is deleterious. However, various evolutionary processes, such as genetic drift, migration (population bottleneck), and in some cases, natural selection, can lead to fixation. A number of genes are known to have been lost in the human lineage in comparison with other mammals [4, 12–15].
In this study, we develop a novel comparative genomic approach to identify genes disabled in situ without a functional copy (unitary pseudogenes) using the absence of human proteins orthologous to their mouse counterparts as the signals of losses of well-established genes. Our method is able to systematically detect the sequence signature left by such genic losses, distinguishing true loss from mere loss of redundant genes following duplication or retrotransposition. We identify historic and contemporary losses of protein-coding genes in the human lineage since the last common ancestor of euarchontoglires (primates and rodents). In addition to pseudogenes in tandem gene families, we identify 76 losses of well-established genes in the human lineage since the common ancestor with mouse. Moreover, we also find 11 genes with polymorphic disruptive sites. This latter set represents gene losses on a very different timescale: the genic and pseudogenic alleles are segregating in the current human population and are subject to various evolutionary forces.
Discussion
The pseudogene complement of the human genome has been comprehensively surveyed in several early studies [5–7]. Using sequence similarity between the proteome and the (translated) genome as the signature, these studies found pseudogenic copies of functional genes that were generated after duplication or retrotransposition in the human genome. Such duplicated or processed pseudogenes are probably of little evolutionary significance, as the former are disabled soon after duplication and the latter 'dead on arrival' [32]. In this study, however, we systematically identify human unitary pseudogenes, a class of pseudogenes that are especially interesting as it is the functional genes themselves, not their genomic copies generated by duplication or retrotransposition, that have been disabled. Some human unitary pseudogenes have been identified on an individual basis when a particular gene or gene family was studied (see the references in Table S2 in Additional file 1). Using a comparative genomic approach, Zhu et al. [23] identified 26 losses of well-established genes in the human genome that were all lost at least 50 MYA after their birth. We compared our and their sets and found that in spite of using different methodological approaches, both studies had in common many gene losses in the human genome (Table S5 in Additional file 1).
To identify unitary pseudogenes in one species, we need a reference gene set from another species. This is not a mere operational convenience or necessity: unitary pseudogenes are conceptually comparative entities as speciation and gene duplication (and the possible subsequent gene death) are two separate events that most likely happen at different times. As a result, different sets of unitary pseudogenes in a species could be identified if reference gene sets from several species are used. For example, to identify human unitary pseudogenes, we can use mouse or chimpanzee gene sets. When the human gene loss happened after the human-chimp divergence and if the mouse and the chimp orthologs are both conserved, we have the same identifiable unitary pseudogene in human corresponding to its mouse or chimp ortholog (Figure
7a
). If, however, the gene loss happened between the human-mouse and the human-chimp divergences and the mouse ortholog is conserved, the human unitary pseudogene is only meaningful and identifiable when the mouse gene set is used for the comparison (Figure
7b
). In a slightly more complicated evolutionary scenario, if a gene was duplicated after the human-mouse divergence and its copy was successfully neo-functionalized (with substantial sequence change) before the human-chimp divergence and pseudogenized afterwards in the human lineage, the human unitary pseudogene is relative to, and identifiable by, its chimp ortholog (Figure
7c
). Under this scenario, such human unitary pseudogenes - including human
ψMYH16
- cannot be identified using the mouse protein/gene set and thus will be false negatives of the identification result (Table S6 in Additional file
1
). The comparison between the human and chimpanzee genomic sequences has revealed a number of gene disruptions in humans [
33
].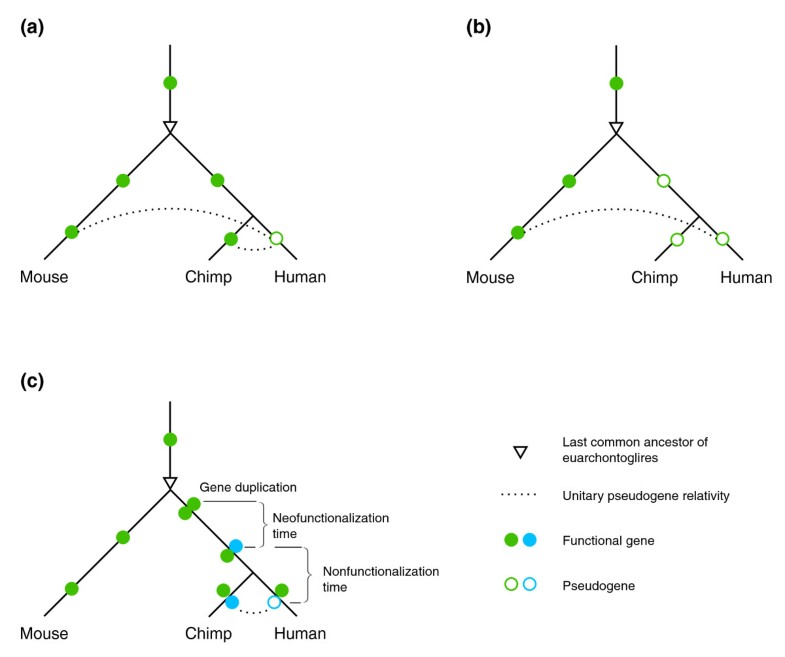 Within a population, the pseudogenization of a gene does not happen instantaneously. Rather, after a disruptive mutation occurs, the alleles at the locus undergo a fixation process. Depending on the outcome, such a mutation is either fixed or lost. Thus, every gene loss goes through two stages: a polymorphic stage in the contemporary population subject to evolutionary forces; and a fixed stage freed from selective pressure. The fixed mutation becomes the base substitution in the species under study relative to the other and is identified through comparison of the genomes of two species. By comparing the human and the mouse genomes, we identify 76 fixed unitary pseudogenes. In addition, we identify 11 human genes with pseudogenic alleles, whose disruptive mutations include nonsense mutations and frameshifts. Our identification of polymorphic pseudogenes is by no means comprehensive as we search in the reference genome sequence for only the loci that are associated with both CDS disruptions and functional mRNA sequences. To obtain a comprehensive set of polymorphic pseudogenes, one approach would be to map variation sites in dbSNP to the reference genome and identify variations that can disrupt the ORF of known genes.
Being at a relatively early stage of pseudogenization, polymorphic pseudogenes in a population are subject to various evolutionary forces depending on the function of the normal alleles and the interaction between different genotypes and the environment. Since the loss of a single-copy gene is often deleterious and unlikely to be fixed in a population [34], it remains unclear under what circumstances genes were silenced and how the losses were tolerated and fixed in the ancestral population. It has been proposed that, under certain conditions, a gene could become disposable to the fitness of the organism if the function that it provides becomes redundant. When this happens, the pseudogenic allele could be fixed in the population by random genetic drift because the loss of the gene product did not constitute a disadvantage and, thus, there is little selection against the gene loss. This release from selective pressure is believed to be how the nonfunctionalization of L-gulono-γ-lactone oxidase gene could be fixed in humans and guinea pigs [13]: it has been hypothesized that the guinea pig and human ancestors subsisted on a naturally ascorbic acid-rich diet; therefore, the loss of the enzyme did not constitute a disadvantage.
On the other hand, as argued by the 'less is more' hypothesis, gene loss may serve as an engine of evolutionary change [35]. Instead of being a neutral event, the silencing of a gene could be advantageous to the organism and consequently sweep through the population to fixation - the kind of adaptive evolution illustrated by the inactivation of the α-1,3-galactosyltransferase gene in catarrhines [36], the CMP-N-acetylneuraminic acid hydroxylase gene [12], the olfactory receptor genes [17], and the sarcomeric myosin gene [14] in humans as there seems to be a correlation between pseudogenization and physiological/anatomic changes. In addition to these fixed unitary pseudogenes, studies have also shown that some null alleles confer a selective advantage for the polymorphic pseudogenes in the human population. For example, the chemokine receptor CCR5 gene in human has a pseudogenic allele with a 32-bp deletion. Homozygotes of this null allele are strongly protected from infection by various pathogens, including HIV, and heterozygotes receive some protection [9]. Another example is the caspase-12 gene. It has been shown that carriers of the caspase-12 pseudogene are more resistant to severe sepsis [37], and the null allele has spread through most of the human population within the past 100,000 years because of positive selection [38].
There are 6,236 Mouse Genome Informatics (MGI) mouse proteins and 6,020 Ensembl human proteins outside of the InParanoid-assigned human-mouse orthologs. Such an absence of orthology is a result of both gene deaths that generated unitary pseudogenes and gene births that gave rise to novel genes in both species. Using the absence of orthologs of mouse proteins in human as the signal, we identify 76 such losses of well-established genes in the human genome. Of the 2,005 human proteins that have no mouse orthologs and cannot be mapped to the mouse reference genome, 638 passed the quality control and thus are included in the current Ensembl release of the human protein set. Because they cannot be mapped to the genome of dog, the closest out-group of the human-mouse lineage with the best genomic sequences, we believe the reason for their lack of mouse orthologs is that they are novel human genes, not that their mouse orthologs have been deleted. If we take the 15,885 human-mouse orthologs assigned by InParanoid as the set of genes before the divergence between human and mouse, the unitary pseudogenes and the novel genes generated in the human lineage since the last common ancestor of euarchontoglires, approximately 75 MYA, represent, respectively, a loss and a gain of approximately 0.5% and 4% of the number of ancestral genes. Despite aforementioned examples of gene losses under positive selection, this striking skew toward gene birth indicates strongly that gene births are a more significant force for evolutionary change than gene losses. It also confirms the notion that as they represent functional losses to a species, unitary pseudogenes are expected to be rare.
The reference allele in other primates - which is widely taken as the ancestral state - of a human SNP can shed light on its emergence and evolution. The human reference alleles of three disruptive HapMap SNPs (Table
3
) are pseudogenic, which cannot be otherwise given the method that we use to identify the polymorphic pseudogenes. As expected (Figure
8a
), the reference allele of one SNP in non-human primates is functional. It is surprising, however, to find that the reference alleles of two of the SNPs in non-human primates are pseudogenic. One explanation is that these two loci in the common ancestor of human, chimp, orangutan, and macaque were also polymorphic and have been so in the descendent populations ever since (Figure
8b
). If their pseudogenic alleles have risen to high frequencies in chimp, orangutan, and macaque, it is possible for these two loci to be typed as pseudogenic homozygotes (that is, the reference alleles) in all these three non-human primate populations. Polymorphisms at some HLA (human leukocyte antigen) loci are known examples of polymorphisms that have crossed speciation events, as these HLA loci are polymorphic in both human and chimp. This explanation, however, requires the polymorphisms at rs4940595 and rs2842899 to be very ancient, at least 30 million years old. Another explanation is that the pseudogenic alleles are indeed fixed in chimp, orangutan, macaque, and the last common ancestor between them and human, but the genes have been resurrected from the pseudogenic state in the human lineage (Figure
8c
). This seemingly implausible resurrection event is believed to have happened to the human
IRGM
gene through a series of complex structural events after it became pseudogenized in the anthropoid common ancestor [
39
].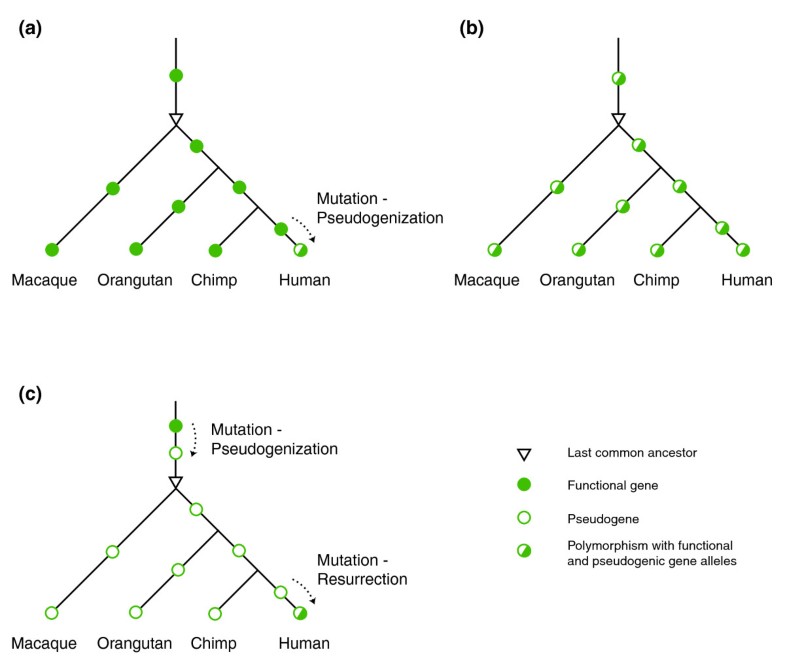 Conclusions
Unitary pseudogenes are unprocessed pseudogenes with no functional counterparts. With complete genome sequences of model organisms, we have developed a novel method to detect such pseudogenes in a genome through analyzing the global inventory of orthologs between two organisms. Using this approach with very conservative cutoffs to look for gene losses along the human lineage after its divergence from rodents approximately 75 MYA, we identify 76 unitary pseudogenes in the human genome. As relics of genes, they shed particular light on the unique features of the human genome during evolution. By comparing orthologous sequences, we assign ages to primate unitary pseudogenes, and find that the former functional genes appear to have been disabled at a fairly uniform rate throughout primate evolution and not in a sudden burst. Furthermore, we find 11 polymorphic pseudogenes that have nonfunctional pseudogenic alleles currently segregating in the human population Comparing them with their orthologs in other primates, we find that two are in fact pseudogenes in non-human primates, suggesting that these actually represent cases of a gene that is in the process of being resurrected in the human lineage. Identification and analysis of human unitary pseudogenes afford unique insights into the evolution and dynamics of the human genic repertoire and the human genome at large.
Abbreviations
ADAM:

a disintegrin and metallopeptidase domain
CDS:

coding sequence
CTF:

cardiotrophin
GO:

Gene Ontology
GULO:

gulonolactone (L-) oxidase
HYAL:

hyaluronoglucosaminidase
MGI:

Mouse Genome Informatics
MUP:

major urinary protein
MYA:

million of years ago
ORF:

open reading frame
SNP:

single nucleotide polymorphism
UOX:

urate oxidase
V2R:

Vmn2r putative pheromone receptor.
Declarations
Acknowledgements
We thank Laurens Wilming, Marie-Marthe Suner, Charles Steward, and Ifat Barnes at the Wellcome Trust Sanger Institute for annotating some of the predicted human unitary pseudogenic loci. This work was supported by an NIH grant from National Library of Medicine (1K99LM009770-01) to ZDZ. Additional funding was provided by NIH grants from National Human Genome Research Institute to MG.
Authors' Affiliations
(1)
Department of Molecular Biophysics and Biochemistry, Yale University, New Haven, USA
(2)
Wellcome Trust Sanger Institute, Hinxton, Cambridgeshire, UK
(3)
Interdepartmental Program in Computational Biology and Bioinformatics, Yale University, New Haven, USA
(4)
Department of Computer Science, Yale University, New Haven, USA
Copyright
© Zhang et al.; licensee BioMed Central Ltd. 2010
This article is published under license to BioMed Central Ltd. This is an open access article distributed under the terms of the Creative Commons Attribution License (http://creativecommons.org/licenses/by/2.0), which permits unrestricted use, distribution, and reproduction in any medium, provided the original work is properly cited.