Comparative genomic analysis of C4 photosynthetic pathway evolution in grasses
Received: 18 March 2009
Accepted: 23 June 2009
Published: 23 June 2009
Abstract
Background
Sorghum is the first C4 plant and the second grass with a full genome sequence available. This makes it possible to perform a whole-genome-level exploration of C4 pathway evolution by comparing key photosynthetic enzyme genes in sorghum, maize (C4) and rice (C3), and to investigate a long-standing hypothesis that a reservoir of duplicated genes is a prerequisite for the evolution of C4 photosynthesis from a C3 progenitor.
Results
We show that both whole-genome and individual gene duplication have contributed to the evolution of C4 photosynthesis. The C4 gene isoforms show differential duplicability, with some C4 genes being recruited from whole genome duplication duplicates by multiple modes of functional innovation. The sorghum and maize carbonic anhydrase genes display a novel mode of new gene formation, with recursive tandem duplication and gene fusion accompanied by adaptive evolution to produce C4 genes with one to three functional units. Other C4 enzymes in sorghum and maize also show evidence of adaptive evolution, though differing in level and mode. Intriguingly, a phosphoenolpyruvate carboxylase gene in the C3 plant rice has also been evolving rapidly and shows evidence of adaptive evolution, although lacking key mutations that are characteristic of C4 metabolism. We also found evidence that both gene redundancy and alternative splicing may have sheltered the evolution of new function.
Conclusions
Gene duplication followed by functional innovation is common to evolution of most but not all C4 genes. The apparently long time-lag between the availability of duplicates for recruitment into C4 and the appearance of C4 grasses, together with the heterogeneity of origins of C4 genes, suggests that there may have been a long transition process before the establishment of C4 photosynthesis.
Keywords
Carbonic AnhydraseAdditional Data FileAdaptive EvolutionTandem DuplicationEnzyme Gene
Background
Many of the most productive crops in agriculture use the C4 photosynthetic pathway. Despite their multiple origins, they are all characterized by high rates of photosynthesis and efficient use of water and nitrogen. As a morphological and biochemical innovation [1], the C4 photosynthetic pathway is proposed to have been an adaptation to hot, dry environments or CO2 deficiency [2–5]. The C4 pathway independently appeared at least 50 times during angiosperm evolution [6, 7]. Multiple origins of the C4 pathway within some angiosperm families [8, 9] imply that its evolution may not be complex, perhaps suggesting that there may have been genetic pre-deposition in some C3 plants to C4 evolution [6].
The high photosynthetic capacity of C4 plants is due to their unique mode of CO
2
assimilation, featuring strict compartmentation of photosynthetic enzymes into two distinct cell types, mesophyll and bundle-sheath (illustrated in Figure
1
for the NADP-malic enzyme (NADP-ME) type of C4 pathway). First, CO
2
assimilation is carried out in mesophyll cells. The primary carboxylating enzyme, phosphoenolpyruvate carboxylase (PEPC), together with carbonic anhydrase (CA), which is crucial to facilitating rapid equilibrium between CO
2
and

, is responsible for the hydration and fixation of CO
2
to produce a C4 acid, oxaloacetate. In NADP-ME-type C4 species, oxaloacetate is then converted to another C4 acid, malate, catalyzed by malate dehydrogenase (MDH). Malate then diffuses into chloroplasts in the proximal bundle-sheath cells, where CO
2
is released to yield pyruvate by the decarboxylating NADP-ME. The released CO
2
concentrates around the secondary carboxylase, Rubisco, and is reassimilated by it through the Calvin cycle. Pyruvate is transferred back into mesophyll cells and catalyzed by pyruvate orthophosphate dikinase (PPDK) to regenerate the primary CO
2
acceptor, phosphoenolpyruvate. Phosphorylation of a conserved serine residue close to the amino-terminal end of the PEPC polypeptide is essential to its activity by reducing sensitivity to the feedback inhibitor malate and a catalyst named PEPC kinase (PPCK). C4 photosynthesis results in more efficient carbon assimilation at high temperatures because its combination of morphological and biochemical features reduce photorespiration, a loss of CO
2
that occurs during C3 photosynthesis at high temperatures [
10
]. PPDK regulatory protein (PPDK-RP), a bifunctional serine/threonine kinase-phosphatase, catalyzes both the ADP-dependent inactivation and the Pi-dependent activation of PPDK [
11
].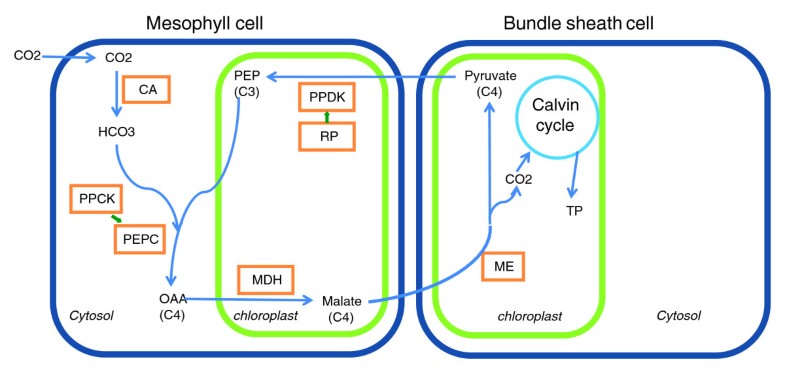 The evolution of a novel biochemical pathway is based on the creation of new genes, or functional changes in existing genes. Gene duplication has been recognized as one of the principal mechanisms of the evolution of new genes. Genes encoding enzymes of the C4 cycle often belong to gene families having multiple copies. For example, in maize and sorghum, a single C4 PEPC gene and other non-C4 isoforms were discovered [12], whereas in Flaveria trinervia, a C4 eudicot, multiple copies of C4 PEPC genes were found [13]. These findings led to the proposition that gene duplication, followed by functional innovation, was the genetic foundation for photosynthetic pathway transformation [14].
All plant genomes, including grass genomes, have been enriched with duplicated genes derived from tandem duplications, single-gene duplications, and large-scale or whole-genome duplications [15–18]. A whole-genome duplication (WGD) occurred in a grass ancestor approximately 70 million years ago (mya), before the divergence of the panicoid, oryzoid, pooid, and other major cereal lineages [19, 20]. A preliminary analysis of sorghum genome data suggested that duplicated genes from various sources have expanded the sizes of some families of C4 genes and their non-C4 isoforms [21]. However, different duplicated gene pairs often have divergent fates [22]. While most duplicated genes are lost, gene retention in some functional groups produces large gene families in plants [15, 19, 20]. Together with other lines of evidence, these have led to the interesting proposition of differential gene duplicability [23, 24], or duplication-resistance [25], due to possible gene dosage imbalance, which can be deleterious [26]. Even when duplicated genes survive, there is rarely strong evidence supporting possible functional innovation [27].
Most C4 plants are grasses, and it has been inferred that C4 photosynthesis first arose in grasses during the Oligocene epoch (24 to 35 mya) [28, 29]. Sorghum and maize, thought to have diverged from a common ancestor approximately 12 to 15 mya [21], are both in the Andropogoneae tribe, which is entirely composed of C4 plants [8]. Sorghum, a NADP-ME-type C4 plant grown for food, feed, fiber and fuel, is the second grass and the first C4 plant with its full genome sequence available [21]. The first grass genome sequenced was rice, a C3 plant. The availability of two grass genome sequences using different types of photosynthesis provides a valuable opportunity to explore C4 pathway evolution. In the present research, by using a comparative genomic approach and phylogenetic analysis, we compared C4 genes and their non-C4 isoforms in sorghum, maize and rice. The aims of this study are to investigate: the role of gene duplication in the evolution of C4 enzyme genes; the role of adaptive evolution in C4 pathway formation; the long-standing hypothesis that a reservoir of duplicated genes has been a prerequisite of C4 pathway evolution [14]; and whether codon usage bias has contributed to C4 gene evolution, as previously suggested [30]. Our results will help to clarify the evolution of the C4 pathway and may benefit efforts to transform C3 plants, such as rice, to C4 photosynthesis [31].
Conclusions
Gene duplication and C4 pathway evolution
Both WGD and single-gene duplication have contributed to C4 pathway evolution in sorghum and maize. Some C4 genes (PEPC, PPCK, and NADP-ME C4 genes) were recruited from duplicates produced by WGD. Sorghum NADP-MDH, NADP-ME and PPDK-RP C4 genes were affected by tandem duplication, with only one of the resulting copies involved in the C4 pathway. C4 genes show divergent duplicability. PEPC, NADP-ME, PPCK, and CA gene families were expanded by recursive duplication events, showing a duplication-philic nature, whereas NADP-MDH and PPDK are likely duplication-phobic. Further supporting evidence is that only one copy of NADP-MDH C4 gene duplicates preserves the C4 function.
Adaptive evolution divergent in mode and level
We found evidence of adaptive evolution of most C4 genes studied. However, the mode and level of adaptation is divergent among C4 genes. Adaptive evolution is achieved though rapid mutations in DNA sequences, aggregated amino acid substitutions, and/or considerable increases of expression levels in specific cells. Besides gene redundancy, we found that alternative splicing may have also sheltered the evolution of new function. Our analysis supports previous findings that maximum likelihood inference may be too conservative to find adaptive evolution. We found no evidence of co-variation between codon usage bias and C4 pathway development.
Special evolutionary mode of grass CA genes
Grass CA genes have evolved in a specific pattern featuring recursive tandem duplication and neighboring gene fusion, which produced distinct isoforms having one to three functional units. Two sorghum C4 CA genes have one and two functional units, while two characterized maize C4 CA genes have two and three functional units, respectively. The elongation of these genes by recruiting extra domains may contribute to the formation of more complex protein structures, as often observed in plants.
A long transition time from C3 to C4 photosynthesis
The hypothesis that a reservoir of duplicated genes in ancestral C3 plants was a prerequisite for C4 pathway development is only partially supported by present findings that some C4 genes were recruited from the duplicates. Availability of the pan-cereal duplicated copies was not sufficient to initiate C4 evolution, since some were lost from the common cereal ancestor, then had to reduplicate in the sorghum-maize ancestor before C4 evolution could occur. However, C4 gene isoforms show quite divergent duplicability, and there has been quite a long time-lag between the gene duplication events and the appearance of C4 grasses. These findings suggest a long transition process, including different modes of functional innovation, before the eventual establishment of C4 photosynthesis.
Materials and methods
Known C4 enzyme genes and their non-C4 isoforms in sorghum, maize and Arabidopsis (Table 1) were downloaded from NCBI CoreNucleotide database [88]. Searching these known genes against sorghum [89] and rice [90] gene models by running BLAST [91] (E-value < 1 × 10-5), we identified other enzyme genes in these organisms. By characterizing sequence similarity and constructing gene trees, possible C4 genes were determined. The enzymes revealed here were linked to expression data reported previously [35] by comparing cDNA segments to gene sequences using BLAST.
Abbreviations
BAC:

bacterial artificial chromosome
CA:

carboxylating anhydrase
cTP:

chloroplast transit peptide
MDH:

malate dehydrogenase
mya:

million years ago
NADP-ME:

NADP-malic enzyme
PEPC:

phosphoenolpyruvate carboxylase
PPCK:

PEPC kinase
PPDK:

pyruvate orthophosphate dikinase
PPDK-RP:

PPDK regulatory protein
WGD:

whole-genome duplication.
Declarations
Acknowledgements
We appreciate financial support from the US National Science Foundation (MCB-0450260 to AHP). We thank Lifeng Lin for artwork.
Authors' Affiliations
(1)
Plant Genome Mapping Laboratory, University of Georgia, Athens, USA
(2)
College of Sciences, Hebei Polytechnic University, Tangshan, China
(3)
Institut fur Entwicklungs- und Molekularbiologie der Pflanzen, Heinrich-Heine-Universitat 1, Dusseldorf, Germany
(4)
Department of Plant Biology, University of Georgia, Athens, USA
Copyright
© Wang et al.; licensee BioMed Central Ltd. 2009
This article is published under license to BioMed Central Ltd. This is an open access article distributed under the terms of the Creative Commons Attribution License (http://creativecommons.org/licenses/by/2.0), which permits unrestricted use, distribution, and reproduction in any medium, provided the original work is properly cited.