Rac and Rho driving tumor invasion: who's at the wheel?
It is important to identify the mechanisms by which tumor cells invade surrounding tissues, in hopes of being able to develop therapies that will improve patient survival. The degradation of the basement membrane and/or degradation of other extracellular matrix protein barriers that may be present in the neighboring connective tissue has been thought to be necessary for tumor cells to invade. Drugs to inhibit an important class of extracellular proteases, the matrix metalloproteases (MMPs), were therefore developed, but a major setback was the limited success of these drugs in prolonging patient survival.
Among the various explanations proposed [
1
–
3
], a particularly intriguing one was provided by Wolf and Friedl in 2003 [
4
]. They found that for some fibrosarcoma (HT1080) and breast cancer (MDA-MB-231) cells, inhibition of MMP activity did not block invasion through three-dimensional tissue, but instead led to a conversion in cell morphology and type of migration. Before treatment the cells typically had an elongated, 'mesenchymal' morphology during invasion, but addition of MMP inhibitors resulted in a rounded, 'amoeboid' morphology - with little difference in the rate of invasion as the amoeboid cells could squeeze though gaps in the matrix. Mesenchymal migration is more fibroblast-like, with elongated cells that have stress fibers and can exert force to restructure the extracellular matrix, whereas amoeboid migration is characterized by round/ellipsoid cells with high cortical tension and low, but significant, adhesion to matrix [
5
,
6
]. Mesenchymal cells move through extension of lamellar structures that attach and pull the cell forwards, whereas amoeboid cells tend to produce blebbing protrusions and use cortical contraction to squeeze the cell through spaces in the extracellular matrix [
7
] (Figure
1
).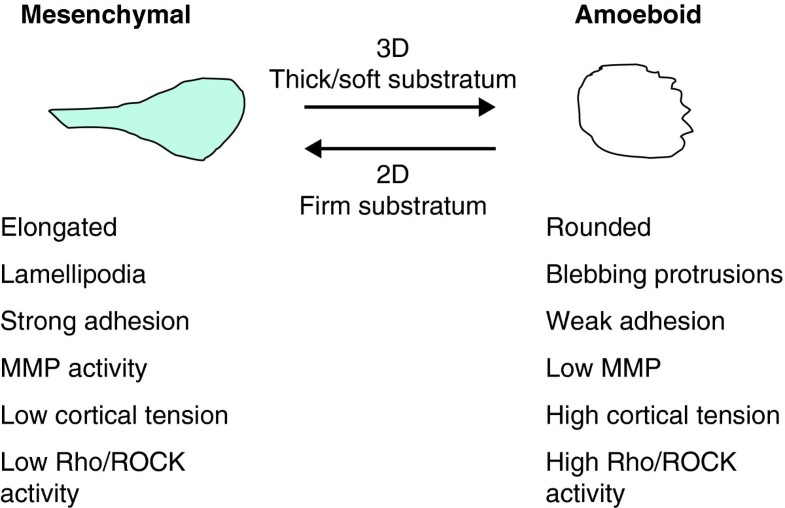 In the same year, Sahai and Marshall [8] extended these results to other tumor types, including melanoma and squamous cell carcinoma, and began the dissection of the signaling pathways that regulate the conversion. Amoeboid behavior was dependent on the presence of a three-dimensional tissue environment and was inhibited by C3 exoenzyme, a toxin that inhibits the A, B and C isoforms of the small GTPase Rho. The Rho family of GTPases, which also includes the Rac and Cdc42 proteins, is involved in controlling many cellular properties, including morphogenesis, cell motility and the organization of the cytoskeleton. The activity of these small GTPases is controlled by guanine-nucleotide exchange factors (GEFs) that promote the active GTP-bound form and by GTPase-activating proteins (GAPs) that favor the inactive GDP-bound form.
As RhoA, B and C are likely to perform distinct functions in migration and invasion [7, 9], it will be important to elucidate which of these isoforms contribute to amoeboid-type invasion. Notably, a role for RhoC in amoeboid behavior has been proposed in an elegant study using intravital imaging of cells in zebrafish xenografts [10], with the caveat that overexpression may obscure isoform-specific functions. Further evidence has indicated a role for the serine/threonine kinase ROCK, a Rho effector that is a key regulator of myosin contractility, probably acting by stiffening the cell cortex [11, 12]. In a paper published recently in Cell, Sanz-Moreno et al. [13] now provide insight into the roles of Rho and Rac and their interacting GEFs and GAPs in the interconversion of a melanoma cell line between mesenchymal and amoeboid modes.
There are more than 80 Rho GEFs and more than 70 Rho GAPs in the human genome [14–16], a vast excess over the number of different Rho-family GTPases. Although part of this discrepancy can be accounted for by tissue-specific expression of a number of these regulators, it is likely that a significant fraction of them is expressed in any given cell. The reigning hypothesis is that different GEFs mediate specific inputs from a small subset of receptors to the respective GTPases [17]. However, the precise connections between receptors and GEFs remains largely uncharted. To date, even less is known about how GAPs are regulated [16].
(1)
Center for Oncology and Cell Biology, The Feinstein Institute for Medical Research at North Shore-LIJ, 350 Community Drive, Manhasset, NY 11030, USA
(2)
Gruss Lipper Biophotonics Center, Department of Anatomy and Structural Biology, Albert Einstein College of Medicine, 1300 Morris Park Avenue, Bronx, NY 10461, USA
© BioMed Central Ltd 2009