Preferential regulation of duplicated genes by microRNAs in mammals
Received: 7 March 2008
Accepted: 26 August 2008
Published: 26 August 2008
Abstract
Background
Although recent advances have been made in identifying and analyzing instances of microRNA-mediated gene regulation, it remains unclear by what mechanisms attenuation of transcript expression through microRNAs becomes an integral part of post-transcriptional modification, and it is even less clear to what extent this process occurs for mammalian gene duplicates (paralogs). Specifically, while mammalian paralogs are known to overcome their initial complete functional redundancy through variation in regulation and expression, the potential involvement of microRNAs in this process has not been investigated.
Results
We comprehensively investigated the impact of microRNA-mediated post-transcriptional regulation on duplicated genes in human and mouse. Using predicted targets derived from several analysis methods, we report the following observations: microRNA targets are significantly enriched for duplicate genes, implying their roles in the differential regulation of paralogs; on average, duplicate microRNA target genes have longer 3' untranslated regions than singleton targets, and are regulated by more microRNA species, suggesting a more sophisticated mode of regulation; ancient duplicates were more likely to be regulated by microRNAs and, on average, have greater expression divergence than recent duplicates; and ancient duplicate genes share fewer ancestral microRNA regulators, and recent duplicate genes share more common regulating microRNAs.
Conclusion
Collectively, these results demonstrate that microRNAs comprise an important element in evolving the regulatory patterns of mammalian paralogs. We further present an evolutionary model in which microRNAs not only adjust imbalanced dosage effects created by gene duplication, but also help maintain long-term buffering of the phenotypic consequences of gene deletion or ablation.
Keywords
Additional Data FileDuplicate GenemicroRNA TargetGenome Duplication EventDuplicate Gene Pair
Background
Gene duplication plays an indispensable role in the establishment of genetic novelty, providing not only new genes, and thus the potential for alternative gene functionality, but also facilitating genomic robustness by affording buffering of the consequences of gene deletion [1–3]. While it has been proposed that paralogs often share functions so as to achieve buffering against mutations or deletions [1, 2], total redundancy among duplicates is both genetically unfavorable and potentially disruptive to biochemical pathways due to dosage sensitivity [4–6]; thus, a clear understanding of the patterns of divergence between duplicates is crucial in elucidating the mechanisms by which new functions arise.
Previous examinations of gene duplications have assayed their diverging function through comparisons of co-conservation of coding regions [7, 8], shared transcriptional regulation [9, 10], or similarity in protein-protein [11, 12] or genetic [13] interaction partners. One consequent finding is that while paralogs may retain similar functionality, gene expression rapidly diverges immediately after duplication events [10, 14, 15], suggesting that alterations in gene expression precede potential changes in function. This noted expression divergence currently can not be explained through analysis of transcriptional regulatory motifs [9, 10], suggesting that differential regulation at the post-transcriptional level - for example, regulation mediated by microRNAs - could contribute to expression and ultimately functional divergence between gene duplicates. Also, while still speculative, one potential selective benefit of maintaining divergence in expression between functionally overlapping gene duplicates is the possibility for so-called 'expression-reprogramming', or compensation by one paralog upon either deletion or mutation of its sister gene, or in response to specific environmental cues [16]. The mechanism of reported instances of such reprogramming remains unclear, and the potential involvement of post-transcriptional regulation of expression through microRNAs is largely unexplored.
MicroRNAs represent a class of small (typically 22 nucleotides in length) non-coding RNAs that can block translation of their target genes through mRNA degradation or translational repression [17, 18]. MicroRNA-mediated regulation at the post-transcriptional level is pervasive in animals, as at least one-third of human genes are estimated to be microRNA targets [19, 20]. In animals, microRNA target sites, many of which are highly conserved [21], are generally located in the 3' untranslated region (UTR) of the target mRNA. Despite their obvious importance, little is known about the acquisition of microRNA-mediated regulation.
Considering the pervasive nature of microRNA regulation in mammalian cells, it is intriguing to inquire how the function and evolution of duplicate genes have been modulated by microRNAs. Until recently this area had largely remained unexplored except in the case of plants [22], which have a different microRNA-mediated regulatory system and also are generally more tolerant to polyploidy than animals. Here we describe investigation of the impact of microRNA-mediated regulation on the gene duplication and subsequent functional dispersal of genes in human and mouse. We found that microRNAs are ultimately actively involved in this process, as evidenced by the following: human microRNA targets are significantly enriched for duplicate genes; paralog pairs targeted by microRNAs generally have higher sequence and expression divergence; and duplicated microRNA targets are subjected to a more sophisticated mode of regulation. Furthermore, comparisons of duplicate genes of varying ages suggest that ancient duplicates share few ancestral microRNA regulators. Taken together, our results suggest that microRNA-mediated regulation plays an important role in the regulatory circuits involving duplicate genes, including adjusting imbalanced dosage effects of gene duplicates, and possibly creating a mechanism for genetic buffering.
Discussion
In ancient duplicate gene pairs regulated by microRNAs, sister paralogs seemingly have largely evolved varying sets of microRNA regulators, either through acquisition of novel binding sites or through the loss of ancestral ones. As we observed that microRNA targets with duplicate copies were generally under more sophisticated regulation mediated by microRNAs, we postulate that microRNA regulation is selectively advantageous among higher organisms, and might provide the groundwork for additional regulatory and buffering mechanisms. This can be potentially explained when considering the selective pressures incident on duplicated genes following duplication.
Relaxed selective pressure acting on duplicates, especially on the 3'UTRs, and the subsequent accelerated evolution may have ultimately led to the emergence of additional microRNA binding sites. As noted previously [7, 36], immediately following a duplication event paralogs experience accelerated evolution in sequence, function and regulation due to relaxed selective constraints. It is conceivable that the 3'UTR region of the duplicate genes could have evolved at a faster rate than comparable singleton genes, allowing expedition of microRNA target site gain [26]. Additionally, such enrichment could be potentially beneficial to the organism since it offers an additional mechanism to regulate protein production from duplicate genes, thus avoiding complications of dosage imbalance, which may potentially be detrimental to the organism [4–6], adding additional pressure for 3'UTR modification.
Another selective advantage of adapting microRNA-mediated regulation is the potential involvement in compensatory buffering mechanisms among duplicates [1–3]. Kafri and colleagues previously used the mouse paralogs Myod1(alias: MyoD) and Myf5 (alias: Myf-5) as an example to illustrate genetic buffering (see the supplemental materials in [16]), both of which are regulated by a number of microRNAs. These genes are transcription factors that show divergent expression patterns [16, 37, 38], yet deletion of Myod1 leads to the up-regulation of its sister paralog Myf5. Below we present a model whereby similar paralogs may have adapted compensatory buffering mechanisms through mediating microRNA regulation.
A model for microRNA mediated genetic buffering
In the following we extend the reprogramming hypothesis originally derived from yeast to mammals by proposing a kinetic model in which the microRNA-mediated post-transcriptional regulation can facilitate the genetic buffering between gene duplicates. As shown in Figure
5a
, under the reprogramming hypothesis, paralog genes
T1
and
T2
are regulated by a common set of transcription factor(s), denoted as
U
. Protein products of both
T1
and
T2
regulate the target protein
P
. However, the effect of
T1
regulation on
P
is attenuated by a microRNA (
M
), which is either hosted or activated by
T2
. If
T2
is down-regulated due to mutations or deletions, the expression of microRNA
M
will be repressed, which elevates the expression of
T1
so as to maintain a similar expression level of
P
. Mathematically, the topology of our proposed kinetic model is intrinsically stable with only one steady state that corresponds to a dynamic equilibrium in protein concentration (Figure
5b
).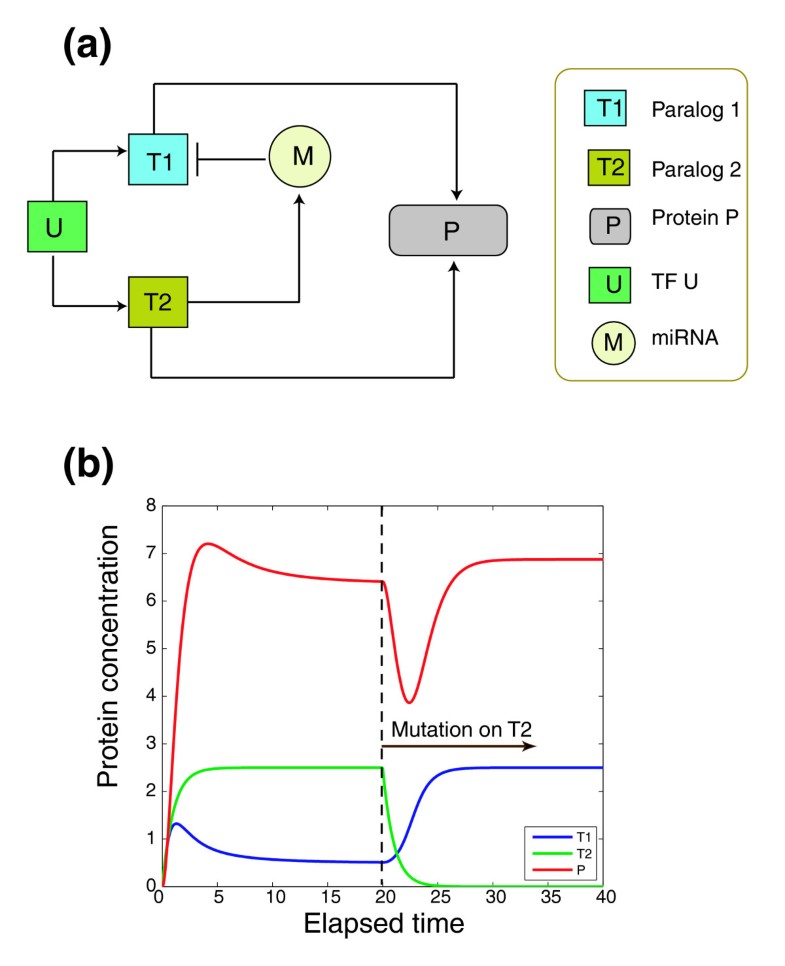 According to the simulated dynamics, initially, due to the effect of M, the protein level of T1 (blue line) is repressed and the highly expressed T2 promotes the protein level of P. Upon the null mutation of T2, the protein concentration of T1 is up-regulated until reaching a steady state. Meanwhile, with up-regulation of T1, after a transient down-regulation of P caused by the mutation of T2, the level of M is promptly restored to its original level.
A number of examples within the literature exemplify this model. For example, Oct4 (HGNC symbol: Pou5f1, POU class 5 homeobox 1) is one of the three genes comprising the core regulatory circuitry in human embryonic stem cells [39]. Previous experiments have shown that Oct4 can affect transcription of the microRNA mir-301 [39], which in turn targets the Oct4 paralogs Pou4f1, Pou3f2 and Pou4f2. Despite the crucial role of Oct4 in human embryonic stem cells [40], recent research has shown that no phenotypic changes could be observed upon the mutation of Oct4 as "Oct4 is dispensable for both self-renewal and maintenance of somatic stem cells in the adult mammal" [40]. It is possible, however, that living cells have evolved a buffering mechanism whereby the loss of Oct4 down-regulates mir-301, which in turn up-regulates its paralogs Pou4f1, Pou3f2 or Pou4f2, which compensate for the function of Oct4.
MicroRNAs, genome duplications, and morphological complexity
There is an increasing amount of evidence that whole genome duplication events actually occurred twice during the emergence of vertebrates [41–43], being a major source of morphological complexity among vertebrates. However, a recent survey of the distribution of microRNA families among a wide range of chordate species by Heimberg and colleagues [44] cast doubt on the presumed importance of such duplication events. In this study, a dramatic expansion of microRNA families was observed at the base of the vertebrates (prior to the divergence between lamprey and jawed fishes but after the divergence between vertebrates and other chordates, and thus prior to when the ancient whole genome duplication events are thought to have occurred), which purportedly had a greater role than genome duplication in creating the extensive morphology complexity among extant vertebrates. Regardless of what triggered the expansion of microRNA families, we argue that both the microRNA expansion and the genome duplication events, and perhaps most likely the synergistic combination of the two, were responsible for generating the enrichment of duplicate genes among microRNA targets observed here.
While a microRNA expansion event created an abundance of regulators to evolve into an elaborate regulatory network, subsequent genome duplication(s) may also have provided additional genes as effectors for the newly generated microRNAs to operate on. Furthermore, the potential relaxed selective pressure following genome duplication events would have further facilitated genes gaining microRNA binding sites. This reasoning is supported by our observation that microRNA targeting bias towards duplicate genes might be unique in high order organisms (human and mouse) but not in lower organisms such as C. elegans.
Takuno and Inna [22] recently surveyed the affect of microRNAs on the expansion and evolution of gene families of Arabidopsis thaliana, which has undergone multiple whole genome duplication events. These authors reported that gene families consisting of multiple paralogous genes tended to be regulated by fewer microRNAs in Arabidopsis, which is seemingly different from what we observed in human as our results suggest paralogous genes are under more sophisticated microRNA regulation. However, we believe such inconsistency can be explained by the fundamental differences in microRNA-mediated regulation between plants and mammals. Animal microRNAs can only bind to target sites that are located in the 3'UTR of genes, whereas plant microRNAs can bind 5'UTR and coding regions as well [17]. In addition, in plants, microRNAs and their target sites usually require perfect base-pairing, whereas one or two mismatches are generally tolerated in animals, resulting in far more prevalent microRNA regulation in animals (human microRNAs are predicted to regulate hundreds of genes while microRNAs in plants generally regulate much fewer target genes). In addition, plants presumably are more tolerant of gene duplications as plants frequently undergo whole-genome duplication and polyploidization events [45]. Together, these differences suggest different mechanisms for both microRNA family expansion and adaptation of gene regulatory mechanisms in plants.
Conclusion
It is widely acknowledged that expression divergence increases proportionally with the increase of divergence time between sister paralogs [15, 46]. However, studies of the mechanism of divergence have focused mainly on transcription factor mediated regulation [8, 9, 11]. Here, we demonstrate that human microRNA target genes are significantly enriched for duplicate genes, and also that duplicate pairs with greater divergence, while having a higher chance to be regulated by microRNAs, share very few common microRNA regulators. This difference in microRNA regulation likely plays a role in the observed expression difference between these same duplicates. By eliminating potential confounding factors, our observations strongly suggest that the microRNA could potentially affect functional divergence between paralog pairs, and high-order organisms have adopted microRNA as an efficient and sophisticated mechanism to control and modulate protein production from duplicate genes.
MicroRNA regulation is not considered to be a simplistic process, and likely requires more detailed evolutionary and functional models before a full understanding can be gleamed. For example, additional factors, such as mRNA splicing, polyadenylation, and chromatin modifications, offer new paths to further investigate the impact of combinatorial regulation at multiple levels. Regulation by microRNA can also be adapted in response to common cellular processes, as recently evidenced in cell-cycle arrest [47], indicating possible responses to dynamic influences. Currently, while high-quality fully assembled genome sequences are available for a number of vertebrates, comprehensive and accurate annotation of protein-coding genes and microRNAs has been done only for human and mouse. Once the quality and quantity of genome sequences and annotations are improved, it will be possible to test whether the same enrichment and other patterns can also be observed in other vertebrates. Yet, the simple model provided here provides sufficient groundwork to begin testing, and ultimately understanding, the evident impact that microRNAs play in gene duplication and subsequent functional differentiation.
Additional data files
The following additional data are available with the online version of this paper. Additional data file 1 is a set of figures describing the analysis of the duplicate genes in mouse and C. elegans. Additional data file 2 is an Excel spreadsheet listing the predicted human microRNA target genes used in this work. Additional data file 3 is an Excel spreadsheet listing the independent duplicate gene pairs and their Ks values.
Abbreviations
UTR:

untranslated region.
Declarations
Acknowledgements
We thank Yu Liu and Quaid Morris for helpful discussion. This work is funded by a grant (MOP 79302) from the Canadian Institute of Health Research (CIHR).
Authors' Affiliations
(1)
Department of Molecular Genetics, University of Toronto, Toronto, Canada
(2)
Donnelly Centre for Cellular and Biomolecular Research, University of Toronto, Toronto, Canada
(3)
Banting and Best Department of Medical Research, University of Toronto, Toronto, Canada
Copyright
© Li et al.; licensee BioMed Central Ltd. 2008
This article is published under license to BioMed Central Ltd. This is an open access article distributed under the terms of the Creative Commons Attribution License (http://creativecommons.org/licenses/by/2.0), which permits unrestricted use, distribution, and reproduction in any medium, provided the original work is properly cited.