Molecular evolution of neuropeptides in the genus Drosophila
Received: 4 June 2008
Accepted: 21 August 2008
Published: 21 August 2008
Abstract
Background
Neuropeptides comprise the most diverse group of neuronal signaling molecules. They often occur as multiple sequence-related copies within single precursors (the prepropeptides). These multiple sequence-related copies have not arisen by gene duplication, and it is debated whether they are mutually redundant or serve specific functions. The fully sequenced genomes of 12 Drosophila species provide a unique opportunity to study the molecular evolution of neuropeptides.
Results
We data-mined the 12 Drosophila genomes for homologs of neuropeptide genes identified in Drosophila melanogaster. We then predicted peptide precursors and the neuropeptidome, and biochemically identified about half of the predicted peptides by direct mass spectrometric profiling of neuroendocrine tissue in four species covering main phylogenetic lines of Drosophila. We found that all species have an identical neuropeptidome and peptide hormone complement. Calculation of amino acid distances showed that ortholog peptide copies are highly sequence-conserved between species, whereas the observed sequence variability between peptide copies within single precursors must have occurred prior to the divergence of the Drosophila species.
Conclusion
We provide a first genomic and chemical characterization of fruit fly neuropeptides outside D. melanogaster. Our results suggest that neuropeptides including multiple peptide copies are under stabilizing selection, which suggests that multiple peptide copies are functionally important and not dispensable. The last common ancestor of Drosophila obviously had a set of neuropeptides and peptide hormones identical to that of modern fruit flies. This is remarkable, since drosophilid flies have adapted to very different environments.
Keywords
Peptide
Additional Data File
Mass Peak
FMRFamides
Peptide Family
Background
Neuropeptides comprise the most diverse group of intercellular signaling molecules in eumetazoan animals and regulate vital physiological processes as hormones, neuromodulators or neurotransmitters. Since neuropeptides are too small to be directly channeled into the regulated secretory pathway, they are post-translationally processed from larger prepropeptides by enzymatic cleavage.
In vertebrates, gene or genome duplications are main events that have led to the diversity of neuropeptides [1–4]. Over time, each prepropeptide gene acquires nucleotide substitutions that - if inside a peptide-coding sequence and not synonymous - will result in altered peptide sequence. If the peptide's function is vital and interference with peptide signaling decreases Darwinian fitness, there will be stabilizing selection on at least that part of the peptide sequence responsible for receptor binding and activation. In consequence, the peptide sequence will be conserved over time [4]. In fact, the sequences of many ortholog neuropeptides, such as oxytocin or somatostatin, have been highly conserved throughout vertebrate phylogeny [4]. However, considerable sequence variation can be found between duplicated peptides of a family, for example, in the growth hormone-releasing factor superfamily [5]. According to a classic model of molecular evolution [6], this is because a duplicated peptide sequence may be able to escape from natural selection and drift neutrally [7] if its original function is maintained by its paralog. In principle, the mutations accumulating in the 'escaped' peptide sequence may then lead to nonfunctionalization, subfunctionalization or neofunctionalization by acquisition of new features such as altered half-life, altered receptor binding kinetics, altered tissue expression patterns (for example, neuropeptides of the NPY family or the POMC prepropeptide [1, 8]) or receptor specificities by peptide-receptor co-evolution [9, 10]. If sub- or neofunctionalized, the new peptide will undergo positive selection for the new function and so become constrained by purifying selection. If the increased amount of peptides resulting from the duplication is beneficial, the duplicated peptide may also immediately increase Darwinian fitness prior to an accumulation of sequence mutations ('more-of-the-same') [10, 11].
A special feature of many neuropeptides that cannot be explained by gene duplication is the occurrence of multiple members of one peptide family within a single prepropeptide. For example, vertebrate prepropeptides encoding, melanocortins, hypocretins, RFamides or tachykinins, contain two to a few members of a single peptide family [12]. In invertebrates, copy numbers can reach even higher numbers. Examples include 37 related peptides from the metamorphosin A precursor of the sea anemone Anthopleura elegantissima [13], 24 different FMRFa-like peptides encoded by the fmrf gene of the cockroach Periplaneta americana [14], 35 FGLamides from the allatostatin precursor of the prawn Macrobrachium rosenbergii [15], up to nine RFamides encoded per flp genes of Caenorhabditis elegans [16], and 35 enterins contained in the enterin precursor of Aplysia [17]. These multiple copies are encoded on the same gene, and often even on the same exon. They most likely have arisen by unequal recombination between nearly identical nucleotide stretches. This has the important consequence that, unlike peptides generated by gene or genome duplication, these copies cannot move to a new genomic location and acquire promoter-driven differential spatial or temporal expression patterns since they are encoded on the same gene, and they cannot be specifically silenced when located on the same exon. Multiple copies are thus equal at birth, at least on the genetic level [18]. Unlike for peptides originating from whole genome duplications, there is also no co-duplicated receptor as a directly available partner for sub- or neofunctionalization. It is therefore difficult to fit them directly into the established models of molecular evolution for duplicated peptide genes [1, 2, 4].
At least two questions arise from this: is the molecular evolution of multiple copy neuropeptides similar to that of duplicated peptides? And more importantly, what is the functional significance of the individual multiple copies contained in given prepropeptides - a long-standing problem in invertebrate neuroendocrinology (see, for example, [19–22]). At one extreme, each peptide copy may have its unique and specific function, receptor or expression pattern. On the other extreme, peptide copies may be functionally redundant if they are co-expressed, co-released and also share an identical effect space [21]. Among others, studies on the effect of multiple co-expressed peptide copies on the neuromuscular junction of Aplysia and Drosophila provide evidence for such a redundancy [22, 23], but differential activities might be found when looking at, for example, different developmental times or target sites. In fact, other studies speak against a functional redundancy, and report differential target-specific effects of multiple copy peptides in insects and molluscs (for example, [19, 24–26]).
To comprehensively investigate whether multiple peptide copies are functionally redundant is extremely difficult by experimental means, especially since peptide copies can show different half-lives in the circulation after release (for example, [
27
]), or differentially activate the same receptor (for example, [
28
]). It is also difficult to assess the functional importance of individual copies by genetic means since common techniques target the whole gene. We here have chosen an evolutionary and comparative genomic approach to address the functional significance of multiple peptide copies. This opportunity has recently become possible with the publication of the genomes of 12 different
Drosophila
species [
29
]. A standard nomenclature that refers to multiple peptides belonging to the same peptide family located on the same precursor does not exist. Based on [
30
], we will use the following terminology (see Figure
1
): peptide copies aligning at the same position within the precursors of different species will be referred to as orthocopies. Orthocopies do not have to be sequence identical. The different peptide copies within a prepropeptide of a single species are paracopies (that is, not at the same location). The term 'isoform', which has often been used in conjunction with insect neuropeptides, will be avoided because of its differing usage in protein nomenclature.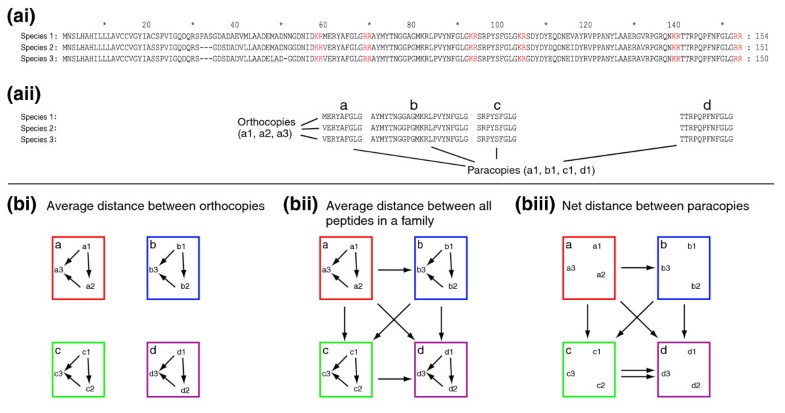 We mined the Drosophila genome database [31] for genes encoding homologs of all known D. melanogaster neuropeptide precursor (prepropeptides) encoding neuropeptides up to a size of 50 amino acids. The investigated species belong to the Drosophila and Sophophora subgenera that diverged 40-60 million years ago [32, 33] and contain 97% of the more than 1,000 Drosophila species [34]. We then predicted ortho- and paracopies and analyzed their amino acid sequence variation. This is appropriate since most selection pressure is on the peptide sequence and not on the underlying DNA sequence with its often redundant third codon position. Our reasoning was as follows: if peptides are functionally important and their loss decreases Darwinian fitness, their sequence will be under stabilizing selection and hence their sequence will be conserved in the different species. If peptides have no functional importance and their (functional) loss does not affect fitness, they will be able to escape selection pressure and will accumulate sequence variations during Drosophila radiation. Thus, if peptide copies are functionally unimportant, we expect a high sequence variation between at least some orthocopies that were able to escape from selection pressure since one or several of their fellow paracopies 'do the job' and hence are under stabilizing selection. This in consequence would lead to an increased sequence variation between paracopies. If peptide copies have a functional importance, we expect low sequence variation between all orthocopies due to stabilizing selection. If the different paracopies activate different receptors or induce different receptor conformations that lead to activation of different intracellular signaling pathways, we expect at the same time an increased sequence variation between paracopies due to subfunctionalization. If peptide copies are individually redundant but functionally important along the 'more-of-the-same' concept, we expect low sequence variation between both ortho- and paracopies.
Our study assumes that neuropeptides are expressed and processed as predicted in silico from the genome. This is not given per se, since neuropeptides can undergo differential splicing and post-translational processing. To biochemically underpin our assumption in a manageable amount of time, direct MALDI-TOF (matrix-assisted laser desorption ionization-time of flight) mass spectrometric peptide profiling lends itself as a fast and reliable method. We therefore directly profiled the major neuropeptide release sites of four species covering the main Drosophila lineages. In D. melanogaster, these sites contain about 50% of all biochemically identified neuropeptides and the majority of peptide hormones [35–37].
Our data provide a first genomic prediction of neuropeptides and prepropeptides, and the first chemical neuropeptide characterizations for the newly sequenced Drosophila species.
The results suggest that both the peptidome and the peptide hormone complement are conserved throughout Drosophila, and that the degree of sequence variation corresponds well with the pharmacological efficacy of the peptides. This provides molecular evidence for a general functional importance of multiple paracopies.
Discussion
We datamined the 11 new Drosophila genomes for homologs of the 22 described prepropeptide genes of D. melanogaster encoding neuropeptides up to a length of 50 amino acids [52, 53]. From these data, we were able to predict 53-60 neuropeptides for each species. These peptides are known or are likely to signal via G protein-coupled receptors [48]. Larger protein hormones (>50 amino acids) have not been included, because they are expected to have a smaller proportion of residues that are important for their pharmacological efficacy (see, for example, [54]), which makes it difficult to directly compare their sequence variability to that of the smaller neuropeptides.
Conclusion
Taken together, our data provide evidence that the peptidome and the neuropeptide hormone complement has been conserved during the evolution of Drosophila, and shows that multiple peptide copies with biological activity are under stabilizing selection. Sequence conservation largely correlates with pharmacological activity. While all this suggest that multiple peptide copies are functionally important, it remains unclear why paracopies are under stabilizing selection.
It has to be stressed that our data are based on only a relatively small number of data points. This was unavoidable by the simple fact that further multiple copy neuropeptide families in Drosophila have not been identified. Consequently, our conclusions will need further validation and we hope that our work will provoke further studies on new data from the rapidly increasing number of genome projects. Our study emphasizes the value of these genome projects, and stresses the need for more comprehensive structure-activity studies and pharmacological characterization of peptides both in receptor and bioassays.
Materials and methods
Flies
D. virilis was obtained from a colony in Ulm. Genome library strains of D. mojavensis,D. pseudoobscura, and D. sechellia were obtained from the Tucson Drosophila Stock Center. Flies were kept at standard conditions - a light:day cycle of 12 h:12 h and either 18°C or 25°C. D. virilis and D. sechellia were raised on standard cornmeal medium, D. mojavensis and D. pseudoobscura on standard banana-Opuntia medium.
Database searches
Peptide precursor genes were identified by tblastn homology searches against the respective D. melanogaster coding sequences using the PAM30 matrix of the Drosophila species BLAST site [80]. The coding sequences were identified and translated with GENSCAN [81] and compared with the GLEAN-predicted sequences in the databank. Amino acid sequences were aligned with the ClustalW algorithm implemented in MEGA3.1 [82] and plotted using GeneDoc [83]. Signal peptides were predicted by SignalP 3.0 [84]. Mono-isotopic masses of the predicted bioactive neuropeptides were calculated with Data Explorer 4.0 software (Applied Biosystems, Darmstadt, Germany).
Peptide prediction
We predicted the processed bioactive peptides based on cleavage site consensus sequences [85] and comparison with the chemically characterized processing products from D. melanogaster [35–37]. Mono-isotopic masses were calculated for all peptides and listed for each species. Peptide designations were inferred from prepropeptide alignment with the ortholog D. melanogaster sequence, for example, the myoinhibiting peptide encoded on the Mip orthologs that aligned with D. melanogaster MIP-3 was also named MIP-3. This allows easy identification and reference to ortholog peptides. In the fmrf-precursor of D. melanogaster, several paracopies are sequence-identical and named either FMRFa-2 or -3. These paracopies and their orthologs were designated according to their position on the gene as FMRFa-2', FMRFa-2", and so on.
Calculations of sequence variation/amino acid distances
The parts of the prepropeptides between the signal peptide and the bioactive peptide sequences flanked by the mono- or dibasic cleavage sites were assigned as spacers. For distance calculations of peptides, sequences were aligned from their carboxyl terminus. Gaps that occurred due to variable peptide copy length were deleted pairwise. Spacers were aligned by the ClustalW algorithm prior to distance calculation. Average distances were calculated as absolute values in MEGA3.1 for pairwise comparisons as outlined in Figure 1 by iterative procedures under a maximum likelihood formulation using the JTT matrix [43, 82]. The JTT matrix was calculated from data of the Swiss-Prot protein sequence database and gives a measure of the probability that a given amino acid i is being replaced by residue j per occurrence of j [43]. Variable mutation rates among sites were assumed. Since the peptide sequences are too short to reliably estimate gamma parameters, we adopted a gamma distance with α = 2.4, which is very close to the true distance for sequence divergence under the JTT model [86]. Data were processed and plotted using Microsoft Excel and GraphPad Prism 4.0 (GraphPad Software, San Diego, CA, USA).
Sample preparation
The central nervous system was dissected free from all surrounding tissue in standard Drosophila saline. Ring glands of L3 larvae (selected after size: D. virilis >3 mm; D. mojavensis, D. sechellia >2 mm; D. pseudoobscura >2.5 mm) were punched out using pulled glass capillaries and spotted directly onto the MALDI target and left to dry. For isolation of the thoracic and abdominal neurohemal sites, the thoracic or abdominal part of the ventral ganglion of adults was cut out and the lateral parts were removed using fine scissors. The dorsal neural sheath was then isolated and freed from cells using tungsten micro-needles. The isolated sheaths were transferred to the MALDI target using pulled glass capillaries and left to dry. This method results in clean spectra from the neurohemal endings [35, 36]. For direct profiling of the peritracheal cells, the main branches of the trachea from L3 larvae were dissected free from other tissue and transferred directly onto the MALDI target using fine insect needles. The peritracheal cells were targeted by directing the laser beam to the obtuse angle between the main trachea and the diverging first order trachea.
To remove salts, a small droplet of ice-cold water was added onto the dried tissues, and aspirated off after about 1 s. Small nanoliter volumes of matrix (saturated solution of re-crystallized α-cyano-4-hydroxycinnamic acid in 30% MeOH/30% EtOH/0.1% trifluoroacetic acid for neurohemal organs, or 60% acetonitrile/0.1% trifluoroacetic acid for peritracheal cells were added to the samples using a manual oocyte injector (Drummond Scientific, Broomall, PA, USA). In prior tests MeOH/EtOH/H2O (30:30:40) resulted in improved mass spectra compared to 60% MeOH as previously described for D. melanogaster [35, 36].
MALDI-TOF mass spectrometry
MALDI-TOF mass spectra were acquired in positive ion mode on a Voyager DE RP mass spectrometer (Applied Biosystems, Darmstadt, Germany) equipped with a pulsed nitrogen laser emitting at 337 nm. Samples were analyzed in reflectron mode using a delayed extraction time of 400 nsec and an accelerating voltage of 20 kV. To suppress matrix signals, the low mass gate was set to 850 Da. Laser power was adjusted to provide optimal signal-to-noise ratios. Data were analyzed using Data Explorer 4.0 software (Applied Biosystems), with a mass tolerance of 0.5 Da.
Additional data files
The following additional data are available. Additional data file 1 is a Fasta list containing the prepropeptide sequences as identified by BLAST searches in the 12 Drosophila genomes. Additional data file 2 is a Fasta list of the peptide sequences predicted from the identified prepropeptides. Additional data file 3 is a figure showing the frequency of occurrence of peptides in mass spectrometric profiles of the ring gland. Additional data file 4 is a figure containing mass spectrograms on the processing of FMRFa-5ext from the FMRFa-prepropeptide. Additional data file 5 is a table listing the overall average amino acid distances Dso.
Abbreviations
AKH:

adipokinetic hormone
AST:

allatostatin
CCAP:

crustacean cardioactive peptide
CPPB:

CAPA precursor peptide B
DAR:

Drosophila allatostatin receptor
DTK:

Drosophila tachykinin
ETH:

ecdysis-triggering hormone
HUG:

hugin
JTT:

Jones-Thornton-Taylor
MALDI-TOF:

matrix-assisted laser desorption ionization-time of flight
MIP:

myoinhibiting peptide
MS:

myosuppressin
NPF:

neuropeptide F
NPLP:

neuropeptide-like precursor
SK:

sulfakinin
sNPF:

short neuropeptide F.
Declarations
Acknowledgements
We thank Arndt von Haeseler (Vienna), Dick R Nässel (Stockholm), Reinhard Predel (Jena), Klaus Reinhard (Sheffield) and Steffen Roth (Bergen) for stimulating discussions, help with the statistics and critical reading of the manuscript; two unknown referees for valuable comments; Fritz-Olaf Lehmann, Uwe Rose (Ulm) and the Tucson Drosophila Stock Center for the kind gift of flies; the Botanical Garden Marburg for supply of Opuntia leaves; J Kahnt and Rolf K Thauer (Max-Planck-Institute of Terrestrial Microbiology, Marburg) for the use of their mass spectrometer; Ruth Hyland and Renate Renkawitz-Pohl for fly housing; and Uwe Homberg for general support. Funded by the Deutsche Forschungsgemeinschaft DFG (WE 2652/2) and the Fonds der Chemischen Industrie (Sachkosten-Zuschuss für den Hochschullehrer-Nachwuchs to CW).
Authors' Affiliations
(1)
Emmy Noether Neuropeptide Group, Animal Physiology, Department of Biology, Philipps-University, Karl-von-Frisch-Strasse, Marburg, Germany
Copyright
© Wegener and Gorbashov; licensee BioMed Central Ltd. 2008
This article is published under license to BioMed Central Ltd. This is an open access article distributed under the terms of the Creative Commons Attribution License (http://creativecommons.org/licenses/by/2.0), which permits unrestricted use, distribution, and reproduction in any medium, provided the original work is properly cited.