Diarrhea as a cause of mortality in a mouse model of infectious colitis
Received: 26 October 2007
Accepted: 4 August 2008
Published: 04 August 2008
Abstract
Background
Comparative characterization of genome-wide transcriptional changes during infection can help elucidate the mechanisms underlying host susceptibility. In this study, transcriptional profiling of the mouse colon was carried out in two cognate lines of mice that differ in their response to Citrobacter rodentium infection; susceptible inbred FVB/N and resistant outbred Swiss Webster mice. Gene expression in the distal colon was determined prior to infection, and at four and nine days post-inoculation using a whole mouse genome Affymetrix array.
Results
Computational analysis identified 462 probe sets more than 2-fold differentially expressed between uninoculated resistant and susceptible mice. In response to C. rodentium infection, 5,123 probe sets were differentially expressed in one or both lines of mice. Microarray data were validated by quantitative real-time RT-PCR for 35 selected genes and were found to have a 94% concordance rate. Transcripts represented by 1,547 probe sets were differentially expressed between susceptible and resistant mice regardless of infection status, a host effect. Genes associated with transport were over-represented to a greater extent than even immune response-related genes. Electrolyte analysis revealed reduction in serum levels of chloride and sodium in susceptible animals.
Conclusion
The results support the hypothesis that mortality in C. rodentium-infected susceptible mice is associated with impaired intestinal ion transport and development of fatal fluid loss and dehydration. These studies contribute to our understanding of the pathogenesis of C. rodentium and suggest novel strategies for the prevention and treatment of diarrhea associated with intestinal bacterial infections.
Keywords
Gene OntologyCystic Fibrosis Transmembrane Conductance RegulatorAdditional Data FileDistal ColonUninoculated Control
Background
Acute diarrheal illness is one of the most important health problems in the world today, particularly in young children in developing countries. This life-threatening illness occurs in approximately four billion individuals per year and causes more than two million deaths worldwide each year [1]. The most common cause of diarrhea is gastrointestinal infection. Infection results in increased intestinal secretion and/or decreased intestinal absorption followed by fluid and electrolyte loss and dehydration that can be fatal if not treated [2, 3]. Among the most important bacterial causes of diarrhea are enteropathogenic and enterohaemorrhagic Escherichia coli (EPEC and EHEC, respectively) [4]. These pathogens produce ultrastructural changes characterized by intimate bacterial adhesion to the apical surface of enterocytes, effacement of microvilli, and pedestal formation, which are called 'attaching and effacing' (A/E) lesions. The pathophysiology of diarrhea due to infection with A/E pathogens is not well understood. Proposed mechanisms include decreased absorptive surface epithelium, disruption of tight junctions and intestinal barrier function, impaired ion transport, and induction of inflammation [5, 6].
Citrobacter rodentium, a murine A/E pathogen, possesses similar virulence factors as EPEC and EHEC, and produces comparable ultrastructural changes in the distal colon of infected mice (reviewed in [7, 8]). Typically, this organism causes severe, but self-limiting, epithelial hyperplasia with a variable degree of inflammation in the distal colon of most inbred and outbred lines of laboratory mice. Exceptions include suckling animals or C3H substrains (independent of toll-like receptor 4 status), which demonstrate 60-100% mortality by approximately two weeks after infection with C. rodentium [9–12]. We recently discovered that adult FVB/N mice (FVB) are also extremely susceptible to C. rodentium infection [13]. Inbred FVB mice are derived from outbred Swiss Webster (SW) mice and, since SW are known to be resistant, comparative studies between these cognate lines of mice were performed. Twelve-week old FVB mice infected with C. rodentium developed a high degree of mortality and severe colitis compared with their outbred SW counterparts, which had more typical subclinical disease in response to infection. Differences in disease outcome were observed despite comparable expression of tumor necrosis factor-α, interferon-γ, and inducible nitric oxide synthase in susceptible and resistant animals. The results of our previous study suggested that the cause of death in C. rodentium-infected FVB mice was hypovolemia due to dehydration [13]. To characterize the mechanistic basis for the striking difference in disease outcome between two closely related lines of mice, we used microarray analysis to determine global patterns of gene expression in susceptible FVB and resistant SW mice infected with C. rodentium. GeneChips® from Affymetrix were employed to identify and quantify both host-dependent and infection-dependent alterations in host gene expression; results were confirmed by quantitative real-time PCR (qRT-PCR), immunohistochemistry, and serology. We identified predominant functional categories of differentially regulated genes and potential candidates for susceptibility, both of which have implications for future studies of C. rodentium pathogenesis. Based on these findings, we propose testable hypotheses about newly implicated host genes and their potential role in the development of infectious colitis and diarrhea.
Discussion
Global expression profiling is emerging as a powerful method to characterize host-pathogen interactions [19], although many of the studies to date have been performed on cultured cells rather than in vivo. Here we present the first global expression analysis of host response to infection with an A/E bacterial pathogen. The goal of this study was to characterize the pathophysiological basis of susceptibility to C. rodentium infection in FVB mice. In order to accomplish this, we performed quantitative analysis of the transcriptome of distal colon tissues from FVB and SW mice before and during C. rodentium infection. These studies revealed profound basal and infection-dependent differences between susceptible FVB mice and resistant SW mice.
Many studies of C. rodentium interactions with host cells have focused on immune responses and the actin cytoskeleton [7, 8]. Indeed, a substantial fraction of functional categories of differentially expressed genes that we identified are involved in immune responses and cellular adhesion (Additional data file 20). However, results from our group as well as others suggest that innate and adaptive immunity, though important in determining the development of morbidity, is not the most critical factor in determining mortality. Susceptible FVB mice are able to clear C. rodentium infection, are fully protected against mortality by fluid therapy (without affecting clinical disease and the severity of colonic lesions), and demonstrate similar expression of pro-inflammatory and immunomodulatory genes in the colon compared to resistant SW mice [13]. Likewise, the status of LPS responsiveness (toll-like receptor 4 sufficiency) in different substrains of C3H mice infected with a high number of C. rodentium does not affect the incidence of mortality [11, 12]. These observations suggest that the immune status of mice does not contribute to the ability to survive infection, but most likely affects clearance of the pathogen.
Genes differentially expressed between FVB and SW mice, including the most significant candidate susceptibility genes, were highly enriched for transport activity (Figure
3c
; Additional data files 10 and 13). These results demonstrated a larger fraction of transport genes than immune-related genes in determining susceptibility to
C. rodentium
infection and were confirmed using different computational algorithms (Figures
3c
; Additional data file 16). In addition, serum chemistry analysis showed significant hypochloremia and hyponatremia in infected FVB mice (Figure
6
), consistent with marked electrolyte losses in animals suffering from severe diarrhea [
17
,
20
,
21
]. We previously suggested that mortality in FVB mice infected with
C. rodentium
could be attributed to hypovolemia induced by severe diarrhea [
13
]. Results from this study suggest that intestinal ion disturbances rather than immune-related processes are responsible for the dramatic phenotype in
C. rodentium
-infected FVB mice. Here, we discuss potential candidate genes for susceptibility identified by microarray analysis and how they could contribute to mortality in FVB mice infected with
C. rodentium
. Our working hypothesis for the overall mechanism of susceptibility is presented in Figure
7
.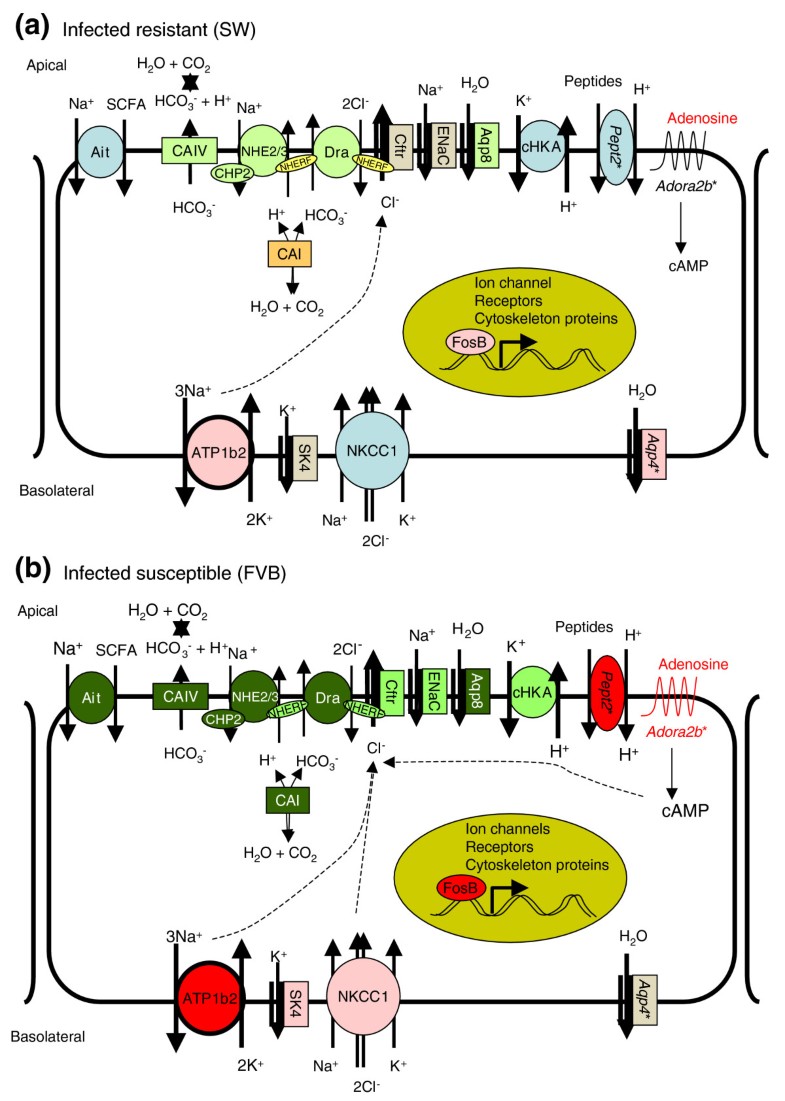 Candidates for susceptibility: genes involved in ion transport and its regulation
The main function of the adult colon is to absorb Na+, Cl-, K+, short-chain fatty acids (SCFAs) and fluid and to secrete HCO3- and mucus (reviewed in [15, 16]). The osmotic gradient created by active salt transport using ion transporters and channels is the driving force for passive water movement in/out of the lumen. Water transport can also occur actively through specific water channels, aquaporins. The absorptive functions of the colon are usually dominant, whereas during diarrhea transport favors more electrolyte secretion and less absorption, resulting in loss of fluid into intestinal lumen [15, 16]. Secretion of fluid and mucus into the lumen is an important mucosal defense mechanism that serves to dilute and wash away injurious substances from the epithelial surface [22]. However, these mechanisms also can lead to hypovolemia, circulatory collapse and multiple organ failure when profound fluid losses result in marked decrease in plasma volume [3].
In FVB mice, transcriptional changes in transporters and signaling or regulatory genes were more dramatic than in SW mice during C. rodentium infection, particularly at 9 dpi (Figure 7).
Conclusion
We present the first gene expression profiling of C. rodentium infection in vivo. The genomic analysis of the host response to infection generated novel testable hypotheses regarding this enteric murine pathogen's ability to cause disease and mortality in FVB mice. Marked impairment in intestinal ion homeostasis was predicted by microarray analysis and confirmed by qRT-PCR, immunohistochemistry and serum electrolyte measurements. The fact that the majority of genetically manipulated mice with a single deficiency in ion transporters develop only mild, if any, diarrhea and no appreciable serum electrolyte disturbances indicates the existence of compensatory mechanisms. It is likely that in the disease state (for example, diarrhea induced by C. rodentium) many genes involved in intestinal ion transport, signaling and regulation act together. In that regard, orchestrated alterations, such as downregulation of the main apical colonic transporters, upregulation of basolateral ion channels and other changes in regulatory signals observed in susceptible FVB mice upon C. rodentium infection, may provide a basic mechanism for the development of severe diarrhea and fatal dehydration in susceptible strains compared with resistant strains of mice. Our study identified potential candidate genes for susceptibility that can be used to develop new strategies for preventing and treating intestinal inflammation and fatal diarrhea.
Materials and methods
Media, bacterial strains, and growth conditions
Lennox L (LB) broth and LB agar (Difco Laboratories, Detroit, MI, USA) were used for routine cultivation of bacteria. MacConkey lactose agar (Difco Laboratories) supplemented with 40 μg/ml of kanamycin was used for quantitative microbiology of fecal samples. The kanamycin-resistant C. rodentium strain DBS120 (pCRP1::Tn5, Kanr) [13] was used for infections.
Animal infections
Inbred FVB/NTac and outbred Swiss Webster Tac:SW females with 40 and 36 female two-week-old pups, respectively, were purchased from Taconic Laboratories (Germantown, NY, USA). Because animals came from different barrier units, mixing of bedding from weaning until the time of inoculation (12 weeks of age) was performed twice a week to obtain comparable microbial status and minimize commensal microbiota biases. Animals were housed in microisolator cages in a specific pathogen-free facility approved by the Association for Assessment and Accreditation of Laboratory Animal Care and maintained on pelleted rodent chow (LabDiet, Purina Mills, Inc., Richmond, IN, USA) and water ad libitum. At 12 weeks of age, infectious colitis was induced by intragastric inoculation with 1.9 × 109 CFU of DBS120 as described previously [13]. A total of 37 FVB and 36 SW mice were used in the inoculation study as described in Additional data file 1. Animals were weighed and monitored for fecal bacterial shedding prior to inoculation and at 3, 6, and 8 dpi. The lower limit of detection for quantitative microbiology was 1 CFU/mg of feces. Animals were euthanized at 4 and 9 dpi. At necropsy, the colon of each mouse was collected aseptically, feces were removed from the lumen, and the distal colon was transected in-half longitudinally. Half of the distal colon was snap frozen in liquid nitrogen and stored at -80°C until RNA was extracted. The rest of the tissue was fixed in 10% neutral-buffered formalin for 24-48 hours, processed routinely, paraffin embedded, sectioned at 5 μm, and stained with hematoxylin and eosin. Sections were scored for lesions on a scale of 0 to 4 (none, minimal, mild, moderate, and severe) by a veterinary pathologist (PRN) blinded to experimental groups. All experiments were approved by the MIT Animal Care and Use Committee.
RNA extraction
Total RNA was extracted from frozen distal colon using Trizol reagent according to the recommendations of the manufacturer (Invitrogen, Carlsbad, CA, USA). RNA was treated with DNase I and purified using an RNeasy Clean-up kit as recommended by the manufacturer (Qiagen, Valencia, CA, USA). The total RNA concentration and 260/280 ratio was evaluated spectrophotometrically. Only samples with a 260/280 ratio between 1.8 and 2.1 were further processed. RNA samples were evaluated using an Agilent 2100 Bioanalyzer (Agilent, Palo Alto, CA, USA) and consistently demonstrated high-quality RNA with distinct 28S and 18S peaks and no evidence of degradation.
Array design and hybridization
Global gene expression analysis was performed on the distal colon with two to three mice per group. Because no difference for any parameters was observed in uninfected mice at 4 or 9 dpi, the animals were pooled into an uninoculated control group for each line of mouse. The selection of representative samples for microarray analysis was based on known infection status and colonic lesions. The final number of biological replicates for each condition was n = 5 for uninoculated FVB mice ('Fp' group), n = 4 for uninoculated SW mice ('Sp' group), and n = 3 for infected animals from each line at each time point ('Fi4', 'Si4', 'Fi9', and 'Si9', respectively; Additional data file 1). One-cycle target labeling of isolated RNA, hybridization, washing/staining and scanning was carried out in the Whitehead Institute Center for Microarray Technology (Cambridge, MA, USA) as detailed at [81]. First- and second-strand cDNA syntheses were performed using SuperScript double-stranded cDNA synthesis kit (Invitrogen). Second strand DNA synthesis, clean-up of the double-stranded cDNA, and synthesis and clean-up of biotin-labeled cRNA were completed according to Affymetrix protocols (Santa Clara, CA, USA). cRNA (20 μg) was fragmented and hybridized as recommended by Affymetrix to the GeneChip® Murine Genome 430 2.0 Arrays containing 45,037 probe sets that correspond to over 34,000 well characterized mouse genes. Each sample was hybridized to one array, using a total of 21 chips. Arrays were scanned using a GeneChip scanner 3000, enabling for high-resolution scanning as recommended (Affymetrix). The expression output for all samples met quality control requirements (data not shown). Presence call for all arrays ranged from 58-66%. Microarray results were tightly correlated between biological replicates within and between the animal groups (Additional data file 21).
Identifying differentially expressed genes
Cell intensity files (*.cel) containing hybridization signals were generated with GeneChip Operating Software (GCOS 1.2). Normalization and processing were carried out using DNA-Chip Analyzer (dChip) software [82] implementing model-based expression index analysis using an outlier detection algorithm to eliminate potential cross-hybridizing probes [83]. Normalization using an invariant set of genes, in which all arrays are normalized to a common baseline array with median intensity, was followed by background correction and log2 transformation. The perfect match-only model was applied in order to reduce noise. A mean value was calculated from signal log2 ratios for each gene and group. Gene expression was considered to be significant when it was changed by more than two-fold (an average log2 ratio above 1.0 or below -1.0). Genes were clustered by tightness with centroid-linkage method using 1 - r (where r is the Pearson correlation coefficient) as the distance measure while redundant probes were masked. Results were visualized using heat maps showing color-coded expression levels (red = high expression, black = medium expression, and green = low expression) and vertically drawn gene trees. Functional enrichment analysis was performed on non-redundant genes with known functions using two methods; within dChip software using a hypergeometric test with p < 0.05 and at least four functionally annotated genes if not otherwise indicated. In addition, the web-based Fast Assignment and Transference of Information using Gene Ontology (FatiGO) Plus tool [84, 85] was used for calculating the prevalence of GO functional groups. The results of inclusive analysis at the fifth level of depth and more than 5% of GO categories enrichment are presented. Temporal changes in response to infection were addressed using a 'delta eta' analysis to identify significant differential transcript modulation in response to treatment where for each transcript [log2 (FVB infected/FVB uninoculated) - log2 (SW infected/SW uninoculated)] where FC >1.5. For each gene, delta eta values for 4 and 9 dpi were calculated as log2(Si4 versus Sp) - log2(Fi4 versus Fp) and log2(Si9 versus Sp) - log2(Fi9 versus Fp), respectively. The results were processed in Spotfire and subjected to enrichment GO analysis by dChip. All Affymetrix and GO annotations were based on February 2007 data files.
Results obtained by dChip data processing were compared to other analytical methods: the raw CEL files were processed using the Robust Multichip Average algorithm [86] and differentially expressed genes were identified using linear modeling with a moderated t-statistic for each gene (Limma package) [87], available as part of BioConductor software. Temporal infection-induced trends between the groups were determined by a linear model with false discovery rate <0.05 and 2-fold cut-off threshold. To discriminate gene behavior, random forest analysis to predict four classes (strain × infection status) was applied with p < 0.05. Enrichment analysis was performed within dChip with p < 0.0005, and the prevalence of functional groups was determined with FatiGO as indicated above.
Raw data and normalized microarray expression data have been deposited at the Gene Expression Omnibus (GEO) [88] under the accession number GSE8025.
TaqMan quantitative RT-PCR
Total RNA (5 μg) was used to generate cDNA with SuperScriptII RT (Invitrogen) as recommended by the manufacturer. cDNA (100 ng) was amplified in a 25 μl reaction volume with Applied Biosystems (Branchburg, NJ, USA) predesigned primers and probes (TaqMan Gene Expression Assays; Additional data file 3) in an ABI Prism Sequence Detection System 7700 (Applied Biosystems) using standard TaqMan protocols. Transcript levels were normalized to the endogenous control glyceraldehyde-3-phosphate dehydrogenase (GAPDH), and expressed as fold change compared with averaged uninoculated control FVB mice, which were set at 1, using the Comparative Ct method [89]. The resultant ratios were matched with corresponding comparisons from microarray analysis and subjected to Pearson correlation analysis. The number of samples used for TaqMan were n = 10 in uninoculated control groups and n = 6-8 samples for infected groups in each line of mice (Additional data file 1). Each reaction was carried out in duplicate.
Immunohistochemical analysis
The expression of Dra and CA IV in formalin fixed paraffin-embedded tissues was detected using rabbit anti-Slc26a3 (kind gift from Dr Schweinfest [17], diluted 1:100) and goat anti-CA IV (AF2414, R&D Systems, Minneapolis, MN, USA; diluted 1:800) polyclonal antibodies. After heat induced epitope retrieval (pH 6), primary Dra antibodies were detected with biotinylated goat anti-rabbit IgG (E0432, Dako, Carpinteria, CA, USA) and normal rabbit IgG (x0936, Dako) was used as a negative control. CA IV antibodies were detected with biotinylated rabbit anti-goat IgG (b7014, Sigma, St. Louis, MO, USA) and goat HRP-polymer kit (ghp516g, Biocare Medical, Concord, CA, USA), whereas normal goat IgG (#005-000-003, Jackson Immuno, West Grove, PA, USA) was used as a negative control. Sections were stained using diaminobenzidine as a substrate and counterstained with hematoxylin.
Measuring serum electrolyte levels
Electrolytes in serum were assayed by IDEXX Preclinical Research Services (IDEXX Laboratories, Inc., North Grafton, MA, USA) using electrolyte Panel 957, including bicarbonate, chloride, potassium, sodium, Na+/K+ ratio and anion gap, with 200 μl samples of serum.
Statistics
Data are presented as mean values ± the standard error of mean or median values (for nonparametric data). Statistical analyses were performed using GraphPad PRISM version 4.0 (GraphPad Software, Inc., San Diego, CA, USA) or JMP 5.0.1 software (SAS Institute Inc., Cary, NC, USA). Statistical differences were determined by using nonparametric Kruskal-Wallis test followed by Dunn's Multiple Comparison test or with one-way ANOVA followed by Student's t-test or Tukey's Multiple Comparison Test. Whenever Bartlett's test showed unequal variances, analysis of gene expression was performed on transformed data. A p-value < 0.05 was regarded as statistically significant.
Additional data files
The following additional data are available. Additional data file 1 is a table listing the number of animals used for experiments. Additional data file 2 is a table listing all differentially expressed genes. Additional data file 3 is a table displaying validation of microarray results by quantitative RT-PCR (TaqMan) on selected genes. Additional data file 4 is a figure showing side-by-side comparison of gene expression analyzed by microarray and qRT-PCR. Additional data file 5 is a table listing genes with host effect. Additional data file 6 is a table listing PCA parameters. Additional data file 7 is a figure showing hierarchical clustering of genes with host effect. Additional data file 8 is a table listing the most significant variably expressed genes with host effect. Additional data file 9 is a figure showing hierarchical clustering of the most differentially expressed genes with host effect. Additional data file 10 is a table summarizing enrichment by GO categories of the most differentially expressed genes with host effect. Additional data file 11 is a table listing the variably expressed genes as a function of time (delta eta analysis). Additional data file 12 is a figure showing hierarchical clustering of the most differentially expressed genes from delta eta analysis. Additional data file 13 is a table summarizing enrichment by GO categories of the most differentially expressed genes from delta eta analysis. Additional data file 14 is a table listing the genes with host effect analyzed by BioConductor. Additional data file 15 is a table listing the genes with host × infection effect analyzed by BioConductor. Additional data file 16 is a figure showing FatiGO analysis on genes identified by BioConductor analysis. Additional data file 17 is a table summarizing enrichment by GO categories of genes detected by BioConductor analysis. Additional data file 18 is a figure showing genes with most predictive power obtained from BioConductor analysis. Additional data file 19 is a figure presenting hierarchical clustering of genes discussed in text as potentially contributing to development of intestinal ion disturbances and diarrhea. Additional data file 20 is a table listing enriched GO categories in the set of genes with host effect and by groups indicated in Figure 3a. Additional data file 21 is a figure showing correlation of raw intensities between biological replicates validating microarray results.
Abbreviations
A/E:

attaching and effacing
AP:

activator protein
AQP:

aquaporin
CA:

carbonic anhydrase
CFTR:

cystic fibrosis transmembrane conductance regulator
dChip:

DNA-Chip Analyzer
dpi:

days post inoculation
Dra:

down-regulated in adenoma
EHEC:

enterohaemorrhagic E. coli
EPEC:

enteropathogenic E. coli
FatiGO:

Fast Assignment and Transference of Information using Gene Ontology
FVB:

FVB/N mice
GO:

Gene Ontology
NHE:

Na/H exchanger
PC:

principle component
PCA:

principal component analysis
qRT-PCR:

quantitative real-time PCR
SCFAs:

short-chain fatty acids
SW:

Swiss Webster.
Declarations
Acknowledgements
We thank Jennifer Love for technical assistance with Array hybridization and processing, and Kathy Cormier for assistance with immunohistochemical analyses. We also thank the MIT Division of Comparative Medicine (DCM) for help with mouse husbandry. This work was supported by Public Health Service grants P01 CA26731, T32 ES07020, and P30 ES02109. DB was supported by a National Institute of Health graduate research fellowship and partially by a Biogen Idec, Inc. fellowship. The authors have declared that no competing interests exist.
Authors' Affiliations
(1)
Department of Biological Engineering, Massachusetts Institute of Technology, Cambridge, USA
(2)
Center of Environmental Health Sciences, Massachusetts Institute of Technology, Cambridge, USA
(3)
Division of Comparative Medicine, Massachusetts Institute of Technology, Cambridge, USA
(4)
Harvard Medical School, Boston, USA
(5)
Current address: Department of Environmental Sciences and Engineering, The University of North Carolina at Chapel Hill, Chapel Hill, USA
(6)
Current address: Genzyme Corporation, Framingham, USA
Copyright
© Borenshtein et al.; licensee BioMed Central Ltd. 2008
This article is published under license to BioMed Central Ltd. This is an open access article distributed under the terms of the Creative Commons Attribution License (http://creativecommons.org/licenses/by/2.0), which permits unrestricted use, distribution, and reproduction in any medium, provided the original work is properly cited.