The phytochrome red/far-red photoreceptor superfamily
Published: 28 August 2008
Light is an important environmental factor in most ecosystems. Photosynthetic organisms in particular must sense and respond to light cues to optimize their growth and metabolism. The quantity, direction and spectral make-up (the color or 'quality') of the light sensed by an organism conveys information regarding the abiotic and biotic environment and can be used to control adaptive responses. One superfamily of photosensory receptors comprises the phytochromes ('plant color'), which absorb in the red/far-red part of the spectrum [1]. These receptors were first discovered in plants in the 1950s [2], but have more recently been identified in a broad spectrum of eukaryotic and prokaryotic phyla. In this brief overview I shall focus on recent advances relating principally to the understanding of phytochrome diversity and structure.
Phytochromes are reversibly transformed by red and far-red light between conformations with different absorption spectra. The light-sensing moiety in all phytochromes is a covalently attached bilin chromophore. Following synthesis in the cytoplasm, the phytochrome apoprotein binds chromophore and, in the absence of light, this holoprotein folds into a stable, red-light-absorbing conformation, Pr. Absorption of red light by Pr converts the protein to the far-red-absorbing conformation, Pfr. Absorption of far-red light by Pfr converts the conformation back to Pr (Figure
1
). Hence, to a first approximation, phytochromes can be thought of as reversible red/far-red light-activated molecular switches.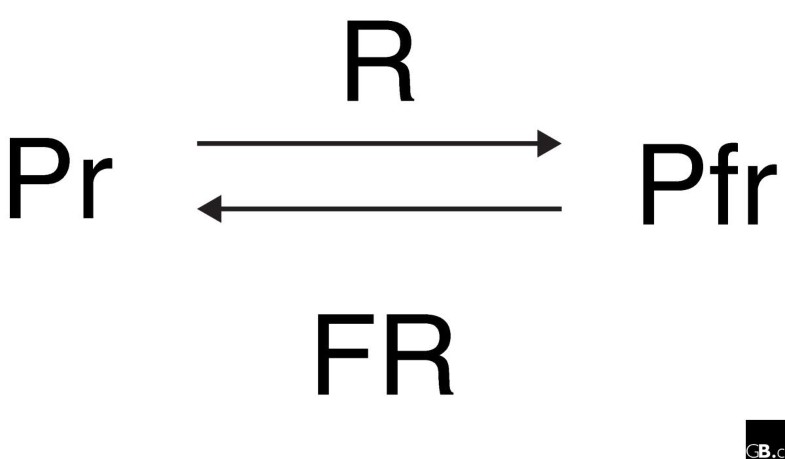 The absorption spectra of Pr and Pfr overlap to some extent and in the light an equilibrium between Pr and Pfr is established that reflects ambient light conditions. This equilibrium responds rapidly to changes in the ratio of red to far-red light, making phytochromes useful as sensors of critical changes in light quality. The physiological and developmental responses regulated by phytochromes in plants and algae are very diverse, including seed germination, photomorphogenesis and chloroplast movement, shade avoidance, and photoperiodic time measurement [3]. In most cases, responses are induced by red light and cancelled by far-red, leading to the idea that Pfr is the active conformation and Pr is inactive. Phytochrome function in other organisms is less well understood, but it has been implicated in light regulation of motility and pigment synthesis in bacteria and sexual development and secondary metabolism in fungi.
(1)
Department of Plant Sciences and Plant Pathology, Montana State University, Bozeman, MT 59717-3150, USA
© BioMed Central Ltd 2008