Transcriptional recapitulation and subversion of embryonic colon development by mouse colon tumor models and human colon cancer
Received: 22 August 2006
Accepted: 5 July 2007
Published: 05 July 2007
Abstract
Background
The expression of carcino-embryonic antigen by colorectal cancer is an example of oncogenic activation of embryonic gene expression. Hypothesizing that oncogenesis-recapitulating-ontogenesis may represent a broad programmatic commitment, we compared gene expression patterns of human colorectal cancers (CRCs) and mouse colon tumor models to those of mouse colon development embryonic days 13.5-18.5.
Results
We report here that 39 colon tumors from four independent mouse models and 100 human CRCs encompassing all clinical stages shared a striking recapitulation of embryonic colon gene expression. Compared to normal adult colon, all mouse and human tumors over-expressed a large cluster of genes highly enriched for functional association to the control of cell cycle progression, proliferation, and migration, including those encoding MYC, AKT2, PLK1 and SPARC. Mouse tumors positive for nuclear β-catenin shifted the shared embryonic pattern to that of early development. Human and mouse tumors differed from normal embryonic colon by their loss of expression modules enriched for tumor suppressors (EDNRB, HSPE, KIT and LSP1). Human CRC adenocarcinomas lost an additional suppressor module (IGFBP4, MAP4K1, PDGFRA, STAB1 and WNT4). Many human tumor samples also gained expression of a coordinately regulated module associated with advanced malignancy (ABCC1, FOXO3A, LIF, PIK3R1, PRNP, TNC, TIMP3 and VEGF).
Conclusion
Cross-species, developmental, and multi-model gene expression patterning comparisons provide an integrated and versatile framework for definition of transcriptional programs associated with oncogenesis. This approach also provides a general method for identifying pattern-specific biomarkers and therapeutic targets. This delineation and categorization of developmental and non-developmental activator and suppressor gene modules can thus facilitate the formulation of sophisticated hypotheses to evaluate potential synergistic effects of targeting within- and between-modules for next-generation combinatorial therapeutics and improved mouse models.
Keywords
Mouse ColonAdult ColonColon DevelopmentEmbryonic Gene ExpressionHuman CRCs
Background
The colon is composed of a dynamic and self-renewing epithelium that turns over every three to five days. It is generally accepted that at the base of the crypt, variable numbers (between 1 and 16) of slowly dividing, stationary, pluripotent stem cells give rise to more rapidly proliferating, transient amplifying cells. These cells differentiate chiefly into post-mitotic columnar colonocytes, mucin-secreting goblet cells, and enteroendocrine cells as they migrate from the crypt base to the surface where they are sloughed into the lumen [1]. Several signaling pathways, notably Wnt, Tgfβ, Bmp, Hedgehog and Notch, play pivotal roles in the control of proliferation and differentiation of the developing and adult colon [2]. Their perturbation, via mutation or epigenetic modification, occurs in human colorectal cancer (CRC) and the instillation of these changes via genetic engineering in mice confers a correspondingly high risk for neoplasia in the mouse models. Moreover, tumor cell de-differentiation correlates with key tumor features, such as tumor progression rates, invasiveness, drug resistance and metastatic potential [3–5].
A variety of scientific and organizational obstacles make it a challenging proposition to undertake large-scale comparisons of human cancer to the wide range of genetically engineered mouse models. To evaluate the potential of this approach to provide integrated views of the molecular basis of cancer risk, tumor development and malignant progression, we have undertaken a comparative analysis of a variety of individually developed mouse colon tumor models (reviewed in [6, 7]) to human CRC. The ApcMin/+ (multiple intestinal neoplasia) mouse model harbors a germline mutation in the Apc tumor suppressor gene and exhibits multiple tumors in the small intestine and colon [8]. A major function of APC is to regulate the canonical WNT signaling pathway as part of a β-catenin degradation complex. Loss of APC results in a failure to degrade β-catenin, which instead enters the nucleus to act as a transcriptional co-activator with the lymphoid enhancer factor/T-cell factor (LEF/TCF) family of transcription factors [9]. The localization of β-catenin within the nucleus indicates activated canonical WNT signaling. In addition to germline APC mutations that occur in persons with familial adenomatous polyposis coli (FAP) and ApcMin/+ mice, loss of functional APC and activation of canonical WNT signaling occurs in more than 80% of human sporadic CRCs [10]. Similar to the ApcMin/+ model, tumors in the azoxymethane (AOM) carcinogen model, which occur predominantly in the colon [11], have signaling alterations marked by activated canonical WNT signaling.
Two other mouse models that carry different genetic alterations leading to colon tumor formation are based on the observation that transforming growth factor (TGF)β type II receptor (TGFBR2) gene mutations are present in up to 30% of sporadic CRCs and in more than 90% of tumors that occur in patients with the DNA mismatch repair deficiency associated with hereditary non-polyposis colon cancer (HNPCC) [12]. In the mouse, a deficiency of TGFβ1 combined with an absence of T-cells (Tgfb1-/-; Rag2-/-) results in a high occurrence of colon cancer [13]. These mice develop adenomas by two months of age, and adenocarcinomas, often mucinous, by three to six months of age. Immunohistochemical analyses of these tumors are negative for nuclear β-catenin, suggesting that TGFβ1 does not suppress tumors via a canonical WNT signaling-dependent pathway. The SMAD family proteins are critical downstream transcription regulators activated by TGFβ signaling, in part through the TGFβ type II receptor. Smad3-/- mice also develop intestinal lesions that include colon adenomas and adenocarcinomas by six months of age [14].
To identify transcriptional programs that are significantly activated or repressed in different colon tumor models, we compared gene expression profiles of 100 human CRCs and 39 colonic tumors from the four models of colon cancer to mouse embryonic and mouse and human adult colon. The results of these analyses demonstrate that tumors from the mouse models extensively adopt embryonic gene expression patterns, irrespective of the initiating mutation. Although two of the mouse tumor subtypes were distinguishable by their relative shifts towards early or later stages of embryonic gene expression (driven principally by localization of β-catenin to the nucleus versus the plasma membrane), Myc was over-expressed in tumors from all four tumor models. Further, by mapping mouse genes to their corresponding human orthologs, we further show that human CRCs share in the broad over-expression of genes characteristic of colon embryogenesis and the up-regulation of MYC, consistent with a fundamental relationship between embryogenesis and tumorigenesis. Large scale similarities could also be found at the level of developmental genes that were not activated in either mouse or human tumors. In addition, there were transcriptional modules consistently activated and repressed in human CRCs that were not found in the mouse models. Taken together, this cross-species, cross-models analytical approach - filtered through the lens of embryonic colon development - provides an integrated view of gene expression patterning that implicates the adoption of a broad program encompassing embryonic activation, developmental arrest, and failed differentiation as a fundamental feature of the biology of human CRC.
Discussion
Numerous mouse models of intestinal neoplasia have been developed, each with unique characteristics. The models constructed to date, however, do not fully represent the complexity of human CRCs principally because most are unigenic in origin and produce primarily adenomas and early stage cancers. Although models like ApcMin/+ show molecular similarities to human CRCs, such as initiation of adenoma formation by inactivation of Apc, little is known about the molecular similarities of tumors from the different mouse models. It is also unknown how such common and perhaps large-scale molecular changes in mouse models relate to the molecular programming of human CRC. To shed light on the underlying molecular changes in tumors from mouse models and human CRC, we assessed the relationship at the molecular level of four widely used, but genetically distinct, mouse models that develop colon tumors. A subsequent analysis of the models in the context of embryonic mouse colon development was also undertaken. Finally, to identify consensus species-independent cancer signatures that may define gene expression changes common to all CRCs, we projected relevant mouse model signatures onto a large set of human primary CRCs of varied histopathology and stage.
Differential canonical WNT signaling activity discriminates two major classes of mouse models of CRC with distinct molecular characteristics
Tumors from mouse models of CRC exhibit significant phenotypic diversity [6], and, therefore, were expected to exhibit differential gene expression patterns. Using a combination of inter-model and normal adult gene expression level referencing, our analysis of tumors from mouse models of CRC has revealed a low complexity between models and strains, and has identified common and unique transcriptional patterns associated with a variety of biological processes and pathway-associated activities. Our results demonstrate an imbalance between proliferation and differentiation, with nuclear β-catenin-positive tumors being more proliferative, less differentiated and with lower immunogenic characteristics than tumors from nuclear β-catenin-negative tumors. Mouse tumors characterized by signatures of relative up-regulation of genes associated with cell cycle progression also showed increased canonical WNT signaling activity (ApcMin/+ and AOM). Tumors from mouse models not showing canonical WNT signaling pathway activation (Smad3-/- and Tgfb1-/-; Rag2-/-) were characterized by up-regulation of genes associated with inflammatory and innate immunological responses, and intestinal epithelial cell differentiation. Recent studies have indicated that chronic inflammation caused either by infection with Helicobacter pylori [32] or Helicobacter hepaticus [13] is a prerequisite for intestinal tumor development in Smad3-/- and Tgfb1-/-; Rag2-/- mice, respectively.
The activation of canonical WNT signaling in AOM tumors was identified using a between-tumor global median normalization to gene expression data. However, when tumor sample expression was referenced to that of normal adult intestinal tissue, many more genes are up-regulated, including developmental genes that are not dependent on nuclear β-catenin. That canonical WNT signaling-related genes are altered similarly in both AOM and ApcMin/+ tumors suggests biological similarities between the two models. In addition, the relatively consistent programming within the AOM model also emphasizes its value for examining the more complicated genetics that result in strain-specific sensitivity to environmental agents that induce cancer.
Activation of canonical WNT signaling leads to nuclear translocation of β-catenin and, through its interaction with LEF/TCF, the regulation of genes relevant to embryonic development and proliferation [16], as well as stem cell self-renewal [33]. Consequently, the activated canonical WNT signaling observed in ApcMin/+ and AOM models suggests that tumors may arise as a consequence of proliferation of the stem cell or 'transient amplifying' compartment. In the colonic crypt, loss of TCF4 [34] or DKK1 over-expression [35] promotes loss of stem cells, suggesting that canonical WNT signaling is required for the maintenance of the intestinal stem cell compartment [34–36]. Conversely, increased nuclear β-catenin/TCF4 activity imposes a crypt progenitor phenotype on tumor cells [18]. In this study, we identified transcriptional activation of the canonical WNT signaling pathway in tumors from ApcMin/+ and AOM mice. This was confirmed by immunohistochemistry (Figure 2b).
In colon tumors and perhaps intestinal stem cells, activation of canonical WNT signaling promotes a hyperproliferative state. Proliferation-related characteristics of nuclear β-catenin-positive tumors include increased expression of CCND1, MYC, PCNA [18], and Sox4 [16]. These genes were also identified as a component of our nuclear-β-catenin-positive signatures. In turn, increased MYC decreases intestinal cell differentiation by binding to and repressing the Cdkn1a (coding for p21CIP1/WAF1) promoter [37], the gene encoding Wnt-inhibitory factor Wif1, the gene encoding the negative regulator of WNT Naked1 [38], and the gene encoding the Tak1/Nemo-like kinase, Nlk [39]. Wif1 displays a graded expression in colonic tissue, with higher expression in the stem cell compartments and lower expression in the more differentiated cells at the luminal surface, suggesting that Wif1 may contribute to stem cell pool maintenance independent of WNT signaling inhibition. [40].
Canonical WNT signaling not only governs intestinal cell proliferation, but also cell differentiation and cell positioning along the crypt-lumen axis of epithelial differentiation. Increased canonical WNT signaling activity enhances MATH1-mediated amplification of the gut secretory lineages [41]. Canonical WNT signaling also influences cell positioning by regulating the gradient of EPHB2/EPHB3 and EPHB1 ligand expression [42, 43]. Together, our data suggest a complex imbalance of crypt homeostasis due to enhanced canonical WNT activity.
Our results indicate that tumors arising in response to abnormal TGFβ1/SMAD signaling [14, 44] are similar to one another in their specific gene signatures and broadly distinct from those with activated canonical WNT signaling by their absence of nuclear β-catenin. Unique to the dysregulated TGFβ1/SMAD4 signaling models is the strong signature of an immunologically altered state, with up-regulation of genes determining immune and defense responses, such as Il18, Irf1 and mucin pathway-associated genes. Again, these tumors are usually characterized by a strong inflammatory component when evaluated histopathologically, even in the absence of T- and B-cells such as in the Tgfb1-/-; Rag2-/- background.
As shown in Figure 2a, the microarray patterns of gene expression for AOM and ApcMin/+ tumors are mirror images of those for Tgfb1-/-; Rag2-/- tumors. It is perhaps not surprising that combining these two transcriptional programs results in increased number and invasiveness of colonic tumors as recently reported for ApcMin/+ mice crossed to Smad3-/- mice [45]. Moreover, combined activation of canonical WNT signaling and inhibition of TGFβ signaling also results in more advanced intestinal tumors in Apcdelta716/+; Smad4+/- mice [46], and intestine-specific deletion of the type II TGFβ receptor in Apc1638N/wtmice [47].
The findings that shared over-expressed signatures are identifiable in all four mouse models of CRC, which are also representative of the majority of embryonic colonic over-expressed signatures, and that these signatures are also present in all human CRCs, suggest that colon tumors may arise independently of canonical WNT signaling status. A likely candidate to impart this oncogenic signaling is Myc, which is an embryonic up-regulated transcript that is also upregulated in all human CRCs and mouse tumor models independently of nuclear β-catenin status.
Embryology provides insight into the biology of mouse and human colon tumors
It has long been suggested that cancer represents a reversion to an embryonic state, partly based upon the observation that several oncofetal antigens are diagnostic for some tumors [48, 49]. To assess the embryology-related aspects of tumorigenesis and tumor progression in CRC, we analyzed and compared the transcriptomes of normal mouse colon development and models of CRC. Our data show that developmentally regulated genes represent approximately 56% of mouse tumor signatures, and that the tumor signatures from the four mouse models recapitulate approximately 85% of developmentally regulated genes.
There are at least two regulatory programs that determine the expression of developmental genes by mouse tumors (Figures
2
,
4
, and
8
). The simpler program is evident by the over-expression of the earliest genes of colon development by the nuclear β-catenin-positive models. The more subtle program could be detected only in reference to adult colon and is highly shared by nuclear β-catenin-negative models. This program, though modified by nuclear β-catenin status, is represented by a large scale over-expression of developmentally expressed genes in tumors that are both positive and negative for canonical WNT signaling. Genes found within this signature have a large overlap with those present in the colon at later developmental stages (E16.5-E18.5).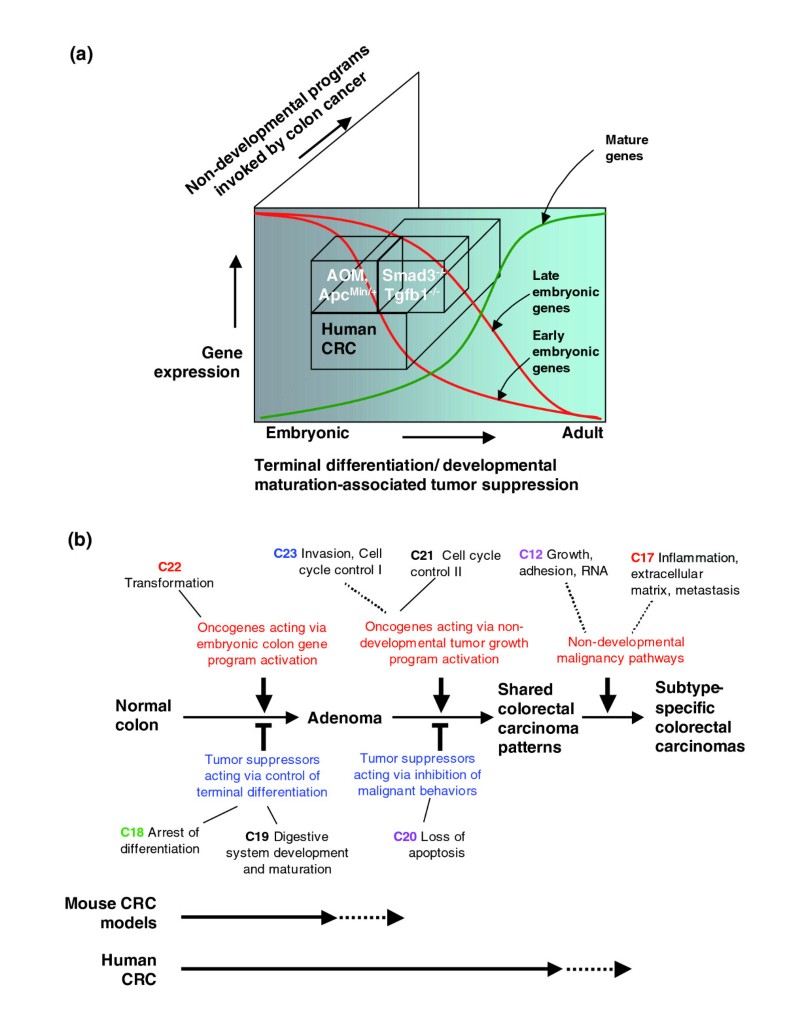 How do genes tightly regulated during mouse colon development become activated in colon tumors? While activated canonical WNT signaling imparts a strong influence, its absence in Tgfb1-/-; Rag2-/- and Smad3-/- tumors, as determined by the absence of nuclear β-catenin, did not prevent the large scale activation of developmental/embryonic gene expression. One mechanism may be through epigenetic alterations. In human CRCs, these types of alterations in gene expression programs [50] suggest a link between cellular homeostasis and tumorigenesis. The recruitment of histone acetyltransferases and histone deacetylases (HDACs) are key steps in the regulation of cell proliferation and differentiation during normal development and carcinogenesis [51]. Induction of Hdac2 expression occurs in 82% of human CRCs as well as in tumors from ApcMin/+ mice [19]. Alternatively, common regulatory controls may operate in parallel growth and differentiation/anti-diifferentiation pathways such that a single or small subset of regulators, such as MYC or one or more micro RNAs, may be responsible for the control of multiple pathways. Indeed, consistent with our observation of nuclear β-catenin-independent activation of Myc in all mouse models and across the board for human CRC, deletion of Myc has recently been demonstrated to completely abrogate nuclear β-catenin-driven small bowel oncogenesis in mouse models [52].
Comparative analysis reveals underlying development-related signatures in human CRCs
As shown in Figure 5, considerable and intriguing heterogeneity of human CRC is observed among genes highly relevant for differential malignant behavior. However, employing between-tumors normalization and referencing strategies prevents the detection of gene expression patterns that are shared between tumors. Using the adult normal colon as a reference, as shown in Figure 6, a large fraction of differential gene expression relative to adult colon could be demonstrated that recapitulated developmental gene expression by virtue of both activating embryonic colon gene expression and failing to express genes associated with normal colon maturation. Within these developmentally regulated gene sets, our analyses revealed little evidence of CRC subsets, including those suggestive of nuclear β-catenin negative tumors that might approximate the Smad3-/- and Tgfb1-/-; Rag2-/- signature. Our inability to identify distinct subclasses with respect to developmental genes in the human CRCs is perhaps not surprising in that over 80% of microsatellite-unstable (MSI+) CRCs from HNPCC families exhibit nuclear β-catenin [53]. In addition, within the developmental genes, little evidence was apparent for signatures related to MSI+ tumors, often associated with HNPCC, although some of this type of signature was perhaps apparent in the median normalized depiction of the tumors as highlighted in Figure 5.
This report constitutes a comprehensive molecular evaluation and comparison of mouse and human colon tumor gene expression profiles. We have greatly improved our ability to compare tumor gene expression profiles between mouse and human tumors by using a referencing strategy in which gene expression levels in the tumor samples are analyzed in relation to gene expression in corresponding normal colon epithelium. This approach has revealed that gene expression patterns are both shared and distinct between mouse models and human CRCs. Although several recent studies have suggested that tumors recapitulate embryonic gene expression [16, 27, 54, 55], the present study demonstrates the magnitude of this similarity.
Finally, our results suggest that comparisons made between mouse tumor models, developing embryonic tissues, and human CRCs provides a powerful biological framework from which to observe shared and unique genetic programs associated with human cancer. While ortholog-gene based analyses have been used previously to obtain direct comparison of the molecular features of mouse and human hepatocellular carcinomas [56], our results provide striking support for the hypothesis that cancer represents a subversion of normal embryonic development. By inclusion of detailed mouse embryonic and developmental profile information, our results have revealed critical similarities and differences between the mouse and human tumors that are particularly revealing of oncogenic and tumor suppressor programs, some genes from which should be useful for development of diagnostic biomarkers and identification of therapeutic targets and pathways.
Materials and methods
Mouse models, human CRC patients and tumor collection
Mouse tumors
All tumors were isolated as spontaneously occurring lesions in
Apc
Min/+
[
57
],
Smad3
-/-
[
58
], and
Tgfb1
-/-
; Rag2
-/-
, collected at three-to-nine months of age depending on the model (for a review, see [
6
]). The only exceptions were two
Apc
Min/+
tumors, UW_3_2778 and UW_6_2748, that were 13 and 14 months and the three
Tgfb1
-/-
; Rag2
-/-
tumors, all five of which had histological features of locally invasive carcinoma [
7
]. Three- to four-month old mice from various AXB recombinant inbred lines were treated with AOM doses chosen for enhancement of inter-strain differences in susceptibility [
11
]. Mice were given four weekly i.p. injections of 10 mg AOM per kg body weight, and tumors were collected six months after the first injection. Animals were euthanized with CO
2
, colons removed, flushed with 1× phosphate-buffered saline (PBS), and laid out on Whatman 3 MM paper. A summary of the mouse strains, mutant alleles and source laboratories is presented in Table
5
. All tumors were obtained from the colon only, the particular segment of which is indicated in the Gene Expression Omnibus (GEO) database [
59
] reposited sample information (GSE5261). The majority of
Tgfb1
-/-
; Rag2
-/-
and
Smad3
-/-
tumors occur in the cecum and proximal colon and all samples isolated for characterization were obtained from there. In contrast, tumors isolated from
Apc
Min/+
and AOM mice occurred predominantly in the mid- and distal colon. A small portion of the tumor was placed in formalin for histology, with the remainder finely dissected into RNAlater (Ambion Inc., Austin, TX, USA) and stored at -20°C. Normal adult colon RNA for reference was obtained from whole colon samples harvested from ten eight-week-old C57BL/6 male mice. The tissue was lysed in Trizol Reagent (Invitrogen Systems Inc., Carlsbad, CA, USA) and homogenized. Total RNA was purified using a Qiagen kit (USA-Qiagen Inc., Valencia, CA, USA).
Table 5
Mouse models of colon cancer
| Model | Mm strain | N | Tumor-generating laboratory |
| --- | --- | --- | --- |
| Azoxymethane (AOM) | A × B | 14 | Threadgill |
| Apc Min/+ | (SWR × B6) F1 | 2 | Dove |
| Apc Min/+ | (BR × B6) F1 | 2 | Dove |
| Apc Min/+ | C57BL/6 | 5 | Groden |
| Smad3 -/- | 129 | 6 | Graff |
| Smad3 -/- | 129 | 7 | Coffey |
| Tgfb1-/-; Rag2-/- | C57BL/6 | 3 | Doetschman |
Human samples: collection/biopsies, regulatory aspects, compliance and informed consents
Sample collection protocol and analyses at the H Lee Moffitt Cancer Center and Research Institute have been described previously [37]. Information collected with the samples for this study includes solid tumor staging criteria for tumor, nodes, and metastases (TNM), Dukes staging/presentation criteria, pathological diagnosis, and differentiation criteria.
RNA isolation
All RNA samples were purified using Trizol Reagent from finely dissected tumors and were subjected to quality control screening using the Agilent BioAnalyzer 2100 (Agilent Technologies, Santa Clara, CA, USA).
Microarray procedures and data analysis
Ontology-based analysis of gene cluster-associated functional correlates
Gene expression clusters were analyzed for the occurrence of multiple genes involved in related gene function categories by comparing each list of coordinately regulated clustered genes to categories within Gene Ontology, pathways, or literature-based gene associations using GATACA [72], Ontoexpress [73], and Ingenuity Pathway Analysis, version 3 (IPA, Ingenuity Systems, Redwood City, CA, USA) [74]. To do this, each cluster indicated in Figures 2, 4, 5, 6 and 8 was converted to a list of gene identifiers, uploaded to the application, and examined for over-representation of multiple genes from one or more molecular networks, or functional or disease associations as developed from literature mining. Networks of these focus genes were algorithmically generated based on the relationships of individual genes as derived from literature review and used to identify the biological functions and/or associated pathological processes most significant for each gene cluster. Fisher's exact test was used to calculate a p value estimating the probability that a particular functional classification or category of genes is associated with a particular pattern or cluster of gene expression more than would be expected by chance. For each cluster, only the top significant functional classes and canonical pathways are shown. Figure 7a shows a diagram of the canonical WNT signaling pathway and an associated-gene network that was a top-ranked association of the clusters that exhibited significant over-expression in AOM and ApcMin/+ versus Smad3-/- and Tgfb1-/-; Rag2-/- mouse models. Genes or gene products are represented as nodes, and biological relationships between nodes are represented as edges (lines). All edges are supported by at least one literature reference from a manuscript, or from canonical information stored in the Ingenuity Pathways Knowledge Base.
qRT-PCR
To confirm the validity of data normalization and referencing procedures as well as the cDNA gene assignments of the printed arrays used in the microarray analyses, we used qRT-PCR to measure relative levels of nine genes found by microarray data analysis to be differentially expressed (FDR < 5.10-5) in tumors from ApcMin/+ and Smad3-/- mice. Total RNAs from C57BL6 ApcMin/+ and 129 Smad3-/- tumor samples (20 μg) were reverse-transcribed to cDNA using the High Capacity cDNA Archive Kit (oligo-dT primed; Applied Biosystems, Foster City, CA, USA). qRT-PCR reactions (20 μl) were set up in 96-well MicroAmp Reaction Plates (Applied Biosystems) using 10 ng of cDNA template in Taqman Universal PCR Master Mix and 6-FAM-labeled Assays-on-Demand primer-probe sets (Applied Biosystems). Reactions were run on an MX3000P (Stratagene, a division of Agilent Technologies) with integrated analysis software. Threshold cycle numbers (Ct) were determined for each target gene using an algorithm that assigns a fluorescence baseline based on measurements prior to exponential amplification. Relative gene expression levels were calculated using the ΔΔCt method [75], with the Gusb gene as a control. Fold-change was determined relative to expression in normal adult colon from two C57BL/6J mice.
Immunohistochemistry
Immunohistochemical procedures were performed as described [15]. ApcMin/+ and Smad3-/- colon tumors were rapidly dissected, fixed in 4% paraformaldehyde, and embedded in paraffin before cutting 10 μm thick sections. Antigen retrieval was performed by boiling for 20 minutes in citrate buffer, pH 6.0. Sections were treated with 0.3% hydrogen peroxide in PBS for 30 minutes, washed in PBS, blocked in PBS plus 3% goat serum and 0.1% Triton X-100, and then incubated with primary antibodies and HRP-conjugated goat anti-rabbit secondary antibody (Sigma, St Louis, MO, USA). Antigen-antibody complexes were detected with a DAB peroxidase substrate kit (Vector Laboratories, Burlingame, CA, USA) according to the manufacturer's protocol.
Declarations
Acknowledgements
This study was supported by grants from GI SPOREs P50 CA95103 (RJC) and P50 CA106991 (DWT), R01 CA079869 (DWT), R01 CA046413 (RJC), R01 CA063507 (JG), R37 CA63677 (WFD), and the NCI-sponsored Mouse Models of Human Cancer Consortium (MMHCC) with U01 CA84239 (RJC), U01 CA84227 (WFD), U01 CA98013 (JG), U01 CA105417 (DWT), R24 DK 064403 (BJA), T32 HL07382-28 (WJ), The authors thank Susan Kasper and Ritwick Ghosh for performing stathmin immunostaining. The authors also acknowledge The State of Ohio Biotechnology Research and Technology Transfer Partnership award for sponsorship of the Gastrointestinal Cancer Consortium (TD, JG) and the Center for Computational Medicine (BJA). Additional sponsorship for important collaborative interactions and strategy development among the investigators from each of the participating research groups was provided under the auspices of 'Colon Cancer 2004', a conference sponsored by the AACR and the MMHCC and hosted by The Jackson Laboratory.
Authors' Affiliations
(1)
Biomedical Informatics, Cincinnati Children's Hospital Medical Center, Cincinnati, USA
(2)
Departments of Medicine, and Cell and Developmental Biology, Vanderbilt University and Department of Veterans Affairs Medical Center, Nashville, USA
(3)
McArdle Laboratory for Cancer Research, University of Wisconsin, Madison, USA
(4)
Department of Genetics and Lineberger Cancer Center, University of North Carolina, Chapel Hill, USA
(5)
Molecular Pathology Unit and Center for Cancer Research, Massachusetts General Hospital, Charlestown, USA
(6)
Division of Human Cancer Genetics, The Ohio State University College of Medicine, Columbus, USA
(7)
Institute for Collaborative BioResearch, University of Arizona, Tucson, USA
(8)
University of Cincinnati, Department of Pathology and Laboratory Medicine, Cincinnati, USA
(9)
H Lee Moffitt Cancer Center and Research Institute, Tampa, USA
(10)
Children's Hospital Informatics Program at the Harvard-MIT Division of Health Sciences and Technology (CHIP@HST), Harvard Medical School, Boston, USA
(11)
University of Texas Southwestern Medical Center at Dallas, Dallas, USA
Copyright
© Kaiser et al.; licensee BioMed Central Ltd. 2007
This article is published under license to BioMed Central Ltd. This is an open access article distributed under the terms of the Creative Commons Attribution License (http://creativecommons.org/licenses/by/2.0), which permits unrestricted use, distribution, and reproduction in any medium, provided the original work is properly cited.