Transcriptional profiling of MnSOD-mediated lifespan extension in Drosophilareveals a species-general network of aging and metabolic genes
Received: 23 July 2007
Accepted: 9 December 2007
Published: 09 December 2007
The Erratum to this article has been published in Genome Biology 2016 17:93
Abstract
Background
Several interventions increase lifespan in model organisms, including reduced insulin/insulin-like growth factor-like signaling (IIS), FOXO transcription factor activation, dietary restriction, and superoxide dismutase (SOD) over-expression. One question is whether these manipulations function through different mechanisms, or whether they intersect on common processes affecting aging.
Results
A doxycycline-regulated system was used to over-express manganese-SOD (MnSOD) in adult Drosophila, yielding increases in mean and maximal lifespan of 20%. Increased lifespan resulted from lowered initial mortality rate and required MnSOD over-expression in the adult. Transcriptional profiling indicated that the expression of specific genes was altered by MnSOD in a manner opposite to their pattern during normal aging, revealing a set of candidate biomarkers of aging enriched for carbohydrate metabolism and electron transport genes and suggesting a true delay in physiological aging, rather than a novel phenotype. Strikingly, cross-dataset comparisons indicated that the pattern of gene expression caused by MnSOD was similar to that observed in long-lived Caenorhabditis elegans insulin-like signaling mutants and to the xenobiotic stress response, thus exposing potential conserved longevity promoting genes and implicating detoxification in Drosophila longevity.
Conclusion
The data suggest that MnSOD up-regulation and a retrograde signal of reactive oxygen species from the mitochondria normally function as an intermediate step in the extension of lifespan caused by reduced insulin-like signaling in various species. The results implicate a species-conserved net of coordinated genes that affect the rate of senescence by modulating energetic efficiency, purine biosynthesis, apoptotic pathways, endocrine signals, and the detoxification and excretion of metabolites.
Keywords
Additional Data FileGene Expression ChangeLifespan ExtensionOdorant Binding ProteinFresh Vial
Background
Reactive oxygen species (ROS) such as superoxide, hydrogen peroxide, and hydroxyl radical are produced as byproducts of normal cellular metabolism. These ROS, especially hydrogen peroxide, are participants in cellular signaling pathways [1]. In addition, ROS can damage macromolecules and this process is implicated in human aging and disease [2]. Among the most important regulators of ROS levels are the superoxide dismutase (SOD) enzymes [3, 4]: Cu/ZnSOD in the cytoplasm and outer mitochondrial space, and MnSOD exclusively in the inner mitochondrial space. Superoxide is converted to hydrogen peroxide (H2O2) and O2 by SOD. Peroxiredoxins and abundant catalase enzyme then scavenge the hydrogen peroxide, converting it to molecular oxygen and water. In Drosophila, the correlation between oxidative stress and aging is well established as demonstrated by increased levels of 8-oxo-guanine and protein carbonyls with age [5, 6], and the induction of oxidative stress response genes [7–10]. Furthermore, Drosophila with mutated Cu/ZnSOD or MnSOD have a reduced lifespan [9, 11–13] whereas tissue-specific [14] or conditional [15, 16] over-expression of SOD enzymes can result in increased longevity.
Previously, the conditional transgenic system ('FLP-out') based on yeast FLP recombinase was used to induce the over-expression of MnSOD enzyme in adult Drosophila [17]. With FLP-out, a brief heat pulse triggered the rearrangement and subsequent expression of a MnSOD transgene throughout the adult lifespan, and longevity was increased in proportion to the increase in MnSOD enzyme activity. Here, a doxycycline (DOX)-regulated promoter system ('tet-on') [18] was used to induce MnSOD, thereby eliminating the confounding effect of the heat pulse and allowing for more sensitive assays. The increased sensitivity of this system was exploited to assay the effects of moderate MnSOD over-expression on mortality rates, metabolic rates, stress-resistance, and global patterns of gene expression.
Decreased signaling through the insulin/insulin-like growth factor-like signaling (IIS) pathway results in lifespan extension in the nematode, Drosophila, and mouse [19–21]. In Drosophila and Caenorhabditis elegans, lifespan can be increased by the IIS-target transcription factor FOXO/DAF-16. Assay of the transcriptional response to reduced IIS signaling in C. elegans has identified genes that are up-regulated, including those encoding MnSOD (sod-3) [22], and heat shock proteins (hsp-16) [23, 24] as well as genes that are down-regulated, such as those encoding insulin-like peptides (ILPs; ins-7) and guanylyl cyclase (gcy-18) [23]. Several of the genes thought to be regulated by DAF-16 have, in turn, been found to have effects on lifespan, such as the hsp genes, suggesting that they might mediate part of the lifespan extension resulting from reduced IIS signaling [23–26]. Lifespan extension via reduced IIS signaling in C. elegans requires autophagy pathway components [27] and interacts with the heat shock factor pathway to control protein aggregate clearance [28]. Despite this progress in the identification and characterization of genes acting downstream of FOXO, the mechanism of lifespan extension by IIS has not yet been fully elucidated.
Previous genome-wide studies have identified genes that are up- and down-regulated during Drosophila aging [29], including tissue-specific patterns [30]. Additionally, cross-species comparisons of genome-wide expression patterns during aging have been used to search for species-general and species-specific signatures of aging [31, 32]. Notably, the expression profiles of aging in C. elegans and D. melanogaster were found to show significant similarity (correlation = 0.18, p < 0.001) whereas a significant negative correlation was observed when the expression patterns of daf-2 IIS mutants were compared to those of Drosophila aging (correlation = -0.13, p << 0.001) [31]. These results hint that similar mechanisms may mediate longevity in worms and flies, although few direct comparisons have been reported.
The data presented here demonstrate that manipulation of MnSOD expression alone is sufficient to increase lifespan through a mechanism that does not necessitate increased stress resistance, but likely involves altered metabolism. Transcriptional profiling identified candidate biomarkers of aging that consist of a set of carbohydrate metabolism and electron transport genes. Lifespan extension by MnSOD appears to proceed through a retrograde signal of increased hydrogen peroxide that involves an intricate network of genes that modulate energetic efficiency, purine biosynthesis, apoptotic pathways, endocrine signals, and the detoxification and excretion of metabolites. Cross-dataset comparisons revealed orthologous genes that are implicated in lifespan extension due to reduced IIS signaling in C. elegans. This implies that MnSOD up-regulation likely mediates part of the lifespan extension endowed by lowered IIS activity and identifies likely species-general effectors of longevity.
Discussion
Here, over-expression of MnSOD in adult flies using the DOX-regulated system was found to increase mean and maximal lifespan by 20%, while over-expression during development had no detectable effect on subsequent adult life span. It should be noted that the lifespan of the controls used here (mean lifespan approximately 73 days at 25°C; Table S1C in Additional data file 2) compares favorably to the extended mutant lifespans reported for InR (60 days), JNK pathway (65 days), chico (65 days), dTOR (72 days) and Methuselah (77 days) [4, 20, 38, 77]. Therefore, it is unlikely that MnSOD over-expression rescues some defect specific to the strains used. Preliminary data suggest that there is a limit to the amount of lifespan extension that can be achieved by over-expression of MnSOD alone: MnSOD transcript levels have been further increased by combining two MnSOD transgenic target constructs and/or by using a more active rtTA transactivator line [18], although this has so far yielded negative effects on lifespan [78]. Greater increases in life span (+40%) have been achieved by combining MnSOD with other lifespan-extending genes, such as Cu/ZnSOD [16].
Surprisingly, our studies reveal that MnSOD over-expression neither resulted in increased resistance to oxidative stress nor did it cause increased oxidative stress, and these long-lived flies exhibited diminished resistance to heat. The findings dispel the hypothesis that lifespan extension by over-expression of the antioxidant MnSOD proceeds through a mechanism that necessitates increased stress resistance. Long-lived MnSOD over-expressing flies were characterized by reduced metabolic rates as measured by CO2 production, but it is interesting to note that the decrease in mortality rate appeared to precede the decrease in CO2 production. It has been suggested [37] that longevity can be uncoupled from reduced metabolism, since O2 consumption was not detectably changed in long-lived InR mutant flies [20]. However, these assays were performed at a young time point rather than across lifespan. Furthermore, CO2 measurements are a more precise measure of metabolic rate than those of O2 consumption and so were employed in this study. Here, they indicate that metabolic rates were decreased in long-lived MnSOD over-expressing flies whereas a previous study that instead considered O2 consumption did not detect a difference [17]. In accordance with the measured alterations in CO2 production, energy metabolism genes were over-represented amongst those induced by MnSOD over-expression. This may also reflect increased requirements for energy costly processes such as endobiotic and xenobiotic detoxification or cellular maintenance that might contribute to longevity.
It is interesting to note that a subset of the genes whose expression was altered by MnSOD tended to be changed in the opposite direction by DOX alone. One conceivable explanation for this observation might be that MnSOD over-expression reduces DOX uptake or effective concentration in the flies, thereby reducing the effects of DOX on gene expression. However, since the gene expression changes due to DOX were most often smaller than those due to MnSOD, this is unlikely. Moreover, DOX-regulated expression of a LacZ reporter construct was not altered by coincident over-expression of MnSOD to a greater extent than an unrelated control transgene, suggesting that MnSOD does not affect DOX uptake (Additional data file 1, and Figure S8 in Additional data file 2). A more likely explanation for the negative correlation observed between DOX-regulated and MnSOD-regulated genes is that DOX causes a slight down-regulation of MnSOD as well as two putative Cu/Zn SOD encoding enzymes, CG9027 and Sh3β/CG8582. Another plausible contributing factor is the mild inhibitory effect of tetracyclines and their analogs on mitochondrial translation and proliferation [79, 80], since MnSOD causes alterations in mitochondria-related genes. Despite knowledge of this small effect for over two-decades, DOX-regulated systems have still been successfully employed to study mitochondrial function in detail, including mitochondrial translation [81, 82]. Thus, the combined effect of a slight reduction in MnSOD and two other Cu/Zn superoxide-dismutase encoding genes along with a decrease in mitochondrial translation can readily account for the negative correlation observed between DOX-regulated and MnSOD-regulated genes.
Candidate aging biomarkers include carbohydrate metabolism and electron transport genes
Based upon their opposing expression pattern between control and long-lived flies of the same chronological age and that of normal aging, a set of 24 potential aging biomarkers was identified and found to consist primarily of highly regulated carbohydrate and energy metabolism genes (Figure 5). In the future, it may be possible to validate such biomarkers by examining their longitudinal expression profiles and ability to predict remaining lifespan in individual flies [10, 83].
Of these potential biomarkers, CG9140 and CoVa are expected to participate in electron transport. This is interesting in light of the finding that electron transport chain genes are consistently diminished with age in flies, mice, and humans (but not worms) [84], suggesting that diminished expression of the electron transport pathway with age may be an important marker of 'physiological age' and supporting our findings. Three of the potential biomarkers are expected to function in nucleotide binding (CG9920, betaTub85D, CG5075), and two in nucleobase metabolism (CG7804, CG5075). CG9220 encodes a glucuronosyltransferase and, based on sequence similarity, may participate in protein folding, betaTub85D functions in microtuble-based movement, and CG5075 encodes a hydrogen-exporting ATPase. In addition, four genes comprising key regulatory components of the glycolytic pathway were represented amongst this class of potential biomarkers, including pyruvate kinase (CG12229) and fructose-bisphosphate aldolase (delilah) as well as genes that act in peripheral pathways, such as those encoding trehalose-phosphatase (CG5177) and L-iditol 2-dehydrogenase (CG4836). Trehalose-phosphatase catalyzes the de-phosphorylation of trehalose-6-phosphate to trehalose and orthophosphate. In insects, trehalose and glucose are the only circulating sugars found in the hemolymph. While glucose is obtained from the diet, trehalose is a key homeostatic molecule that derives from the fat body and is involved in sugar transport to peripheral tissues and energy storage [85]. This non-reducing sugar is thought to increase desiccation tolerance by preventing protein aggregation, and trehalose phosphate synthase protects Drosophila during anoxia [86, 87]. Previously, the reduced thermotolerance of long-lived median neurosecretory-cells (mNSC)-ablated flies was attributed to lowered circulating trehalose concentrations in the hemolymph [40]. These flies exhibited an altered pattern of circulating carbohydrates, having reduced circulating trehalose (approximately 15%), increased circulating glucose (100%), and increased whole body energy stores of trehalose, glycogen, and lipids [40]. Additionally, both male and female InR mutants have been shown to be hyper-trehalosemic [88]. These results are in line with the finding that lifespan extension by MnSOD is characterized by diminished thermotolerance, alterations in carbohydrate metabolism gene expression, and the up-regulation of trehalose phosphatase. Furthermore, they corroborate the observation that specific carbohydrate metabolism genes are potential biomarkers of aging. Trehalose has previously been touted as a longevity-assurance sugar in C. elegans based upon the increased expression of trehalose phosphate synthase in daf-2 mutants and increased levels of trehalose in dauer larvae and IIS age-1 (hx546) mutants [89–91].
The targets of MnSOD over-expression share features with normal aging patterns
An intriguing finding is that a significant number of genes (52) up-regulated by MnSOD at both time points are also up-regulated during normal aging and this list is enriched for genes involved in the defense response, such as immune response genes (AttB, Rel, Im2, PGRP-SD, PGRP-LB, TepII), heat shock proteins (Hsp90), GSTs (GstE1, CG5224), and peroxidase (CG8913). Enrichment for heterocyclic-compounds and amino acid metabolism was also found. Notably, several of the genes in this set (ade3, ade5, CG11089, Ect3, Anxb11, CG14935) were also identified as species-conserved, longevity-associated genes (Figure 7). These findings suggest that MnSOD may partially mediate lifespan extension by effecting a species-general, non oxidative-stress, hormesis response.
MnSOD over-expression causes reduced expression of genes that negatively regulate lifespan
Endocrine signals have been demonstrated to regulate life cycles and affect aging in all higher organisms [92]. Both juvenile hormone and 20-hydroxyecdysone are decreased in IIS mutants [20]. Additionally, EcR mutant heterozygotes are long-lived [93]. This suggests that, in Drosophila, reduced IIS activity may extend lifespan, in part, by diminishing signaling through juvenile hormone and ecdysone. It is interesting, therefore, that the gene encoding the EcR was down-regulated in MnSOD over-expressing flies relative to controls of the same 'physiological age' along with numerous other genes involved in endocrine activity, such as ecdysteroid hydroxylase (sad), ecdysone-induced genes (Eip74EF, Eig71Ec, Edg84A, ImpE1), insulin-like peptide-4 (Ilp4), and the neuropeptides (Nplp4, Nplp3). Since MnSOD may be a downstream effector of FOXO in flies, this suggests that lifespan extension in IIS mutants may involve a MnSOD-mediated reduction in signaling through the EcR.
The finding that numerous genes involved in olfaction and gustation are down-regulated by MnSOD is also intriguing. Olfactory and gustatory neurons are known to negatively regulate lifespan in C. elegans [50, 51], and it was recently shown that in Drosophila, exposure to nutrient-derived odors reduces lifespan extension caused by dietary restriction [94]. Furthermore, mutation in the Drosophila Or83b receptor resulted in defective olfaction, altered metabolism, increased stress resistance, and lifespan extension [94].
Cross-species, cross-condition comparisons reveal shared longevity gene-expression signatures
The gene expression profiles in Drosophila upon MnSOD over-expression were compared to the expression profiles that result from long-lived C. elegans daf-2 insulin receptor (InR)-like mutants and dauer larvae [74, 75]. Strikingly, this comparison revealed numerous genes with similar expression patterns that are conserved between the worm and fly and likely represent longevity promoting genes (Figure 7, Additional data file 7). This is in contrast to a recent study [95] that identified conservation only at the process level, but not the gene level. Amongst the genes identified are those involved in the purine biosynthetic pathway, programmed cell death, intracellular protein transport, ribosome biogenesis, insulin signaling, and hormone secretion. Of particular interest is the finding that an energy sensing AMP-activated protein kinase (CG8057) and the nuclear hormone receptor HR96, a xenobiotic stress sensor, are up-regulated by MnSOD. Gene expression profiling of individual nematodes identified the AMP-activated protein kinase (AMPK) beta subunit as a gene that differentiates wild-type and daf-2 mutants with respect to age [96]. Recently, over-expression of the AMPK alpha subunit, aak-2, in C. elegans was shown to increase longevity, and lifespan extension by mutation of daf-2 or sir-2.1 over-expression was found to be dependent on aak-1. It is notable, therefore, that, in Drosophila, CG8057, which encodes an AMPK, is up-regulated by MnSOD over-expression as well as reduced IIS signaling, and concomitantly down-regulated upon yeast re-feeding after dietary restriction [97]. Thus, the profiles observed in response to lifespan altering interventions in Drosophila support the view that as in C. elegans, AMPK coordinates metabolism at an organismal level by integrating positive and negative cues to maintain cellular ATP levels [98]. In C. elegans, the HR96 homologue, DAF-12, acts at the intersection of pathways that regulate larval diapause, development, stress responses, and adult longevity [99, 100]. While a similar role for HR96 in mediating Drosophila longevity has not been previously reported, we find further support for this connection by demonstrating that a significant portion of genes regulated by MnSOD are also similarly altered in response to xenobiotic stress induced by phenobarbital. This finding is of particular interest since McElwee and colleagues [74, 75] have previously reported that the phase I and phase II class of enzymes involved in xenobiotic detoxification are shared between C. elegans dauers and daf-2 mutants. Several of the species-conserved, potential longevity promoting genes are described in further detail in Additional data file 10.
MnSOD-regulated targets downstream of dFOXO
The cross-species, cross-condition comparison described above was aimed at identifying genes and processes that broadly mediate lifespan and, hence, are robust signatures of longevity mechanisms. However, certain downstream targets of dFOXO may have been missed by a comparison of stringent orthologs. In order to identify species specific MnSOD-regulated targets that act downstream of dFOXO as well as potential lifespan promoting mechanisms that might be unique to Drosophila, the transcriptional profile of MnSOD over-expression was compared to those resulting from altered insulin signaling in Drosophila. These comparisons are described in Additional data file 10.
MnSOD-mediated mitochondria to nucleus signaling and crosstalk with the IIS pathway
Taken together with results from C. elegans, the data suggest a model in which MnSOD is a direct transcriptional target of the FOXO transcription factor and MnSOD catalyzed detoxification of superoxide results in increased intracellular hydrogen peroxide levels that mediate numerous signaling events. Based on kinetic arguments, it has been suggested that it is unlikely that over-expression of MnSOD could significantly increase cellular hydrogen peroxide levels [101]. One way to reconcile these observations is to suggest a localized region of hydrogen peroxide increase such as might be afforded by physical proximity between the mitochondria and nucleus [102]. Although it is not possible to rule out decreased superoxide as the retrograde signal at this time, that hydrogen peroxide is the relevant signal is supported by previous studies demonstrating that catalase over-expression on its own, in combination with Cu/ZnSOD [15] or MnSOD [17], has neutral or slightly negative effects on lifespan. Additionally, previous studies in cultured mammalian cells suggest that MnSOD-mediated growth suppression is due to elevated hydrogen peroxide levels resulting in oxidative environments in the mitochondria and subsequently in the cytoplasm [103]. It is also of interest to note that hydrogen peroxide and the antifungal para-hydroxymethyl-benzoic acid are reported to favor survival of flies restricted to a sugar only diet [104].
In further support of a hydrogen peroxide signal, there is a highly significant overlap in the genes altered by MnSOD over-expression and those altered upon direct stimulation with 3% hydrogen peroxide (C Curtis, G Landis, D Skvortsov, D Abdueva, K Tozer, J Tower and S Tavaré, in preparation). Specifically, 312 (p value < 4.0 × 10-42) and 260 (p value < 4.3 × 10-43) genes were also up-regulated upon hydrogen peroxide treatment as well as in MnSOD over-expressing flies of the same physiological and chronological age, respectively. A significant overlap was also found for genes down-regulated by hydrogen peroxide and down-regulated upon MnSOD over-expression in flies of the same physiological (216; p value < 0.003) and chronological (103; p value < 0.003) age, respectively, although to a lesser extent than genes up-regulated in both conditions.
The comparison of MnSOD-regulated gene expression changes to daf-16 dependent changes in IIS mutants suggests that MnSOD modulates the expression of numerous genes downstream of FOXO. It is interesting to note, therefore, that some of these targets contain both hydrogen peroxide responsive cis-regulatory elements, such as the HRE and ARE, as well as DAF-16 related elements, such as the canonical DBE and the DAE. This raises the possibility that such targets might be regulated both by MnSOD, through hydrogen peroxide signaling, and FOXO (Additional data file 9). Other genes that lack both the DBE and DAE might be indirect effectors of FOXO that are regulated by MnSOD.
Recently, JNK has been reported to extend lifespan in
Drosophila
[
47
], and its activation by hydrogen peroxide may facilitate the interplay between ROS mediated apoptotic and protective signals in a pathway that also involves the NF-κB cascade and mitochondria to nucleus signaling [
52
] (Figure
9
). Hydrogen peroxide has also been shown to reversibly inactivate purified human PTEN, a tumor suppressor and upstream inhibitor of insulin signaling through phosphatidylinositol (3,4,5)-triphosphate, by oxidation of the essential cysteine residue in the active site of the PTEN lipid phosphatase [
105
]. In further support of a role for MnSOD in the redox regulation of PTEN, it has recently been demonstrated in
Drosophila
that thioredoxin (shown here to be induced by MnSOD) inhibits PTEN through disulfide bond formation and that over-expression of human thioredoxin in fly heads resulted in increased Akt phosphorylation [
106
]. In accordance with these findings, the gene encoding
Drosophila
phosphoinositide dependent kinase,
Pk61C
, is up-regulated in response to MnSOD over-expression. Downstream of
Pk61C
, additional components of the IIS pathway are up-regulated, including
eIF-4E
. eIF-4E is repressed by its binding protein, Thor, a direct transcriptional target of dFOXO that mediates cues from changing environmental conditions, including starvation and oxidative stress to control cell number during development [
107
,
108
]. Increased IIS results in inactivation of FOXO by phosphorylation and exclusion from the nucleus and since MnSOD may be a direct transcriptional target of dFOXO, this suggests the possibility of negative feedback regulation between MnSOD and the IIS pathway (Figure
9
). Notably, while nucleo-cytoplasmic shuttling of DAF-16 in
C. elegans
is an important component of its regulation, recent studies suggest [
109
] that the nuclear localization of this FOXO transcription factor may not be required for all of its activity [
110
]. Furthermore, it is of interest that additional components of the IIS pathway, such as
Pi3K21B
,
Akt1
,
Rheb
, and
Thor
, are up-regulated in MnSOD over-expressing flies relative to controls sampled at the same 'physiological age', but not the same chronological age. One possible explanation for this is delayed induction or complex time-dependencies in the expression patterns that might result from feedback regulation. An interesting consequence of such a feedback loop would be control of MnSOD expression levels. This may be important for maintaining redox balance and is supported by the finding that high levels of MnSOD expression are toxic [
78
]. An adaptive response of MnSOD expression levels to the mitochondrial redox state has previously been suggested [
103
]. The importance of tight regulation of MnSOD is underscored by the fact that optimal enzyme activity levels should be such that the lower limit is sufficient to remove mitochondrial superoxide, whereas the upper limit does not exceed mitochondrial hydrogen peroxide removal capacity [
103
]. Furthermore, the fact that in these flies lifespan is extended, while much higher-level over-expression of MnSOD is toxic [
78
], suggests that in these experiments hydrogen peroxide levels are being manipulated within the normal physiological range for signaling, and, therefore, are consistent with the observation that there was no obvious oxidative stress response or inactivation of aconitase enzyme.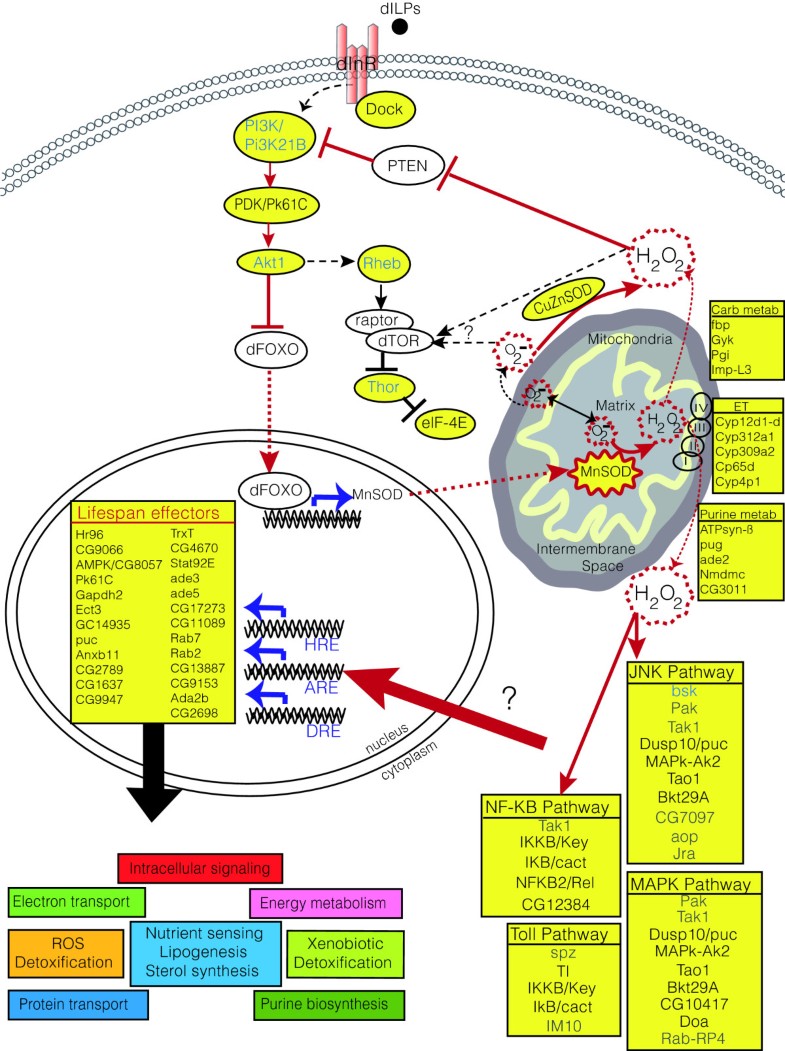 Other pathways involved in nutrient sensing have also been shown to crosstalk with the mitochondria through feedback mechanisms. For example, TOR is implicated in regulating the balance between glycolysis and mitochondrial metabolism, although the molecular basis has yet to be elucidated [111, 112]. Additionally, oxidative capacity correlates with TOR-raptor complex stability [111], suggesting that a retrograde signal from the mitochondria influences TOR activity. It is possible that hydrogen peroxide signaling participates in this mechanism.
Conclusion
A surprising aspect of the data is that a single, albeit important, enzyme can have a profound effect on the organism's longevity, metabolic rate, and gene expression. MnSOD likely mediates some of these beneficial changes in nuclear gene expression by a retrograde signal of increased hydrogen peroxide. Lifespan extension by MnSOD appears to proceed through a regulatory response that involves an intricate network of genes, orthologs of which are implicated in lifespan extension from reduced IIS activity in C. elegans. This implies that part of lifespan regulation by IIS normally proceeds through MnSOD, and identifies likely species-general effectors of longevity.
Additional data files
The following additional data are available with the online version of this paper. Additional data file 1 provides additional methods, including statistical analysis of the effect of DOX-induced MnSOD over-expression on lifespan, stress resistance, desiccation, metabolism, and aconitase levels and LacZ expression assay. Additional data file 2 provides additional results for the effect of DOX-induced MnSOD over-expression on lifespan, stress resistance, desiccation, metabolism, and aconitase levels and LacZ expression assay. Additional data file 3 lists DOX regulated immune response genes. Additional data file 4 lists annotated differentially expressed genes resulting from MnSOD over-expression. Additional data file 5 shows the statistical significance of overlapping gene sets. Additional data file 6 is a categorization of the gene expression differences between MnSOD over-expressing flies and controls sampled at the same 'physiological age'. Additional data file 7 shows additional longevity promoting genes conserved between C. elegans daf-2 mutants and MnSOD over-expressing Drosophila. Additional data file 8 shows MnSOD-regulated xenobiotic detoxification genes. Additional data file 9 gives the DNA regulatory elements in the set of conserved longevity promoting genes. Additional data file 10 provides supporting results and additional explanatory text. Additional data file 11 describes the proposed role for HR96 in the endocrine regulation of lifespan.
Abbreviations
AMPK:

adenosine monophosphate (AMP)-activated protein kinase
ARE:

antioxidant response element
CI:

confidence interval
DAE:

DAF-16 associated element
DBE:

DAF-16 binding element
DOX:

doxycycline
DRE:

DNA replication-related element
EcR:

ecdysone receptor
ET:

electron transport
FDR:

false discovery rate
GO:

Gene Ontology
GST:

glutathione-S-transferase
HIF:

hypoxia induction factor
HIF-RE:

hypoxia induction factor-1 (HIF-1) response element
HRE:

hydrogen peroxide response element
IIS:

insulin/insulin-like growth factor-like signaling
ILP:

insulin-like peptide
InR:

insulin receptor
JNK:

c-Jun-N-terminal kinase
MAPK:

mitogen-activated protein kinase
NF-κB:

nuclear factor-kappa beta
PB:

phenobarbital
ROS:

reactive oxygen species
SOD:

superoxide dismutase.
Declarations
Acknowledgements
We thank Haiyun Yen, Chunli Ren, Jennifer Myers, and Yvette Yeung for help with Drosophila culture and survival assays, Junsheng Yang for help with LacZ assays, as well as Thomas Goldman, Matt Lebo, and Michelle Arbeitman for help with transcription factor motif analyses. This work was supported by grants from the Department of Health and Human Services to JT (AG11644 and AG11833) and to ST (GM67243). AB was supported in part by training grant (AG00093). ST is a Royal Society Wolfson Research Merit Award holder.
Authors' Affiliations
(1)
Molecular and Computational Biology Program, Department of Biological Sciences, University of Southern California, Los Angeles, USA
(2)
Department of Ecology and Evolutionary Biology, University of California, Irvine, USA
(3)
Laboratory of Biochemistry, National Heart, Lung, and Blood Institute, Bethesda, USA
(4)
Department of Pathology and Laboratory Medicine, Childrens Hospital Los Angeles, Keck School of Medicine, University of Southern California, Los Angeles, USA
(5)
Department of Oncology, University of Cambridge, Cambridge, UK
Copyright
© Curtis et al.; licensee BioMed Central Ltd. 2007
This article is published under license to BioMed Central Ltd. This is an open access article distributed under the terms of the Creative Commons Attribution License (http://creativecommons.org/licenses/by/2.0), which permits unrestricted use, distribution, and reproduction in any medium, provided the original work is properly cited.