The draft genome sequence of the nematode Caenorhabditis briggsae, a companion to C. elegans
Published: 18 November 2003
Each genome is fascinating in its own right, but some genomes have been chosen for study because of the added advantages of understanding a closely related genome.
Caenorhabditis briggsae
(Figure
1a
) is just such a companion to
Caenorhabditis elegans
, a model system that has been widely used to study the genetic basis of animal development, behavior and physiology. The sequencing of the genome of
C. elegans
[
1
] has led to rapid advances in our understanding of gene function, particularly through the use of techniques such as RNA interference (RNAi) [
2
]. Stein
et al
. [
3
] now report a draft sequence of the
C. briggsae
genome.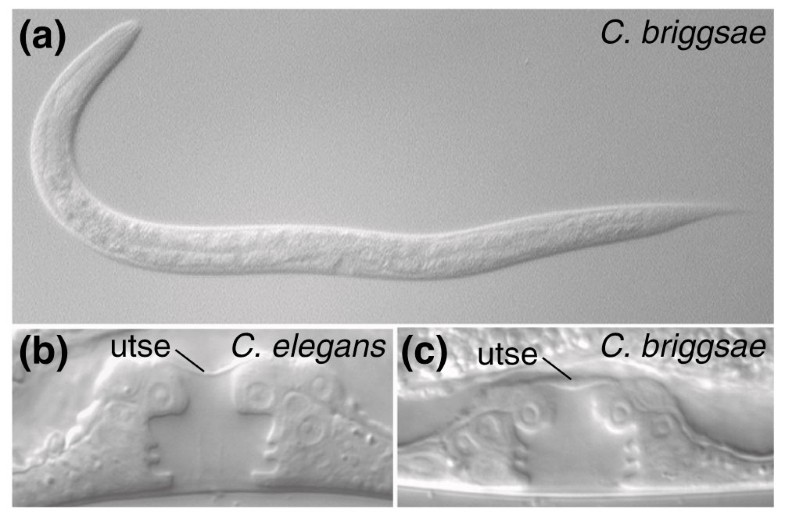 C. briggsae
is closely related to
C. elegans
(Figure
2
) and has almost identical morphology (Figure
1b,c
) [
4
–
6
]. Given the lack of fossil records, the evolutionary distance between
C. briggsae
and
C. elegans
has been estimated using a molecular clock, which gives a divergence time of between 20 and 120 million years ago (Mya) [
7
–
11
]. By analyzing the 338 sets of orthologous genes found in the
C. briggsae
,
C. elegans
,
Anopheles
and human genomes and using a molecular clock calibrated by the known date of divergence of nematodes and arthropods, Stein
et al
. [
3
] now report a much tighter estimate of the divergence time of
C. briggsae
and
C. elegans,
between 80 and 110 Mya. This divergence is slightly greater than the estimate of the human-mouse divergence time (65-75 Mya) [
12
]. The draft covers 98% of the 104 Mb genome; the slightly larger size of the
C. briggsae
genome compared with that of
C. elegans
(100.3 Mb according to the WS108 release of September 2003 [
13
]) is primarily due to additional repetitive DNA.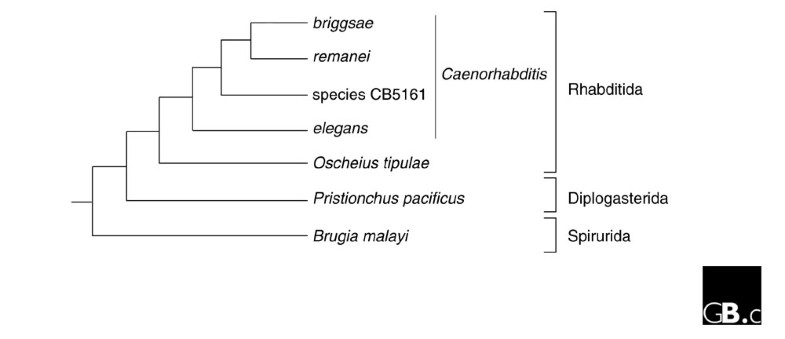 (1)
Howard Hughes Medical Institute and Division of Biology, California Institute of Technology, Pasadena, CA 91125, USA
© BioMed Central Ltd 2003