Beyond the proteome: non-coding regulatory RNAs
Genome Biology
2002
3:reviews0005.1
The 'central dogma of molecular biology' defined a general pathway for the expression of genetic information stored in DNA, transcribed into transient mRNAs and decoded on ribosomes with the help of adapter RNA (tRNAs) to produce proteins, which in turn perform all the enzymatic and structural functions in the cell. According to this view, RNAs play a rather accessory role and the complexity of a given organism is defined solely by the number of proteins encoded in its genome, according to the 'one gene - one protein' hypothesis. This simple picture was first complicated when the primary transcripts of eukaryotic protein-coding genes were found to have their coding sequences interrupted by introns [1], and it was realized that having introns provided a way to synthesize more than one protein product from a single gene, by alternative splicing [2].
Over twenty years ago, the discovery of the catalytic properties of the RNA subunit of ribonuclease P and the self-splicing activity of group I introns suggested that the functions of RNA go far beyond a passive role in the expression of protein-coding genes. In vitro selection techniques, which allow fast functional evaluation of large populations of RNA molecules, demonstrated that RNAs can be efficient catalysts ('ribozymes') [3]. Recent studies of the crystal structure of the large subunit of the bacterial ribosome, showed that ribosomal 23S RNA plays a key role in the process of peptide-bond formation during translation and demonstrated that ribosomes are in fact ribozymes [4]. All of these findings contributed to the hypothesis of a primordial 'RNA world', in which RNA molecules originally both carried information and fulfilled enzymatic functions. In the course of evolution most catalytic functions were taken over by proteins, and the major carrier of genetic information became the chemically more stable DNA.
Functional non-coding RNAs are not only molecular fossils left from a time when organisms consisted solely of RNA, however. They play important roles in modern-day organisms [5]. The analysis of sequenced genomes suggests that protein-coding genes alone are not enough to account for the complexity of higher organisms. There are fewer protein-coding genes in the eukaryotic genomes that have been completely sequenced so far than expected; the Caenorhabditis elegans and Drosophila melanogaster genomes contain only twice as many genes as yeast or some bacteria, and in the human genome the number is about twice that of invertebrates.
In proteome-oriented analyses of genomic sequences, genes that produce non-protein-coding transcripts are often ignored. From genomic analyses it is evident, however, that with increase of an organism's complexity, the protein-coding contribution of its genome decreases (Figure
1
). It is estimated that about 98% of the transcriptional output of eukaryotic genomes is RNA that does not encode protein [
6
]; this includes introns and transcripts from non-protein-coding genes, with the latter accounting for 50-75% of all transcription in higher eukaryotes [
7
,
8
]. In addition to tRNAs and rRNAs, many new non-protein-coding transcripts, with diverse functions, have been identified [
9
,
10
,
11
]. Non-coding RNA transcripts are heterogeneous and do not have a single specific function. Initially, the term non-coding RNA was used primarily to describe eukaryotic RNAs that are transcribed by RNA polymerase II and have a poly(A) tail at the 3' end and a 7-methylguanosine cap structure at the 5' end but lack a single long open reading frame (ORF). Now, this definition can be extended to cover all RNA transcripts that do not have protein-coding capacity [
11
], and is sometimes used to describe any piece of RNA that does not encode protein, including introns [
7
]. Broadly, non-protein-coding RNAs can be devided into two classes (Table
1
). Housekeeping RNAs are generally constitutively expressed and required for normal function and viability of the cell; these have been the subject of many reviews [
9
,
11
,
12
] and are not considered further here. Regulatory non-coding RNAs, by contrast, include those that are expressed at certain stages of an organism's development or of cell differentiation, or as a response to external stimuli, and can affect the expression of other genes at the level of transcription or translation (Table
1
) [
13
]. Here, we focus on some regulatory mechanisms in which such non-coding transcripts have been implicated.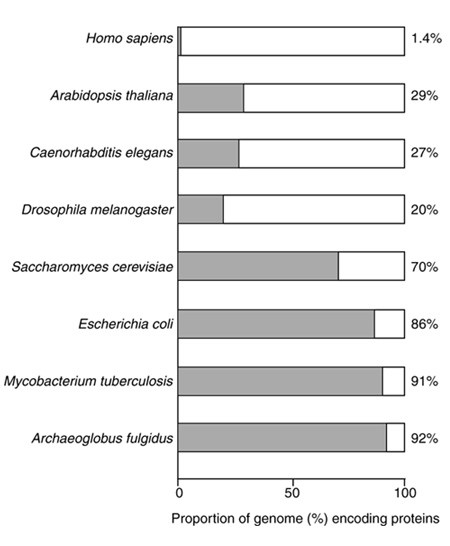 Table 1
Functional classification of non-protein-coding RNA transcripts
| | |
| --- | --- |
| Housekeeping RNAs | |
| tRNA | Translation of genetic information |
| rRNA | Ribosome components; catalysis of peptide bond formation |
| snRNA | Pre-mRNA splicing; spliceosome components |
| snoRNA | RNA modification, including 2'-O-methylation and pseudouridylation |
| RNase P RNA | Maturation of 5' ends of pre-tRNA |
| Telomerase RNA | Telomeric DNA synthesis; component of telomerase |
| 4.5S RNA | Protein export in bacteria |
| 7SL RNA | Protein export in eukaryotes |
| tmRNA | Trans-translation |
| Y RNA | Ro RNP components; function unknown |
| RNase MRP | Mitochondrial RNA processing |
| Regulatory RNAs | |
| Transcriptional regulators | |
| roX RNAs and Xist/Tsix | Chromatin remodeling associated with X-chromosome inactivation and dosage compensation in eukaryotes |
| H19, IPW and LIT1 | Regulation of expression of imprinted genes |
|    Post-transcriptional regulators | |
| DsrA, micF, lin-4, let-7, microRNAs, HFE and LjPLP-IV | Repression or stimulation of translation of regulated mRNAs in eukaryotic and prokaryotic cells via antisense RNA:RNA interactions |
|    Modulators of protein function | |
| 6S RNA, OxyS and SRA | Modulation of protein activity via RNA-protein interactions |
| Regulators of RNA and protein distribution | |
| Xlsirt and hsr-ω | Effects on localization of mRNA or pre-mRNA depending on specific subcellular location of non-coding RNA |
(1)
Institute of Bioorganic Chemistry, Polish Academy of Sciences, Noskowskiego 12/14, 61-704 Poznań, Poland
© BioMed Central Ltd 2002