A clustering method for repeat analysis in DNA sequences
Genome Biology
2001
2:research0027.1
Received: 24 January 2001
Accepted: 8 June 2001
Published: 1 August 2001
Abstract
Background
A computational system for analysis of the repetitive structure of genomic sequences is described. The method uses suffix trees to organize and search the input sequences; this data structure has been used previously for efficient computation of exact and degenerate repeats.
Results
The resulting software tool collects all repeat classes and outputs summary statistics as well as a file containing multiple sequences (multi fasta), that can be used as the target of searches. Its use is demonstrated here on several complete microbial genomes, the entire Arabidopsis thaliana genome, and a large collection of rice bacterial artificial chromosome end sequences.
Conclusions
We propose a new clustering method for analysis of the repeat data captured in suffix trees. This method has been incorporated into a system that can find repeats in individual genome sequences or sets of sequences, and that can organize those repeats into classes. It quickly and accurately creates repeat databases from small and large genomes. The associated software (RepeatFinder), should prove helpful in the analysis of repeat structure for both complete and partial genome sequences.
Keywords
Bacterial Artificial ChromosomeSuffix TreeRepeat ClassPartition PointMerging Procedure
Background
Repetitive sequences present many difficulties for genome sequencing and analysis. The presence of large numbers of repeats often confounds sequence assembly, especially if the repeats are long and highly conserved. The presence of low copy-number repeats can also confound assembly, especially for whole-genome shotgun sequencing projects [1]. Once a genome has been assembled, repeats take on a new and more important role involving their biological function. Certain classes of repeats, such as transposons, perform a function by allowing mobile elements to move around a genome. Other classes belong to less well-defined categories with respect to their role, though they may be even more ubiquitous. Repetitive sequences appear to dominate the centromeres of many eukaryotes [2], and telomeric and subtelomeric repeats extend for thousands or tens of thousands of nucleotides at the ends of chromosomes. These repeats also appear elsewhere in the genome, for reasons as yet unknown. For these and other reasons, it is critical to both the assembly and analysis of genomic sequences to identify and characterize repetitive sequence elements.
There are numerous computational methods for detecting repeats, in one form or another, in genomic DNA sequences. These include algorithms that locate repeated substrings, including tandem repeats [
3
,
4
,
5
,
6
], as well as programs for identifying known repeats, such as the widely-used RepeatMasker [
7
]. RepeatMasker uses a database of known repeat sequences and implements a string-matching algorithm to find copies of those repeats in a new sequence. A more rapid implementation of the same approach is MaskerAid [
8
], a wrapper for WU-BLAST [
9
,
10
] that uses the BLAST engine instead of the CrossMatch algorithm. Most of these tools have some restriction on the maximum length of the input sequence, which limits their use to sequences considerably smaller than the size of a eukaryotic chromosome. Recently, however, new systems based on suffix trees, such as RepeatMatch (based on MUMmer [
11
]) and REPuter [
12
,
13
], have overcome this size limitation, at least for biologically realistic input sizes. Both RepeatMatch and REPuter are highly efficient computational tools that can find all exact repeats in sequences as long as complete eukaryotic chromosomes - 10–100 megabases (Mb). The output of these systems, however, while accurately representing the long list of positions of exact repeats, does not provide any overview or summary of the repetitive structure of the sequence. The REPuter system includes a visualization tool to generate repeat graphs, which are useful for identifying the positions of repeats, but this does not provide an overview of the exact and non-exact repeats in a genome. Figure
1
shows an example of a repeat graph [
12
] for a short DNA sequence.

Examining the output of REPuter and RepeatMatch for a complete bacterial genome, it quickly becomes obvious that many exact repeats are non-exact copies of one another. Whether a genome is a few or hundreds of megabases in length, the task of recognizing and describing how repeats resemble one another at this scale is too complicated to accomplish manually.
Here we describe a new system for the recognition of repeat classes in genome sequences. This system, RepeatFinder, is freely available from our website [14]. In contrast to approaches that cluster together the results of BLAST searches (for example, Z.H. Bao and S. Eddy, unpublished data) our algorithm uses a comprehensive set of exact repeats as the basis for constructing repeat classes. It relies on the efficient suffix tree data structure for identification of exact repeats, which permits rapid identification of repeat classes even in sequences containing tens of millions of nucleotides. The algorithm does not make any prior assumptions about the number or structure of the classes. At its core is a merging procedure that produces the actual members of each repeat class using merging criteria described below, and it also builds a repeat map of the genome sequence.
We have applied this system to several complete microbial genomes [15,16,17,18,19,20,21], to the complete Arabidopsis thaliana genome [2], and to a large collection of rice bacterial artificial chromosome (BAC) end sequences [22,23]. The results of this analysis are described below. The output of the system gives a clear picture of all repeat classes identified in a genome or a sequence collection. It provides straightforward access to the actual repeat sequences as a multi-fasta file, simple statistical analyses of the results, and a procedure for identifying each class's most representative element. We describe here the computational techniques used in the system and demonstrate its use on several different genome sequences.
Results and discussion
We begin by defining an exact repeat as a subsequence that occurs in DNA sequence at least twice. A maximal repeat (Figure
2a
) is a repeat that cannot be extended in either direction without incurring a mismatch. Repeats may have a direction with respect to the underlying sequence (forward, reverse) and with respect to each other (reverse complement). By allowing a set of editing operations - deletions, insertion and mismatches - we extend the definition of an exact repeat to an approximate repeat [
13
]. The set of repeats chosen initially, from which the repeat classes will be constructed, is called the initial repeat set.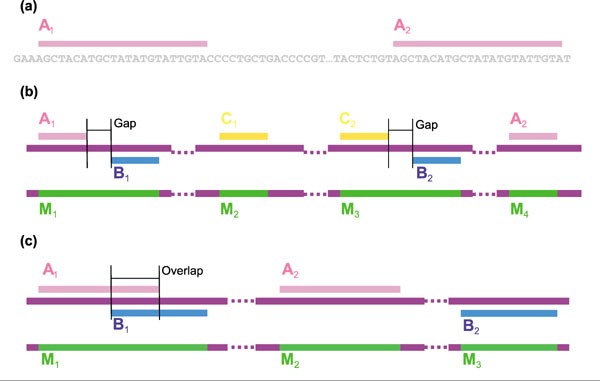 In the initial repeat set, different repeats may be very close together (Figure 2b) and may even overlap (Figure 2c). This intricate picture can be simplified by constructing a more general type of repeat: a 'merging repeat' will be defined as a sequence that can be found in the whole genome sequence not less than twice, where occurrences of the merging repeat are permitted to be partial copies. Merging repeats, labeled M1-M4 in Figure 2, are created from initial repeat sequences that are close together or overlapping. Merging repeats maintain pointers to the initial repeats comprising them; for example repeat M1 (Figure 2b) has pointers to initial repeats A1 and B1. We shall also refer to these initial repeats as 'subrepeats' of M1
Using these properties, we can formulate a similarity condition between merging repeats. Two merging repeats M1 and M2 are similar if they have at least one common initial sequence, or there exists a sequence of merging repeats M1, N1, N2, ... N k , M2 such that each pair of merging repeats in the sequence shares at least one common subrepeat. The minimum number k of merging repeats needed to establish the similarity between M1 and M2 can be used as a similarity measure. For example, the merging repeats M2 and M4. in Figure 2b are similar with similarity measure k = 2 based on the sequence M2, M3, M1, M4.
One goal of our clustering algorithm is to distribute merging repeats into classes according to this similarity condition so that two rules are satisfied: first, elements in the same class (homogeneity elements) are highly similar to each other; and second, elements from different classes (separation elements) have no similarity to each other. The maximal similarity k defined on all merging repeats in a class can be used for assessing the overall similarity of the class members. (In this paper the measure of similarity k is used only for the definition of merging repeats).
In this study we use exact forward and reverse complement repeats as initial repeats for clustering. The method does not require the use of exact initial repeats, but can be applied easily to an initial set containing approximate repeats [3,13].
Conclusions
We describe a new system for rapid identification of all repeats in genome sequences and assignment of these repeats to similarity classes. The system has been used to analyze the repeat structure of several complete microbial genomes, and the much larger genome of the model plant A. thaliana. We also used it to create a new rice repeat database, based on an analysis of a large BAC end sequence database. This new computational tool should prove helpful in the analysis of repeat structure for both complete and partial genome sequences.
Declarations
Acknowledgements
We thank N. El-Sayed, O. White, J.F. Heidelberg, M.-I. Benito, H.M. Khouri, T.V. Feldblyum, M. Pop, J.R. Buchoff and M.F. Shumway for helpful comments, suggestions and discussion. This work was supported in part by NSF grants KDI-9980088 and IIS-9902923 and by NIH grant R01-LM06845.
Authors' Affiliations
(1)
The Institute for Genomic Research, Rockville, USA
Copyright
© Volfovsky et al., licensee BioMed Central Ltd 2001